Summer Intern Pro-Tips and Pratfalls
O
Points)
on 5/29/12 at 8:00pm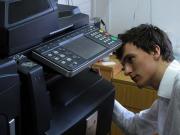 Now that Memorial Day Weekend has come and gone, it's about time for eager upper classmen to start their Summer Analyst stints. Having gone through a Summer Analyst program myself and having managed a number of SAs, both good and bad, I'd like to offer some advice to this year's class of interns.
Without further ado, here are things to do and things to avoid if you want to end the summer with a job offer in-hand.
First, my top five to-dos:
1.) Always double-check your work: It doesn't matter what you're doing. Whether its spreading comps, putting together a DCF, or throwing logos on a slide, always double-check your work. You'll earn a bad reputation fast if you make sloppy errors.
2.) Don't be afraid to ask smart questions: No one expects SAs to know it all. In fact, it is anticipated that you'll be relatively useless when you first start. You're there to learn and prove yourself capable. Along the way, you'll inevitably have lots of questions. But, be mindful, there are good and bad ways to ask questions. It's important to always use the resources available to you to answer questions before going to an Analyst or Associate. If you can't dig up the answer with some reasonable research, then you should feel comfortable asking a full-time peer. The last thing you want to do is pester a busy Analyst with questions you could've answered with 30 seconds of your own research.
3.) Know your role: Hard work and a good attitude go a long way towards getting an offer. You can have all the skills in the world and be a modeling whiz, but if you come off as a know-it-all jackass, you're not getting an offer. Think of this as a summer-long version of the airport test given during interviews. If you get hired as a full-timer, you're going to put in long hours and will spend a significant amount of your time with your team. If they think you're a cocky asshole, you're not going to last.
4.) Treat all of your work seriously, no matter how mundane and senseless it may seem: It doesn't matter if you've been asked to put together a three statement model, dig for transaction comps, or compile a list of potential acquisition targets…treat all of your work seriously and put in your best effort on all of your tasks. Yes, some of your work will be more exciting than others, but you're being judged on all of it. Plus, showing that you can crank on the boring stuff early on will enable you to work on more interesting projects later in the summer.
5.) Don't be afraid to be a little social: If a group of Analysts are making a coffee run and invite you to join, go. If a VP invites you to pick up lunch with him, do it. It gives you an opportunity to get to know your colleagues on a lighter level and shows them that you're not just a drone. You can only hurt yourself by consistently turning these things down. Plus, making small talk with folks of different ranks is an important skill, and some people are much better at this naturally than others.
Now that the hard stuff is done, here's a quick list of five things to absolutely avoid doing during your term as an SA:
1.) Don't complain about the job: No one likes a complainer, especially not the Analyst that's sacrificed years off the end of his life since he started. Lots of the work will be mind numbing, but be sure to do it with a smile on your face.
2.) Get in on time and don't duck out early: As simple as this should be, you'd be surprised at the number of interns who think it's ok to come in late and leave early. Unfortunately, face time is a fact of life in banking. It's no different for interns. Get in on time. Don't leave early. Remember, it's only 10 weeks of your life, you can handle it.
3.) Don't abuse your privileges: So, your firm has a nice meal policy and free cabs after 8? Great. Take advantage but don't go overboard. You don't want to be ordering steaks from Sparks every night when everyone else is getting Energy Kitchen.
4.) Don't wear a shirt with a contrasting collar: You are not an MD, you are a malleable piece of clay. Dress appropriately. People think this doesn't happen, but I actually worked with an intern who wore the MD shirt. Literally everyone did a double take when they saw him. Not the right way to bring attention to yourself.
5.) Avoid political discussions: It's best that people don't know which way you swing when it comes to politics. The last thing you want to do is tout your views on the assault weapons ban when your Associate is a card carrying member of the NRA. Not a good look.
I'm sure there are some other tips out there, so feel free to post them below. If any current interns have questions, feel free to chime in as well.
Best of luck to everyone interning this summer.
Tags: