Thiel Bails on Facebook
ST
Points)
on 8/21/12 at 9:38am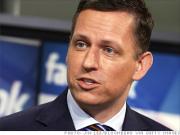 It was a race for the exits the other day as the lock-up period for Facebook insiders came to a close, sending the stock below $20 a share and setting new all-time lows. Even Paul Kedrosky expressed surprise at the urgency of the selling pressure, as he had earlier opined that the insiders wouldn't be selling because everyone was expecting them to.
Perhaps the biggest surprise (to me, anyway) is that the godfather of the PayPal mafia himself got almost completely liquid when the lock-up expired. The argument could be made that his investment had run its course, but I can't help thinking that it's more than that. I think the fact that Peter Thiel would sell almost all of his remaining stake in Facebook on the first day he was able to speaks volumes about the tough times ahead for Facebook.
Make no mistake: the investment was a monstrous win for Thiel. He put in $500,000 early on and cashed out close to a billion dollars between the IPO and his recent sales. But if he thought that stake would grow to $2 billion, I'm betting he would've hung in there. The argument could be made that this sale was planned since the stock IPO date (it was), but then what does that say about Facebook?
What do you guys think about all this insider selling in Facebook? It dipped into the 18's yesterday, and it certainly doesn't look very strong here. Are we seeing the next Groupon? Is the bloom off the rose, or is this a temporary blip in the stock price? You think Marky Mark wishes he'd stayed private?