"Are Markets Efficient?" asked the MD

IB
Points)
on 2/9/10 at 5:17pm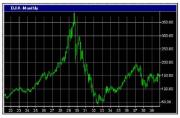 A question that frequently came up a few years ago in my interviews was "Are markets efficient?" I'd usually answer, "Yes," weak form (data), semi-strong form (news) and most of the time "strong form". My classes/textbooks always said the market was efficient, even strong form (insider info).
What is the right answer to this question, especially in an interview. If I took a stance on markets being efficient at a buyside shop they would always follow up with "Then why do we exist!"
Now I think I'd answer the question this way. Tech traders are a joke. News based hedge funds sometimes can make it happen. If you walk the line and dig up legal inside info and you can profit. Somewhere in the middle falls the buyside mutual fund guys. They follow fundamental analysis where their projections differ from the market (Warren Buffet). In my job I see my companies make very profitable acquisitions independent of their synergies.
Conclusion: Public equity markets generally efficient, but there are some real deals in small cap PE and good old fashion fundamental analysis.