Are the exit opps really that different?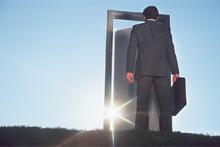 I have 1.5yrs of experience at WF. I have finally received an offer from a decent BB (GS, MS, JPM, CS). However I have recently found success in landing a few (though not many) interviews for credit investing gigs (which is the ultimate goal).
I have no pedigree whatsoever.
Would the incremental benefit of committing an additional 1-2yrs to a relevant group at one of these banks be worth it? Will I actually have access to any opportunities that aren't available to me now?
In addition, I'm currently in a southeast financial center. Will recruiting for funds be any easier by moving to NYC?
Will my lack of pedigree still keep me locked out of fund recruiting channels regardless of which bank I work at?
I am considering passing on the opportunity and trying my luck with the few hedge funds that are willing to speak with me now. This is an incredibly difficult decision for me, and I have no idea what to do. Accepting this offer means I will have to drop out of the recruiting process for a $2B & a $500MM credit fund, and also wait a year to begin recruiting again.
Help!
The WSO Advantage - Investment Banking
Upcoming Events
Nov 24 2015 -

5:00pm

to

6:00pm

Nov 29 2015 -

12:00pm

to

1:00pm

Dec 2 2015 - 8:00am

to

Dec 4 2015 - 5:00pm

Dec 2 2015 -

7:00pm

to

8:00pm

Dec 7 2015 -

7:00pm

to

8:00pm
Poll
Long term, which career path interests you the most?
Accounting
1%
Asset Management
9%
Commercial Banking
1%
Consulting
4%
Corporate Finance / Strategy / Development
9%
Entrepreneurship
6%
Equity Research
3%
Fintech
2%
Hedge Fund
18%
Investment Banking
9%
Investment Advisor / PWM
1%
Private Equity
17%
Prop Trading
2%
Real Estate
6%
Sales & Trading
3%
Venture Capital
6%
Other Finance Role (academia, non-profit, government, legal, etc)
1%
Other - Non Finance
2%
Total votes: 1151