Cougars...

IB
Points)
on 3/10/10 at 9:31am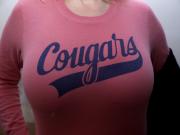 I'm curious as to what the overall opinion is on these wonderful women. What age actually classifies a woman as a "cougar"? (I would go with 35 & up). It is funny, but it seems as though I get more attention from these women then some of the younger females.
Personally, I love cougars and I'm fascinated by this creature that prays on us young and susceptible men.
"I don't think that there is any other quality so essential to success of any kind as the quality of perseverance. It overcomes almost everything, even nature." -John D. Rockefeller