I wanna know what your pen is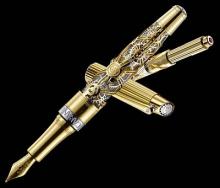 Ok, I just changed firms (BB) and am getting some serious pen envy. I wanna know everyones opinions on fine pens. I'm 25 and don't want to look like a DB but want to be stylish(which counts in Hong Kong).
I have been looking at Montblanc pens but want to know if there are any other "reputable" brands. You know, something that when you wip it out the guy standing next to you sneaks a peek and thinks, "that guys got a nice pen".
Pix would be nice, but keep it tasteful pls
Upcoming Events
Feb 5 2016 - 8:00am

to

Feb 6 2016 - 8:00am

Feb 9 2016 -

5:00pm

to

6:00pm

Feb 10 2016 - 8:00am

to

Feb 11 2016 - 8:00am

Feb 14 2016 -

3:00pm

to

4:00pm
Poll
Who do you want to win the superbowl?
Panthers
29%
Broncos
36%
Don't care
35%
Total votes: 201