I wanna know what your pen is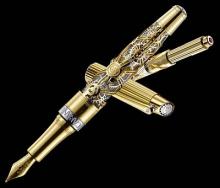 Ok, I just changed firms (BB) and am getting some serious pen envy. I wanna know everyones opinions on fine pens. I'm 25 and don't want to look like a DB but want to be stylish(which counts in Hong Kong).
I have been looking at Montblanc pens but want to know if there are any other "reputable" brands. You know, something that when you wip it out the guy standing next to you sneaks a peek and thinks, "that guys got a nice pen".
Pix would be nice, but keep it tasteful pls
The WSO Advantage - Land Your Dream Job
Upcoming Events
Nov 24 2015 -

5:00pm

to

6:00pm

Nov 29 2015 -

12:00pm

to

1:00pm

Dec 2 2015 - 8:00am

to

Dec 4 2015 - 5:00pm

Dec 2 2015 -

7:00pm

to

8:00pm

Dec 7 2015 -

7:00pm

to

8:00pm
Poll
Long term, which career path interests you the most?
Accounting
1%
Asset Management
10%
Commercial Banking
1%
Consulting
4%
Corporate Finance / Strategy / Development
9%
Entrepreneurship
6%
Equity Research
3%
Fintech
2%
Hedge Fund
18%
Investment Banking
9%
Investment Advisor / PWM
1%
Private Equity
16%
Prop Trading
2%
Real Estate
6%
Sales & Trading
3%
Venture Capital
6%
Other Finance Role (academia, non-profit, government, legal, etc)
1%
Other - Non Finance
2%
Total votes: 1164