I want to quit my uni

Points)
on 12/24/12 at 1:00am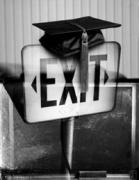 I go to a target school in the UK. I really don't like my uni at all. I don't like my course either. I just think about it and get depressed.
I have done everything I can to make my life at this uni better (sports, EC's etc) but I still hate it a lot. I am on my break and am dreading going back.
I have completed 2/3 of my course, graduate in 2014 (long story).
What shall I do?
Look for transfers (I don't think I'm eligible)? Get a job and start a new course that I actually enjoy somewhere else? I really want to leave this uni - really really hating it.