MARKETS
U.S. markets: Make that eight straight losing days for the Dow. The U.S.-China standoff is all the talk on Wall St.
Oil: OPEC and friends are meeting in Vienna today. It looks like they're close to a deal to boost production.
Want Morning Brew Daily Served Fresh to Your Inbox?
Drop Your Email Below...

RETAIL
A Supreme Ruling on Sales Tax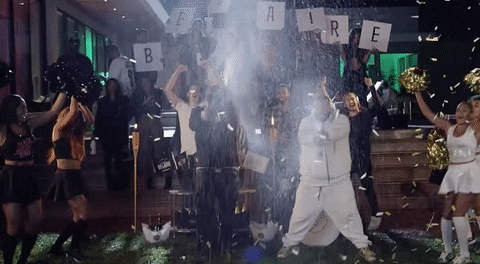 Wondering why your local hardware store held a Project X-style rager last night? The Supreme Court handed down a major ruling that gives states the authority to require e-commerce companies to collect sales tax on online purchases (a big win for brick-and-mortar).
They weren't allowed to before?
Nope. In 1992, this very same Supreme Court ruled that states could force retailers to collect sales tax only if they had a "physical presence" in the state.
So while e-commerce companies sell goods all across the country, they weren't required to collect taxes unless they had a warehouse or an office in that particular state.
That is until yesterday.
The decision overturned the 1992 ruling because it was "unsound and incorrect."
Translation: It's time we recognize online retail as a significant (and growing) sector of the marketplace. Or, as Justice Anthony Kennedy put it, "The Internet's prevalence and power have changed the dynamics of the national economy."
Let's talk winners and losers
Winners:
States: They'll be able to bring in revenue they previously missed out on (government estimates peg it at between $8-13 billion).
Brick-and-mortar stores: They felt like they were put at a huge disadvantage when it came to taxes. So your disgruntled local store owner will view this as a huge step towards leveling the playing field.
Amazon: We know, we know, it sounds crazy. But Amazon already collects sales tax on goods it sells directly. And with this ruling squeezing smaller e-commerce players (see below), Amazon stands to tighten its grip on the online shopping world.
Losers:
E-commerce companies: Especially the smaller ones. They'll now be required to navigate a spider web of complicated tax laws across thousands of jurisdictions. Some won't have the capacity to make it work.
Congress: Only because they'll have more homework. They've punted on interstate commerce issues for years, so maybe this ruling will finally drive them to action.
MANAGEMENT
Intel Got Some Intel on (Now-ex) CEO Brian Krzanich
Don't mix business with pleasure, they said. It'll make you resign as CEO of Intel, they said.
But Brian Krzanich didn't listen. And now, after revelations surfaced of a "past consensual relationship" with another employee, he decided to step down.
Brian's legacy:
He joined Intel (-2.38%) in 1982. Fast forward to 2013, when Krzanich was named CEO and board member.
During his tenure, Intel's stock rose 120%.
He dragged the company from the PC's golden age into the new world of big data.
And that's where his interim replacement, CFO Robert Swan, will take over.
His focus? Staving off competition in the server market that powers the cloud arms race. Because according to Forbes, Intel controls almost 99% of the market for server microchips.
But it won't be long until other industry heavyweights step in. Think Qualcomm, Nvidia, and AMD.
MEDIA
AT&T Goes Lean With New Streaming Service
AT&T is quickly taking advantage of its $85 billion Time Warner acquisition (the one that was just approved last week).
How so? With an all new low-cost streaming service ($15/month) called WatchTV. And (surprise!), about 20% of the 31 channels used to be a part of Time Warner. Those include CNN, Cartoon Network, and TNT.
Not to mention, it's got a library of over 15,000 on-demand shows and movies.
LUXURY
Chanel's Financials Look as Good as This Watch

We don't always write about luxury brand Chanel, but when we do...it's because it just released its financials after 108 years of holding them close to its (magnificently scented) chest.
So do Chanel's numbers smell as sweet as its No. 5 perfume? Oh yeah.
The company did $9.6 billion in revenue in 2017, up 11% from a year earlier.
Net profit came in at $1.79 billion. That's a 19% yearly increase.
All while maintaining a healthy balance sheet: $2.2 billion in cash and hardly any debt.
Zoom out: Chanel opening its books now is not a coincidence. Amid takeover rumors, it wants to show it has the financial muscle to operate independently.
Time to break out the Luxury Leaderboard
LVMH's Louis Vuitton. It also keeps its numbers under wraps, but analysts estimate revenue at ~$11 billion
Chanel
Gucci brought in $7.1 billion in 2017, but it's hoping to boost that to $11.6 billion
Hermes-$6.4 billion
Prada-$3.5 billion
CANNABIS
Puff, Puff, IPO
Just a few days after Canada voted to legalize recreational marijuana, cannabis firm Tilray took a long drag and announced its $100 million IPO.
$100 million? That's a lotta green...
And for good reason. Last year, Tilray grew its top line 63% to $20.5 million. But look past Tilray, because it's just one example of what's to come.
From the company filing: "We are witnessing a global paradigm shift with regard to cannabis, and as a result of this shift, the transformation of a multibillion-dollar industry from a state of prohibition to a state of legalization."
+ Tilray is a pioneer: Per the Seattle Times, "It's the first to legally export medical cannabis from North America to Africa, Australia, Europe, and South America."
+ Look out for ticker TLRY if you like to buy weed whether or not you smoke it (IPO date TBD).
FRIDAY FUN
Caption Contest
Context: Disney CEO Bob Iger and Mickey Mouse


Mickey: "Hey Bobby, you think you can put in a good word for me with Minnie?"
Bob Iger: "Just meet your KPI targets for this quarter and we'll talk."
Think you can do better? Post your best caption here and we'll throw the best one on our Instagram.
WHAT ELSE IS BREWING
Kroger's (+9.74%) online and delivery investments seem to be working out. Shares surged on strong earnings.
President Trump proposed a serious re-organization of the federal government.
Daimler told investors that a global trade war would take its toll on sales.
Chipotle (-0.50%) is testing five new menu items that'll soon be available nationwide.
Twitter (-1.93%) acquired Smyte, an anti-abuse company started by engineers from Instagram and Google.
BREAKROOM
WHAT THE CREW'S READING
Extreme Ownership: How U.S. Navy SEALS Lead and Win by Jocko Willink and Leif Babin-Pick up the book so many organizations consider mandatory reading for leaders. The golden rule: "Accept responsibility for everything. Every mistake. Every failure. Every shortfall."
WORLD CUP WATCH
Today's World Cup slate: Brazil vs. Costa Rica (8 am ET), Nigeria vs. Iceland (11 am ET), Serbia vs. Switzerland (2 pm ET).
TRIVIA
What do these two groups of retailers have in common?
Walmart, Kroger, Costco, Home Depot
Sears, Genesco, KMart, Woolworth
Here's a hint: A lot has changed from 1970 to 2017.
(Answer located at bottom of newsletter)
Want Morning Brew Daily Served Fresh to Your Inbox?
Drop Your Email Below...

Breakroom Answers
Trivia
Group 1-the top U.S. retailers by revenue in 2017. Group 2-the top U.S. retailers by revenue in 1970.