Bye Bye Bored Apes | The Daily Peel | 1/6/22
 Market Snapshot
Don't look down, Wall Street. The release of Fed minutes giving more details on soon-to-come rate hikes took tech and other high growth stocks on a joy ride off a cliff. The Nasdaq closed down a nasty 3.34% while the S&P fell 1.94% and the Dow fared slightly better, losing only 1.07%.
Let's get into it.
Macro Monkey Says
How the Tables Turn - Back in the olden days of the late 20th century, generations of workers in the U.S. largely followed the playbook of "climbing the corporate ladder." This was a strategy involving getting hired and staying at one company for most if not all of your career, hoping to rise through the ranks over time. Needless to say, this strategy is unthinkable to millennials and gen z workers.
As these new generations were already creating a more fluid workforce, the pandemic only aroused this trend even further. This mindset is arguably a large factor contributing to the record-breaking quit rates seen over the last few months. Speaking of which, the BLS just dropped the JOLTS report (that's Job Openings and Labor Turnover Survey) for the month of November, indicating that 4.53mm American workers quit their jobs in that month, a new record high.
The "Great Resignation", as mainstream media likes to call it, has been on full display all throughout 2021. Multiple monthly quit records were set and experts are having a tough time nailing down exactly why. Newfound wealth from skyrocketing asset prices, government assistance, and COVID scares are often cited as the leading factors, but we can't ignore the correlation of high quit rates with high new business application rates. From that angle, it seems the entrepreneurial spark in the U.S. has been lit again.
Whatever the reasons are, the same story persists. The labor market is making about as much sense right now as an average fired-up rant from Kanye West. All eyes will be on this Friday's jobs report for December, and all we can say is good luck, JPow.
Charlie Munger's Gonna Be Mad - Notorious BTC hater and TradFi legend Charlie Munger may have been given another reason to cement his personal hatred for BTC, digital assets, and anything related to the cryptoverse. One of he and his buddy Warren Buffet's favorite things in the world is a solid dividend, a free stream of cash coming to you just for owning stock. Well, as digital currencies tend to do, one company is shaking up this idea and putting a bit of a BTC spin on it.
BTCS Inc, a blockchain-focused company founded in 2008, has officially become the first Nasdaq listed company to offer a "bividend" - a dividend payable in BTC. The company made the rules clear in their 8-K announcement of the new dividend alternative, saying that participants can choose to receive the $0.05/sh bividend in cash or BTC and the first distribution can be expected in mid-March. Non-Munger investors were loving it, however, sending shares up nearly 44%.
Obviously, this is a game changer. Dividends have been favored for their stability and the presentation of compound investing through automatic reinvestment of dividend payments. No word on if that's an option yet, but that might be something the brokers need to weigh in on. Either way, traditional finance heads are almost certainly projectile vomiting at the idea. So, when is the ethivend coming out?
What's Ripe
AT&T ($T) - Still down over 30% since the pre-pandemic days and over 50% from it's dotcom-bubble peak, AT&T had a much needed solid day yesterday. Shares rose 2.2% for the storied American firm on positive news around user growth. 1.3mm new postpaid users signed up for the firm's services in Q4, well above analyst estimates and pushing 2021's total adds to 3.2mm, the highest in over a decade. Not sure who would ever want to sign up for one of America's most disliked companies, but hey it's the Land of the Free, do whatever you want. They'll figure it out with time.
Nucor Corp. ($NUE) - I know, two old economy stocks being ripe is super boring. But on a day like yesterday, that's all you get. Shares in Nucor, America's largest steel producer, saw a nice 4.8% pop largely thanks to investors rotating into more stable, value-oriented plays. Not to mention, shares are approaching a technical breakout point, indicating that momentum could carry it over the line and off to the races.
What's Rotten
salesforce.com ($CRM) - UBS woke up yesterday morning and chose violence. The Swiss firm dolled out a few rating updates and salesforce was an unlucky loser of the group, falling 8.3% after being downgraded to neutral. In maybe a first in Wall Street history, a bank actually said business software growth could be slowing, ending a trend that has powered companies like salesforce for over a decade. Adobe was another victim of the same UBS report, losing 7.1% on the day.
Rivian Automotive ($RIVN) - Much like the company's founder, Amazon isn't exactly the best at staying loyal to their partners. Rivian now knows this first hand as the e-commerce king announced a partnership with Stellantis (formerly Fiat Chrysler) in which Amazon will provide cloud and dashboard services to their new vehicle models. The deal also stipulates that Amazon will be the first commercial customer of Stellantis' EV trucks rolling out in 2023, a direct shot at the deal Rivian struck with the tech titan. Shares in Rivian plunged 11.2% on the news.
Thought Banana:
Bye-Bye Bored Apes - A big part of the NFT craze, especially those in PFP collections, is their security of ownership and property rights. This strength in ownership verification is basically why they're called "non-fungible." While the tokens themselves may not be fungible, we can confirm the person who owns them completely is.
Ramping up in mid-December, NFT thefts have become the latest trend in the asset class, especially for those precious Bored Apes. Basically the thefts occur in one of two ways: 1) the program used to buy or store the NFT accidentally lists it for sale or 2) the owner falls victim to phishing or other scam leading them to give the scammers access to their wallet. Obviously theft isn't cool, but so far, the ramifications have been nothing short of a comedy show.
First, this story drips with irony. Most of the people within the NFT space are within the extreme anti-government crowd in favor of decentralizing all things that are centralized. But, upon theft of their NFT, these same people have no choice but to go cry to OpenSea or Rarible (centralized organizations) to help them recover their property.
Second, as seen in the Tweet below, the anecdotes of theft on Twitter are hysterical. NFT owners tend to flock to FinTwit upon their token being stolen for a multitude of reasons, whether it be to seek a solution or just cry about it. This is often done with their NFT remaining as their profile picture and, as the clever user in the screenshot below points out, the NFT technically is no longer theirs. And he's gotta be right, I mean, just look at the ratio.
Of course, there could be a brightside to all of this. If the NFT asset class is able to take these thefts on the chin and figure something out going forward, all this does is speak to the resiliency, legitimacy, and demand within the space. Apologies to all the victims of these heinous thefts, I hope you get your jpeg back soon.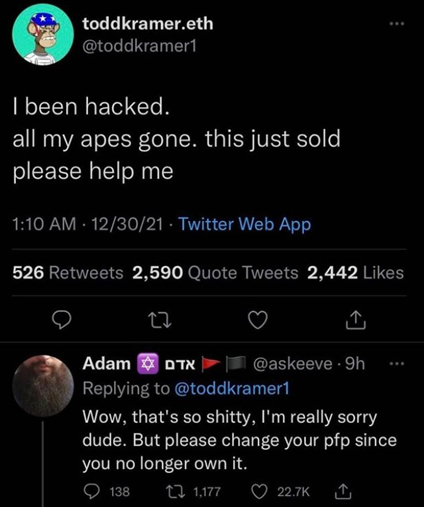 "Move swift as the Wind and closely-formed as the Wood. Attack like the Fire and be still as the Mountain." - Sun Tzu, The Art of War
Happy Investing,
Patrick & The Daily Peel Team
Was this email forwarded to you? Sign up for the WSO Daily Peel here.