Discounted Discounts | The Daily Peel | 10/26/21
Silver Banana goes to...

Market Snapshot
Strong earnings continued to power markets to modest gains in the range of all time highs. The Nasdaq led the pack up 0.9%, the S&P gained a modest 0.47%, and the Dow crept up 0.18%.
Hungry for better returns? Miso Robotics has partnerships with 10 of the top 25 fast food brands and their robotic kitchen assistants can increase profit margins by 3x! Get in on the ground floor, and invest now before it's too late.
Let's get into it.
Macro Monkey Says
Don't Count on Discounts - Average discount levels for many popular holiday gift items are well below those of the past few years. You can thank brands like Nike, Ralph Lauren, and Coach for having to pay full price this year. Of course, the companies attributed the lack of discounts to inflation and supply chain issues, the usual suspects. Keep in mind, consumers largely have some of the highest levels of savings they've ever had, so sorry, no excuses apes. Check out the chart below; why they used three different shades of the same color I couldn't tell you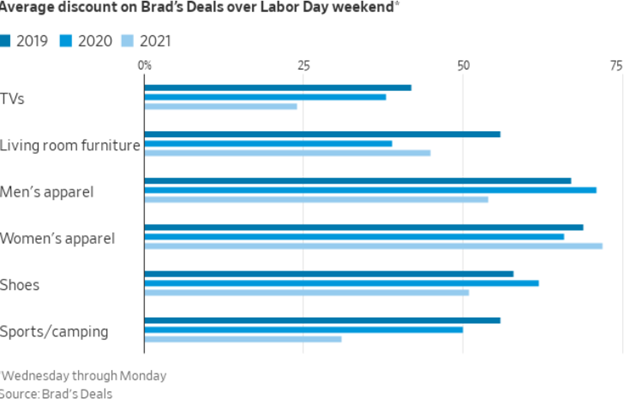 Facebook Earnings - It's been a tough quarter for Facebook as far as its share price goes, losing 14% since early September. But yesterday, the social media kingpin released earnings for the period, an indication of whether the recent fall was justified.
Spoiler: it wasn't really. Starting with the good news - EPS beat expectations by a mild 1.4% window, while more importantly, Facebook's "family of apps" is growing users by more than analyst expectations. This likely drove much of the firm's 35% revenue jump, reaching $29bn. Analysts expected $29.5bn, but 35% growth is 35% growth, gotta respect it a little bit. With this, shares gained after hours by as much as 3.7%.
The bad news: Revenue did not beat, missing by a slim margin. On the other hand, net income came in under by a wide margin, missing by a somewhat embarrassing 7.7%. Although, it has become clear for much of the technology space that user growth can sometimes outweigh the importance of financial results that would not apply to many other sectors, so investors could very well be satisfied.
All in all, it turns out that talking about how much you hate Facebook while using Facebook isn't a super effective strategy for "voting with your dollars." We must be getting more grandmothers or something, otherwise I don't understand how they keep growing like this.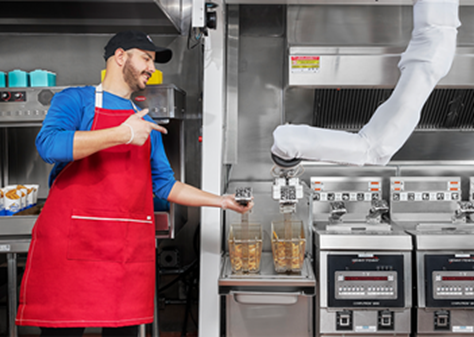 Valued at $350M, Miso Robotics is revolutionizing the QSR industry with AI-powered kitchen assistants that can increase QSR profit margins by 3x.
Most recently, they added Buffalo Wild Wings to the roster with Flippy Wings, the robotic frying solution forecasted to increase food production by 10-20%. With partnerships with 10 of the top 25 QSR brands and dozens of pilot programs underway, you can invest in Miso's delicious potential.
What's Ripe
Tesla ($TSLA) - If you told me a year ago that Hertz would drive Tesla to a $1tn valuation, I probably would've called the local mental institution. But fate loves irony, so here we are: Hertz placed an order for 100,000 Tesla vehicles which will provide $4.2bn in sales for the king of EVs straight from the checkbook of a rental car provider who is just 4 months out of bankruptcy. Tesla shares surged 12.7% on the day, closing at $1,024.86 while Hertz rode the wave too, gaining 10.0%.
Moderna ($MRNA) - Moderna is back, and of course, that means COVID is too. A recent outbreak in China shows signs that even under the strictest conditions, COVID's gonna getcha. But, in some much more important news, children aged 6-12 have demonstrated strong immune response when jabbed with Moderna's vax according to recently released studies. In addition to the added health protections for the young bloods of society, this will likely bring an added couple hundred million in revenue to the firm, and has already added 7.1% to their share price.
What's Rotten
Pinterest ($PINS) - Like when your crush said they'd go to prom with you to be nice and then suddenly "changed their mind", PayPal has dumped their Pinterest acquisition plans. This might be the tease of the year. Pinterest shares rose over 17% while PayPal plummeted on news of the potential acquisition. Now, the deal is done, and Pinterest is feeling the heartbreak, with shares absolutely taking down 12.71% on the day.
Casper Sleep ($CSPR) - Everyone knows sleep is for the weak, but apparently, sleep stocks are also for the weak. Exhibit A, Casper Sleep sank 9.0% on the day to close at $4.03, reaching lows not seen since the early pandemic days of 2020. The tinder of the collapse was kickstarted by analysts at Wedbush, who downgraded shares from "outperform" to "neutral", citing "decreasing financial stability" as the biggest red flag. With the way the companies financial statements look, Casper executives should just be thankful the dreaded phrase "going concern" wasn't used.
Thought Banana:
Solar-loses - I don't know about you but I'm completely done with cyber attacks. It's seriously not cool, and despite that, the group that hacked Solarwinds is at it again. The Russian hacker group Nobelium, who happens to be linked to the nation's intelligence service, have ramped up their ongoing exploit found within an update by Solarwinds.
Unfortunately for literally every business person and probably 99% of you reading this, Microsoft is sounding the alarm. As a customer of Solarwinds, Microsoft products and services are highly at risk, particularly the segment in which the group seems to be targeting, cloud services. Even worse, intelligence analysts report the organization could be taking steps towards an attack on the wider global IT supply chain.
Yeah this doesn't sound good. I'm certainly no computer scientist, but I'm pretty sure concern is warranted. Here we have another stark reminder of how important it is to be safe and actively protect your online activities. Good luck out there.
"Diversification is a protection against ignorance, [It] makes very little sense for those who know what they're doing." - Warren Buffett
Happy Investing,
Patrick & The Daily Peel Team
Was this email forwarded to you? Sign up for the WSO Daily Peel here.