Quote of the Day
I can say almost with certainty that they will come to a bad ending."
Warren Buffett on cryptocurrencies. Okay...but if that ending is in the year 3000 we're good.
Market Snapshot
The markets are human after all...all three major indexes finished down.
Kodak surged another 57% following its previous 119% rally. Crypto will do that...
10-year yields continued to rise.
Ethereum topped $1,300 for the first time.


Want Morning Brew Daily Served Fresh to Your Inbox?
Drop Your Email Below...


The U.S. Wants to Allow Drilling Off the Coast of Florida? It's Not Gonna Happen
The state fought back against a Trump administration plan to extend coastal drilling across the United States. A plan that could hurt wildlife and affect tourism in many states.
Which is why Florida (likely) won't be the only one to push back.
Here's what you need to know about the plan
The U.S. Interior Department's first draft last week proposed 47 drilling site leases from 2019 through 2024.


The western half of the Gulf of Mexico has been ground zero for energy companies. Mainly because they haven't had too many alternative options...
In 1953, the Outer Continental Shelf Lands Act prevented drilling leases in Arctic and Atlantic waters.
In 1969, an oil spill off the coast of California resulted in restrictions for future drilling operations in key areas of the Pacific.
In 2010, the BP oil spill cemented any concerns about wildlife safety, further hurting energy companies' chances of offshore expansion.
In 2016, an executive order signed by President Obama ended drilling in 94% of outer continental waters-the area in between where you surf and the deep ocean.
As you can see, slim pickings.
But President Trump recently did away with Obama's order
As he sees it, "it deprives our country of potentially thousands and thousands of jobs and billions of dollars in wealth." And…(spoiler:) large energy companies-struggling from years of rock-bottom oil prices-agree.
On the other hand, environmental protection groups locked arms with Florida in protest (64 groups filed a joint complaint). And that's much-needed support for a state in the eye of this offshore storm. The eastern half of the Gulf Coast (which borders the state) has been sought after by oil companies. Infrastructure is already in place and drillers are confident they'll find more oil reserves.
The same can't be said in the Atlantic and Pacific-project startup costs would be astronomical without any promise of success.
Bottom line: other states might not have to worry just yet-even if the plan passes and leases are up for grabs, it might be a long time before offshore production kicks into gear in those regions.
Buffett All But Names Heirs to the Berkshire Throne
It was only a matter of time: Warren Buffett is putting his succession plan in place, naming Gregory Abel and Ajit Jain as vice chairs of the Berkshire Hathaway (+1.26%) board. It can only mean that:
One of them is likely to replace Buffett as CEO of the company.
Apparently our application got lost in the mail.
But unlike us, Abel and Jain have earned Buffett's trust through decades of leading major divisions at Berkshire. Abel runs the energy business (joining in 1992), and Jain (with Berkshire since 1986) heads all reinsurance operations.
Buffett, 87, will keep his position as chairman and CEO-for now-but he's clearly thinking about the end game.
Actually, he has been for a while now. From his annual letter in 2014:
"Both the board and I believe we now have the right person to succeed me as CEO-a successor ready to assume the job the day after I die or step down. In certain important respects, this person will do a better job than I am doing."
And as long as Jain doesn't kill Abel in a fit of jealousy, we now know who that person might be.
China Might Stop Purchasing U.S. Debt
It's not every day we write about the bond markets (you're welcome), but it's also not every day we hear reports that China is considering slowing, or even stopping altogether, purchasing U.S. Treasuries. The news sent yields higher as investors got the jitters and sold off bonds.
Here's why this matters: Although it seems China and the U.S. are rivals, more accurately they're "rivals with benefits." China currently owns $1.2 trillion in U.S. debt, the largest foreign holder.


And it might be perfectly happy with that number. With inflation expected to grow alongside the global economy, hitching your wagon to fixed income (i.e. government bonds) might dampen your purchasing power down the road.
And we can't forget about trade. President Trump railed against Chinese trade practices during the campaign, and we're anticipating some actual policies (read: tariffs) to be rolled out soon. Beijing could be attempting to throw the debt markets into disarray as a preemptive strike.
But at this point, since Xi Jinping won't return our texts, it's mere speculation. We'll keep our ears to the ground.
Activision Blizzard Boots Up Its Overwatch League
For all you button-mashers who love to watch other button-mashers: now's your chance. Activision Blizzard's (+0.97%) Overwatch league kicked off, setting the stage for the ultimate esports case study.
The first-person shooter competitive gaming league will feature city-based teams, broadcasters, a two-year deal with live streaming company Twitch, and dozens of big-name sponsors like HP and Intel.
Remember, last year over 191 million gamers tuned in to watch esports tournaments at least once a month. And the industry could top $1 billion in yearly revenue by 2019.
So if Overwatch steals the show, this industry should only keep growing. In fact, it's already gaining traction in professional sports leagues. 17 out of 30 NBA teams are participating in the new NBA 2K league. Where yes, if you get drafted to the 5-man squad, you could officially be a member of the Cleveland Cavaliers or the Golden State Warriors...
Who said video games were bad for you?
What Else Is Happening…
A running list of announcements from CES.
Sears (+5.11%) is seeking more financing after store closures and weak sales.
Watch out VW, Ford (-0.38%) is the latest carmaker to be accused of cheating on emissions tests.
Nearly 100 7-Elevens across the country were targeted during an immigration investigation.
Toyota (+2.00%) and Mazda (+0.70%) are partying with Saban & Co., building a $1.6 billion joint manufacturing plant in Alabama.
Economic Calendar
Monday     Earnings: No Events

                    Economic Events: Consumer Credit (+)

Tuesday    Earnings: No Events

                  Economic Events: Small Business Optimism Index (-)

Wednesday    Earnings: No Events

                        Economic Events: MBA Mortgage Applications (+), Wholesale Trade (+)

Thursday   Earnings: No Events

                   Economic Events: Jobless Claims, PPI

Friday       Earnings: BlackRock, JPMorgan, Wells Fargo

                 Economic Events: CPI, Retail Sales
The Bigger Picture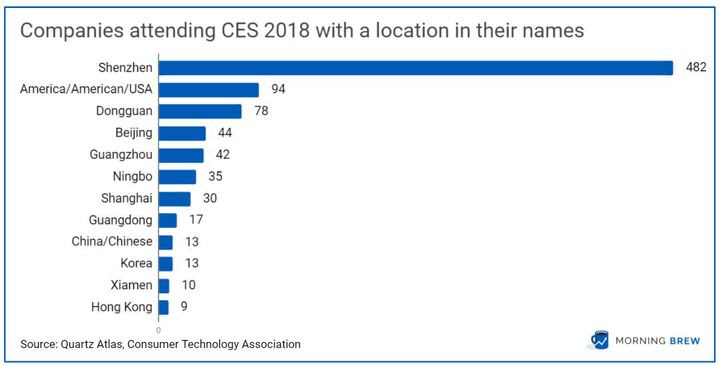 Well, there's the obvious: Shenzhen is the consumer electronics manufacturing capital of the world.
And if you're interested in learning more about this fascinating place, it just so happens we recently wrote a long piece about it. Sneak peek: Shenzhen was a cluster of fishing villages in the 70s. Thanks to policies by the Chinese government, it's now the size of 1.5 New York City's. Read more.
But we know what you're thinking: could the data be skewed? After all, Shenzhen-based companies might be more likely to include their city of origin in their names than, say, an American company. And yes, that's probably the case. It's standard for Chinese companies to use their location of registration in their names.
Still, it's incredible to think that about 10% of all CES exhibitors come from Shenzhen.
The Breakroom
Question of the Day
It is May 2003 and today three planets and a central star are in a straight line (this isn't necessarily our solar system). The farthest planet takes 18 years to complete an orbit around the central star, the second farthest takes 9 years to orbit around the star, and the nearest takes 4 years 6 months. What month and year will it be when the planets and star are once again in a straight line? Assume they have the same axis of orbit and their calendar measurement is the same as ours.
(Answer located at the bottom of newsletter)
Business Trivia
Following the attempted satellite launch by SpaceX this week, how many active satellites are there orbiting earth?
1. 175
2. 350
3. 1,700
4. 3,000
5. 7,500
(Answer located at the bottom of newsletter)
Stat of the Day
$850 million-The revenue generated last year from high-frequency trading (HFT). That's compared to the $7.2 billion it roped in in 2009. Because HFT firms take advantage of price movement, times of market volatility can lead to much higher profitability.
Want Morning Brew Daily Served Fresh to Your Inbox?
Drop Your Email Below...


Breakroom Answers
Question of the Day: May 2012 (Explannation)
Business Trivia: 1,700