MARKETS
Taiwan elections: President Tsai Ing-wen was reelected in a landslide victory on Saturday. She has promised a confrontational approach to China, which is trying to exert more control over the island.
Iran protests: Protestors hit the streets in the capital Tehran following Iran's admission that it mistakenly shot down a Ukrainian jet, killing 176 people. The government had denied those accusations for days.
Markets: It's all about big bank earnings this week.
Want Morning Brew Daily Served Fresh to Your Inbox?
Drop Your Email Below...

AVIATION
David Calhoun's Onboarding Deck at Boeing

This morning, David Calhoun begins his tenure as chief executive of Boeing, a company in crisis.
Five-second bio: Calhoun's held executive roles at GE, Nielsen, and Blackstone, earning a reputation as a turnaround specialist. He's served on Boeing's board for 10 years.
But no amount of experience can prepare you for this to-do list.
Task #1: Get the 737 Max flying again
Boeing's bestselling plane has been grounded since March after being involved in two crashes in five months that killed 346 people. Unable to adequately fix the software problem linked to those tragedies, Boeing decided in December to temporarily halt production of the plane, a decision that affects numerous suppliers plus the entire U.S. economy.
Last Friday, Boeing supplier Spirit AeroSystems, the largest employer in Wichita, KS, said it would lay off 2,800 employees due to the 737 Max's production issues.
If he can get the 737 Max safely in the air again, Calhoun will receive a $7 million bonus...but the symbolism would be much greater than any dollar amount.
Task #2: Repair Boeing's reputation
Reports emerging from the 737 Max crisis have revealed a culture at Boeing that prioritized speed over safety.
The latest revelation: Last week, the company released a mountain of internal communications that showed some employees were aware of flaws in the 737 Max but hid those issues from regulators.
"This airplane is designed by clowns, who are in turn supervised by monkeys," one Boeing employee wrote of the Max in 2017.
After attending a presentation the company gave to regulators in 2015, another employee said, "it was like dogs watching TV."
Bottom line: To turn around one of America's mightiest companies, Calhoun will need to restore trust with the public, lawmakers, and rank-and-file employees while establishing a healthier relationship with the FAA, the U.S.' powerful aviation regulator.
REAL ESTATE
No One Is Buying New York's Luxury Condos

Almost half of the new condos that have come to market in Manhattan since 2015 are currently unsold, according to Nancy Packes Data Services. The other half are presumably WeWorks.
The reason for all the empty mansions-in-the-sky: a concoction of overly ambitious pricing and worsening sentiment. But mostly pricing.
Just compare the prices of new development units to resale units over the last decade. In 2012, the difference in the average price between a new and resale unit was 22%. At the end of last year, the premium was 118%.
Nancy Packes lists three reasons for the "extraordinary oddity of the current cycle."
Buildings competed to add the latest amenities, pushing up prices.
Units grew in size.
The clientele changed. The ultra-skinny towers are trying to woo not just your local billionaire, but the wealthiest people in the world.

Bottom line: At the current pace, it would take six years to sell all of Manhattan's unsold units, per a Halstead Development Marketing report cited by Bloomberg.

ECONOMY

U.S. and China Talks Are About to Get a Lot More Boring

Which...could potentially stop trade wars before they start.

The White House and Beijing have agreed to hold semiannual discussions over economic issues, reports the WSJ. Once resisted by the Trump administration, the talks will implement a similar structure to those put in place by Presidents George W. Bush and Barack Obama.

What do negotiators hope to accomplish? Let's check in with former Treasury Secretary Hank Paulson, who initiated the economic talks during the Bush administration.
Paulson wrote that his Strategic Economic Dialogue (SED) led to contracts for U.S. companies.
He also argued that as a result of the SED, the U.S. persuaded China not to sell its stockpile of U.S. government bonds during the financial crisis in 2009.
Big picture: Though certain sectors-auto parts, furniture, and machinery-were dinged by tariffs, "most of the U.S. economy sailed through two turbulent years of trade war with China with barely a scratch," a WSJ analysis of economic indicators concludes.
This week, the U.S. and China are expected to sign a "phase one" trade deal that puts future tariffs on hold.
LUXURY
When Royals Get Kicked off the Family Plan

When the Duke and Duchess of Sussex, Prince Harry and Meghan Markle, said they're stepping away as senior royals and working "to become financially independent," two things happened:
Netflix rejoiced at the possibility of Meghan playing herself in The Crown season 5.
A new luxury brand was born.
Break it down: Harry and Meghan get 95% of their income from Harry's father.
The Prince of Wales foots the bill for public duties and some private costs using money from the Duchy of Cornwall, an investment portfolio that earned $28.2 million last year.
In 2018–2019, Harry and Meghan got about $6.5 million.
That just went poof. But in December, Harry and Meghan trademarked the "Sussex Royal" brand, which could reportedly make them up to 500 million pounds/year if they play their influencer cards right.
Looking ahead...experts speculate the ex-senior royals could lend their brand to TV/film production, public speaking, and a book deal. The 2017 book deal Barack and Michelle Obama signed is estimated to be worth more than $60 million...or 10x Harry's old allowance.
+ Influencer reality check: The Sussex Royal Instagram account has just over 10 million followers. Soccer star Cristiano Ronaldo has almost 200 million.
CALENDAR
The Week Ahead: Remember This?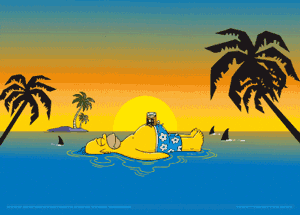 Earnings, trade deals, loads of economic data...holiday break seems a distant memory.
Monday: Oscar nominations announced; LSU vs. Clemson in the college football national championship game
Tuesday: Seventh 2020 Democratic presidential debate; Paris men's fashion week begins; CPI inflation data; earnings (Citigroup, JPMorgan, Wells Fargo, Delta Air Lines)
Wednesday: IRS quarterly tax filing deadline day; the U.S. and China sign "phase one" trade deal; earnings (Bank of America, BlackRock, Goldman Sachs, UnitedHealth, U.S. Bancorp, PNC Financial, Alcoa)
Thursday: Religious Freedom Day; earnings (Morgan Stanley, Taiwan Semiconductor, BNY Mellon, Charles Schwab); retail sales
Friday: Consumer sentiment; iHeartRadio Podcast Awards
WHAT ELSE IS BREWING
Saudi Aramco said its total IPO haul came to a record $29.4 billion after issuing more shares in what's known as a "greenshoe option."
Amazon CEO Jeff Bezos is headed on a trip to India, where he'll face protests from thousands of small-scale traders.
Facebook stock hit an all-time high on Friday. Cambridge Analytica who?
Michael Bloomberg: "I'm spending all my money to get rid of Trump." The former NYC mayor didn't rule out spending $1 billion on the 2020 election, even if he doesn't win the Democratic nomination.
DRY JANUARY
This week will mark the 100th anniversary of Prohibition going into effect. To mark the occasion, we'll give you the traditional ingredients for cocktails that were popular during Prohibition-you have to name the cocktail.
Cognac, cointreau, lemon juice
Gin, simple syrup, lemon juice, Champagne
White rum, pineapple juice, Grenadine, Maraschino liqueur
Gin, lemon juice, honey syrup
Want Morning Brew Daily Served Fresh to Your Inbox?
Drop Your Email Below...

DRY JANUARY ANSWERS
1. Sidecar
2. French 75
3. Mary Pickford
4. Bee's knees