Third time's the charm, right? | The Daily Peel | 8/18/21
Stocks were bummed out yesterday as retail sales and other economic woes dominated the news cycle. The Dow sank 0.79% and the S&P dropped by 0.71% while the Nasdaq had the worst day, falling 0.93%. Let's get into it.
Macro Monkey Says
Retail Sales – Looking at the markets yesterday morning I thought the Earth must've been falling into the Sun, but then I realized that the July retail sales report came out and has investors shook. The three major U.S. indices all fell over or close to 1% at the open, but really, the numbers don't seem too bad. Expectations were for a 0.3% decline and actual data revealed a decline of 1.1%, however, if we remove autos from the calculation, the decline becomes just 0.4%. Clothing and leisure sales also helped lead the decline while gas and restaurants pushed higher.
Market – Yesterday we talked about how earnings thus far have supported the past year's appreciation in share prices. Today we talk about how that appreciation just might be cap. Looking at market breadth, we see that the tide of rising prices is not lifting all boats, despite the headline numbers. The chart below shows the Nasdaq Advance / Decline Line. This metric measures the number of individual stocks that are advancing or declining on a daily basis. As of yesterday's session, this metric has reached an 8-month low, indicating that most stocks are not going up. Confused? Keep in mind that just 5 stocks reign over the market and portfolios everywhere. Don't be fooled by headlines, just remember to take a deep breath (ba dum tsss).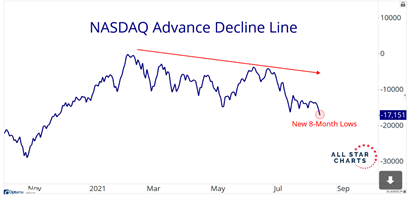 Access 30+ holdings in an actual 401k account (held by lead investor)
Get trade alerts and research from an actual portfolio with real capital at stake (over 20% annualized return over 9.5 years)
Over 100 monthly brokerage statements included, dating back to December 2011 (as proof) when it started
What's Ripe
Viprax Pharmaceuticals ($VRPX) – Doing the exact opposite of my portfolio, Viprax Pharma skyrocketed yesterday on an announcement of a new way to prevent the spread of the virus. This "molecular mask" is used as a nasal spray; it binds to nasal receptors at the molecular level, and blocks out certain pathogens from locking in to them. That was my best attempt at doing science... I'm not sure how I did but I am sure that shares more than doubled on news of a greenlight from the FDA, leading to a 265.5% gain on the day.
Kroger ($KR) – The stamp of approval every shareholder prays for has been bestowed upon Kroger. Warren Buffet and his gang over at Berkshire increased their stake in the nationwide grocer, leading to a 4.6% gain on the day. On a day when declining retail sales spooked Wall Street, it's strange to see a firm like Kroger getting such a boost. But hey, what Warren says goes.
What's Rotten
Home Depot ($HD) – Apes, go get your dads, Home Depot needs them. A disappointing earnings call led to a 4.3% drop yesterday, leading the Dow down. Performance is "all home improvement demand" according to the CFO, and now that people aren't bored at home all day, this demand has lightened. One bright spot is that the average purchase price rose 11%, but with total transactions falling 5.8%, traders weren't impressed.
Chinese Stocks – Hammered once again, and not in the good way, Chinese stocks sank on more announcements of the CCP tightening its grip on their homegrown big tech bois. The new rules mostly surround competition with each other, but includes data regulation and misinformation rules that would make Mark Zuckerberg cry. Alibaba had one of the toughest days, falling 4.9% alongside JD.com, Tencent, and Pinduoduo, all dropping over 3.0%.
Thought Banana:
Boosters – Remember back in March 2020 when we thought there might be a chance the pandemic would blow over in like three weeks? Yeah...well 74 weeks later and a third shot is officially recommended by the U.S. government. Except for a few companies, this is not exactly good news for markets. Biotechs linked to rolling out the vaccines got slammed on Monday only to get saved on Tuesday by the White House's announcement of a strategy to distribute boosters. Pfizer, Moderna, Novavax, BioNTech, and others all benefitted. You hate to see it, but it's time to run it back. Third time's the charm, right?
"Once we realize that imperfect understanding is the human condition there is no shame in being wrong, only in failing to correct our mistakes." – George Soros
P.S. He's got a point...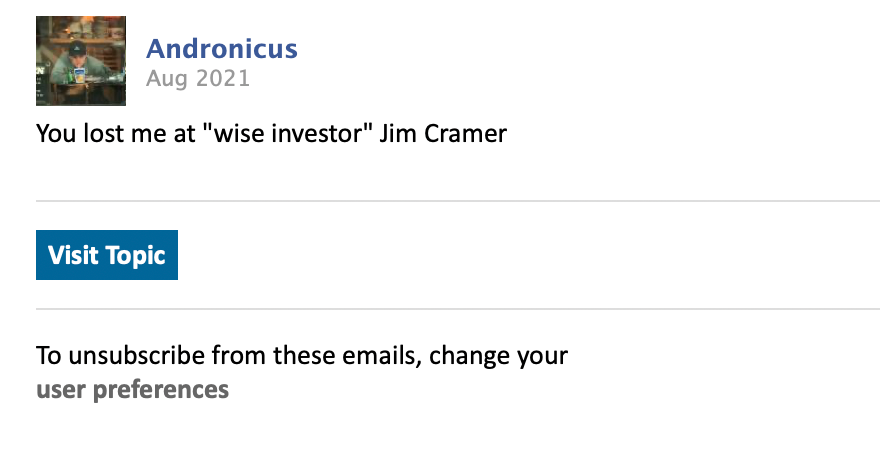 Happy Investing,
Patrick & The Daily Peel Team
Was this email forwarded to you? Sign up for the WSO Daily Peel here.