Stop The Sugar | The Daily Peel | 11/26/21
Silver Banana goes to...

Market Snapshot
Warren Buffet told us that the key to being rich was to "be fearful when others are greedy and be greedy when others are fearful." Investors have taken this to heart, as buying the dip has become a faster race than F1. This led markets to see a mostly positive day on Wednesday, with the Nasdaq gaining 0.44% and the S&P following with a 0.23% rise, while the Dow fell 0.03%.
Get professional research and access to a portfolio with an average annual return of 19.6%. WSO Alpha has got all you need to start gaining; premium research, a 10 year-old portfolio to trade with, and more!
Unlock the entire portfolio here!
Let's get into it.
Macro Monkey Says
Consumer Check - "F*ck your inflation" - every consumer in America last month.
That's what the story seems to be because despite inflation levels that have FinTwit on a nonstop panic attack, consumers are spending like hell. October saw a 1.3% boost in spending from consumers, who also happen to drive close to 70% of the economy. That's more than double the growth that September saw with a 0.6% increase from the previous month, suggesting strong demand to holiday presents is buoying the nation's economy. 
The most unsurprising part, obviously, was that economists were once again wrong with their forecast. Expectations of 1% got sh*t on by over 30%. Meanwhile, core inflation numbers emerged, known as the personal consumption expenditure (PCE). No surprise here, but the price level of core consumption goods increased in October by about double the increase seen in September, meaning October saw a 0.4% boost in core inflation.
Honestly, PCE is kinda like the worst metric ever. It's super weird - very similar to the CPI, the PCE measure price jumps of "core" expenditures. Basically, PCE excludes food and energy. This is done to reduce volatility in this measurement, as these factors tend to jump around even more than House of Pain, but food and energy are also like *the* single most "core" expense consumers have.
Weird. But either way, consumers don't seem to rattled by the rise in price levels. Keep in mind that Americans are, across the board are wealthier than ever in terms of net worth. With the holiday season incoming, declines in spending for the rest of the year seem unlikely.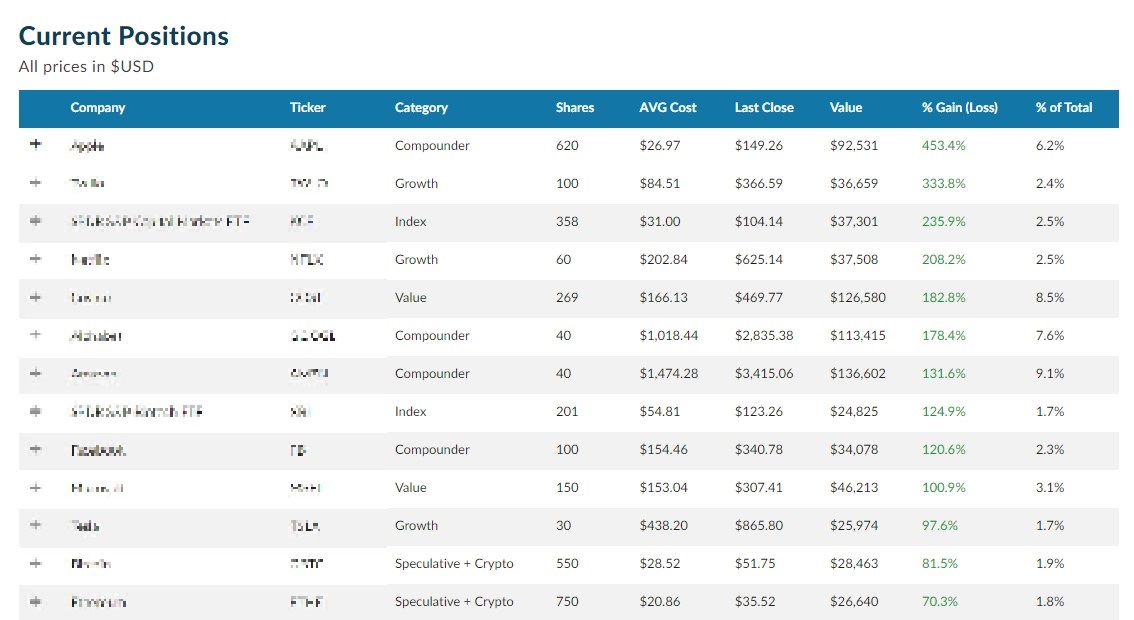 The WSO Alpha portfolio is still up over 300%.
This is THE portfolio you don't want to miss. WSO Alpha has
Historically outperformed the S&P, Nasdaq, and Dow
An unmatched Risk/Reward profile
Professional research reports
And more!
What's Ripe
Zillow ($Z) - It's been literally forever since Zillow has qualified for What's Ripe, but finally they've earned their spot in this elite territory once again. We spoke about buying the dip at the start of today's edition, but Zillow could have experienced a microcosm of that sentiment on Wednesday. Shares rose 3.16% on basically no news, but buying the dip has become a hotter trend than Silly Bandz were in 2009. 
Deere & Co. ($DE) - A massive worker strike and utter chaos within their supply chain would make you think Deere had a lousy quarter. You would be wrong. The farm tool and outdoor equipment provider smashed earnings this week, sending shares up 5.2% on the day. Earnings clocked in at $4.12/sh on $11.3bn in sales as opposed to expectations of $3.87/sh on $10.5bn.
What's Rotten
Clothing Retailers ($GPS, $JWN) - Despite many company's best attempts to dress up their most recent earnings reports, Wall Street isn't exactly buying it. This became abundantly clear as Nordstrom and Gap both got hammered following earnings announcements. The same old story rings true; supply chain issues and labor difficulties are squeezing margins almost as much as a bear hug from your overbearing aunt on Thanksgiving. 
Thought Banana:
Can't Trust Antitrust - Lina Khan, Jonathan Kanter, and Tim Wu were praised into their federal government positions by antitrust proponents like KD was welcomed by Golden State fans (originally). Most of this hope was generated with the view that the trio would crack down hard on big tech mono/oligopolies. Well, sizable antitrust action is taking place as we speak, and boy is it disappointing.
Julia Louis Dreyfus - aka Elaine Benes, aka Selena Meyer - is a distant relative of long-dead business magnate Leopold Louis-Dreyfus. Leo happened to start a massive company, called Louis-Dreyfus Co., which is now trying to offload their sugar division to U.S. Sugar. The $315mm deal, however, is being halted by the DoJ.
None of that really matters. But what it shows is that antitrust action at a large scale is back, but in the completely wrong place. Most market and economic observers have been praying for years for action to take place against you know who(s). Barely any substantial antitrust claims have taken place against Amazon, Google, Facebook, or Apple, like everyone has been waiting for.
Not sure why the DoJ is choosing to go after sugar and seemingly not doing much about our tech overlords, but that's the state of American antitrust right now. Sure, let Zuck keep his total and utter dominance of social media, but sugar conglomerates? Hell no!
"Risk and time are opposite sides of the same coin, for if there were no tomorrow there would be no risk.  Time transforms risk, and the nature of risk is shaped by the time horizon: the future is the playing field." - Peter L. Bernstein
Happy Investing,
Patrick & The Daily Peel Team
Was this email forwarded to you? Sign up for the WSO Daily Peel here.