The Great Wage Rage | The Daily Peel | 10/29/21
Silver Banana goes to...

Market Snapshot
Like Peter Lynch, yesterday's markets were all about earnings, earnings, earnings. And it worked out well, with the Nasdaq rising 1.39%, the S&P gaining 0.98%, and the Dow's increase of 0.68%.
Actively managed crypto and stocks, what more could you possibly ask for? Titan provides best-in-class investment and portfolio management with expertise that very few firms could contend with. Trade better with Titan and check them out today!
Let's get into it.
Macro Monkey Says
GDP - You gotta hand it to economists, because despite being wrong so damn always, they still come out swinging. Real, annualized GDP growth decelerated in Q3, growing at 2.0% on estimates of 2.6%. This is in stark contrast to Q2's annualized real growth of 6.7% and reflects a slowing recovery from the woes of COVID.
According to the BEA, the Delta Variant wave from July through September likely slowed growth or, at least, brought uncertainty to GDP participants that in turn led to slower growth. Business inventory investments, personal consumption, and spending by state and local governments drove the increase, but these factors squared up with decreases in residential investment, federal spending, and lower net exports, leading to slower growth.
Now, this release itself is actually just an estimate. Termed the "advance estimate", the BEA won't know for certain what Q3 growth was until late in November, but obviously, if there's something to take a guess on, economists are gonna go for it.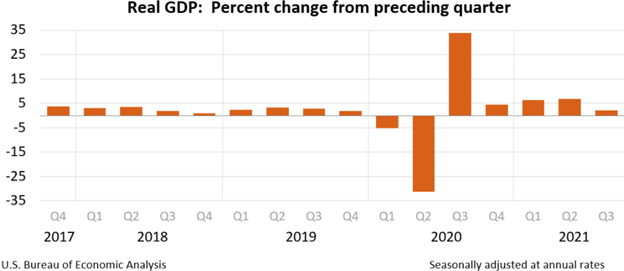 A Much Needed W - Retailers were beaten like Nate Robinson over the last year and a half, but experts say the holiday season is ready to save the day in a big way. 2021's Holiday season is set to be the biggest on record. The fundamentals are there from a demand side, with consumers wielding more spending power than just about ever before, but supply chain issues could still ruin the party. And, apparently you guys listened to my warnings, as shopping for Holiday gifts has already begun in earnest. It's a matchup between massive demand and spending power from consumers against distribution and labor shortage issues on the supply side. Let the fight begin.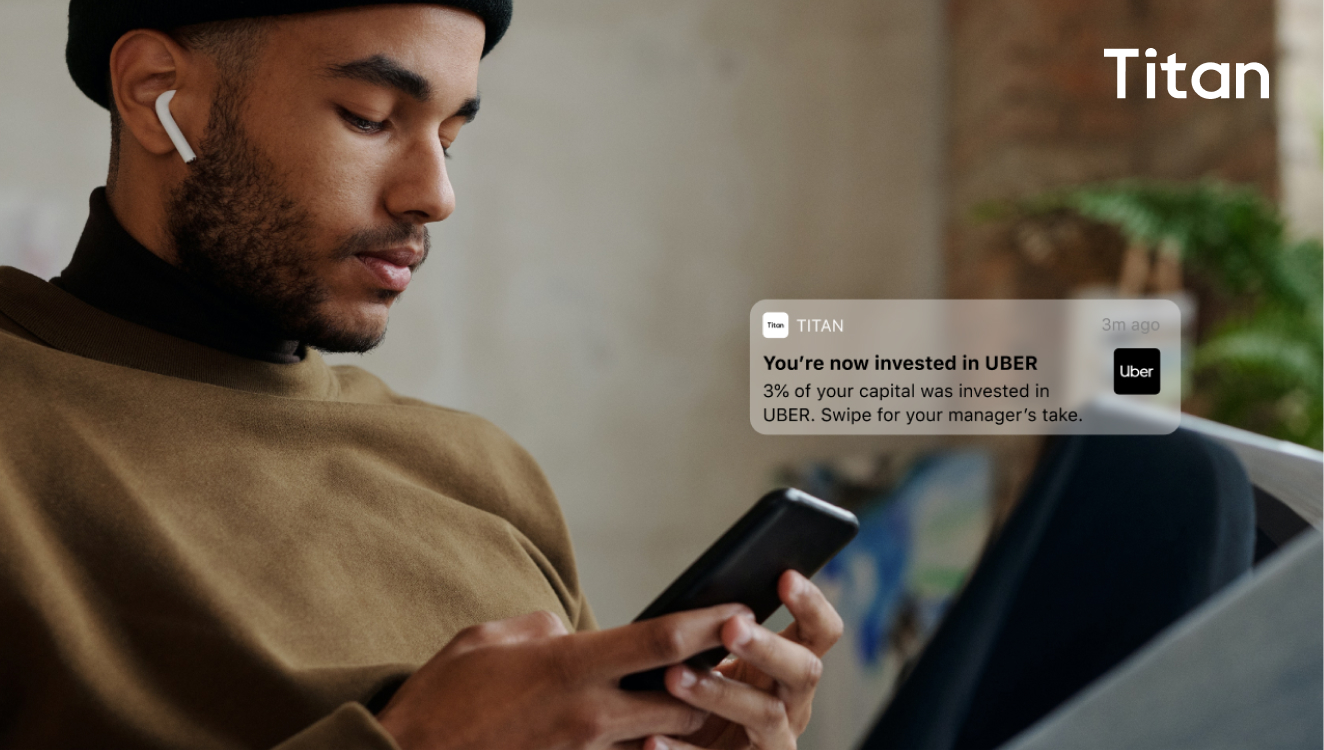 When you invest with Titan you'll own a concentrated portfolio of stocks in a separately managed account, and an investment thesis for each holding. We think it's important to know what you own vs. looking at a laundry list of opaque ETFs in a robo-investing app or your old 401K.
In addition to 3 equity portfolio options, Titan has recently launched Titan Crypto; the first actively managed crypto portfolio for everyday U.S. investors.
What's Ripe
Ford ($F) - Despite selling multiple magnitudes of more cars than Tesla, Ford isn't anywhere close to even beginning to smell a $1tn valuation. Nonetheless, the motor company still beat the sh*t out of its earnings call. Revenue came in just over $33bn on $32.5bn expected and actual EPS came in at $0.51, nearly doubling estimates of $0.27. And the best part? Management upped their full-year revenue guidance by at least $1bn, leading to yesterday's 8.63% rise.
Shopify ($SHOP) - You'd think breaking a 5yr streak of not missing a single revenue target would be bad news. Well, apparently not for Shopify. In yesterday's Q3 earnings release, Shopify announced $1.12bn in revenue on $1.15bn expected, but coming from $767mm in the last quarter, this ain't so bad. Perhaps more important in saving the day, management was super bullish but in a relatively non-insane way like other firms, letting the stock run 7.0% on the day.
Facebook ($FB) - Apparently, none of the internet's suggestions for Facebook's name rebrand pleased Zuck. The social media titan announced yesterday that it will rebrand itself as "Meta", somewhat fitting for the firm trying to build the "metaverse". Shares rose 1.5% on the day and popped up on the name change announcement, meaning, apparently investors like it.
What's Rotten
eBay ($EBAY) - Despite the similarities of Shopify and eBay's business model and earnings release, the latter got absolutely hammered yesterday. Shares plopped down 6.8% as analysts just weren't buying it like they were Shopify (no pun intended). eBay actually beat on earnings, but management's guidance for lighter demand must not have sat well during the day. After hours however, the firm is back on top, rising back much closer to Wednesday's close price, sitting at $77.66 right now.
Royal Dutch Shell ($RDS) - It was a whirlwind of garbage inside of a shitstorm for Shell yesterday. Not only did the company miss on earnings, but activist shareholders got a lot louder in calling for the firm to break up. Dan Loeb, CEO of Third Point, wants the firm to separate between legacy fossil fuel assets and natural gas station operations, according to Reuters. Investors vomited at the idea, sending shares down 5.1%.
Thought Banana:
Internet Dog Money - *sigh* I've resisted writing about this for so long, but I guess we have to now. I'm sure you're well aware of the new version of Dogecoin, called Shiba Inu, but the gains this thing has seen is almost unfathomable.
My $50,000/yr tuition for a degree in economics & finance is apparently not only worthless, but is actually turning into a hindrance. A not-so-new dog meme coin based on the OG dog meme coin has been on an absolute tear lately. As I write this, the price is down ~4% on the day, but that's nothing compared to the ~160% gain seen just over the past 7 days, pushing Shiba past Doge in terms of market cap. The only fundamentals appear to be Elon Musk's tweets, but even after the crypto kingmaker revealed he holds none, the gains couldn't be stopped.
Honestly, there's really not much else to be said besides 1) this thing has shot up an absolutely absurd amount and 2) short-term meme coin investments could potentially be a viable trading strategy. I can't believe what I just wrote, but look at just the 5-day chart below and tell me I'm wrong.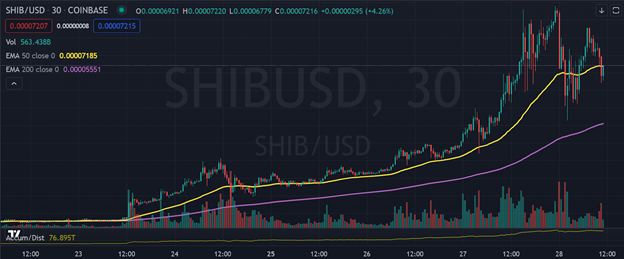 "First, only invest in companies that have the potential to return the value of the entire fund." - Peter Thiel
Happy Investing,
Patrick & The Daily Peel Team
Was this email forwarded to you? Sign up for the WSO Daily Peel here.