The New Shopping Craze | The Daily Peel | 11/24/21
Silver Banana goes to...

Market Snapshot
More mixed markets to mindfully mull over, monkeys. Energy names saw a much needed boost while the rest of the market was trepidatious ahead of inflation data coming out later today. The Dow rose 0.55% and the S&P saw a gain of 0.17%, while the Nasdaq took a 0.5% dive.
You NEED Alpha. Professional research and access to a portfolio with an average annual return of 19.6%. WSO Alpha has got all you need to start gaining; premium research, a 10 year-old portfolio to trade with, and more!
Unlock the entire portfolio here!
Let's get into it.
Macro Monkey Says
Existing Home Sales - As the flight to sick-ass WFH setups and out of the boring-ass office continues, home sales continues to ramp up. Recently we got data for October's existing home sales, confirming the trend described above. Existing home sales rose 0.8% month-over-month, representing a contraction from the craziness of last year by 5.8%.
These figures imply annualized sales of over 6mm housing units, which would represent the highest number since...2006. Of course, that doesn't sound great, but the market is much more well capitalized and new regulations hope to halt a repeat of the GFC. We'll see, but for now, probably not too much to worry about (I hope).
Boiling Point - Elon Musk and Jamie Dimon - two of Wall Street's most watched executives. One sits at the helm of the United States' largest auto maker while the other has run the nation's largest bank company for the last 16 years. So yeah, we're talking some pretty important people, and these important people also just happen to really not like each other….at all.
The two have traded blows and thrown shade at each other in the past, mostly in a mild and seemingly-nonchalant manner. However, last week Jamie Dimon and JP Morgan filed a lawsuit against Elon and Tesla for $162mm that the EV behemoth owes the money behemoth.
JP Morgan alleges that despite their reluctance to work with Tesla pretty much always, in 2014, the bank orchestrated a trade known as call option overlay, which is essentially where a company uses convertible debt and call options to minimize their tax burden. JP Morgan lent a hand to Tesla 7 years ago to do one of these trades. The bank has not yet been paid for their services and I guess Tesla hitting the $1tn mark reminded them or made Jamie Dimon think "okay f*ck this guy, he still owes me money."
Either way, when two billionaires are at each other's throats, it makes great entertainment for us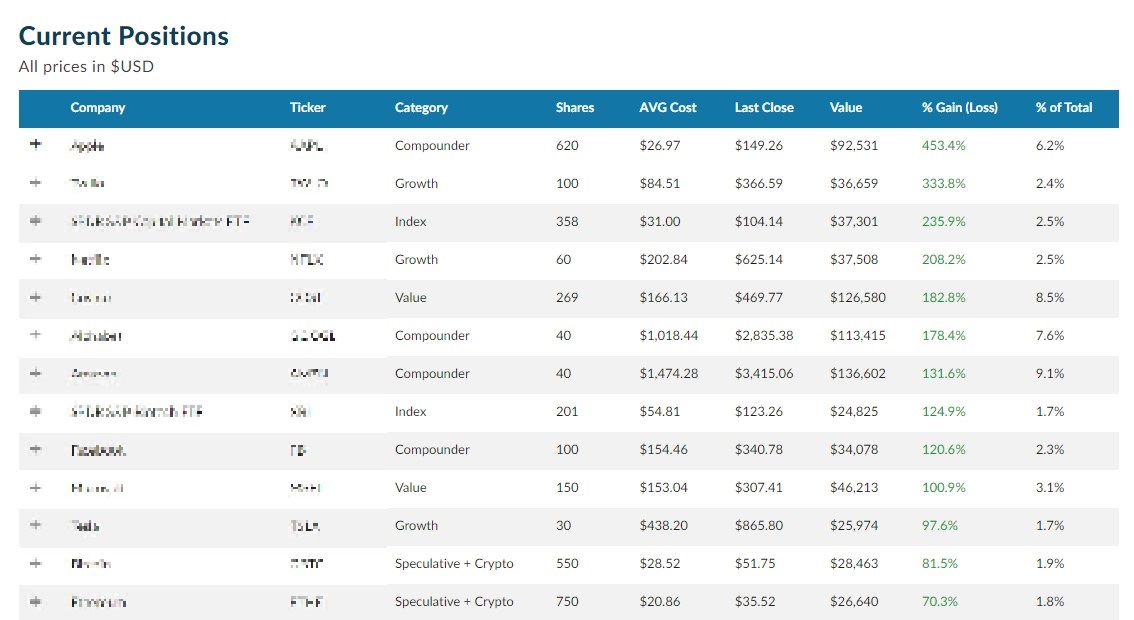 The WSO Alpha portfolio is still up over 300%.
This is THE portfolio you don't want to miss. WSO Alpha has
Historically outperformed the S&P, Nasdaq, and Dow
An unmatched Risk/Reward profile
Professional research reports
And more!
What's Ripe
Dollar Tree ($DLTR) - For a store that doesn't charge all that much, it's been a volatile year for Dollar Tree. Yesterday's 9.2% gain backs this up, but this time it actually was for a legitimate reason. We warned you that Dollar Tree might become Dollar-Fifty Tree a few weeks ago. Well, yesterday, the company announced plans to become Dollar-Twenty-Five Tree. That's right, due to inflation your purchasing power at dollar Tree has fallen 25%, meaning for most goods, you'll have to shell out $1.25 instead of just $1. Hope you're making the big bucks.
Energy Stocks ($XLE) - After a cold winter over the last few trading sessions, Energy stocks seem to have rebounded nicely. Leading the S&P 500 yesterday, energy ETF XLE gained sharply, rising 3.07% on the day. Oil, gas, and other commodity prices have started to perform in the green once again, justifying the gains in energy names and allowing them to rip you off at the pump and in your heating bill once more. 
What's Rotten
Zoom Video Communications ($ZM) - Pandemic winners are being reminded in the hardest of ways that what was cool one year is generally just the opposite the next. No stock represents this more than Zoom. Despite beating EPS estimates by 53% and revenue coming in above expectations as well, the Street saw Zoom's latest earnings report as almost as disappointing as season 8 of Game of Thrones. Yesterday's 14.71% loss brings the firm down ~65% from their peak, a shedding of over $100bn in value. Honestly, that's kind of impressive.
General Motors ($GM) - Yeah, we've been talking a lot about cars lately, and that didn't stop yesterday. GM, who is still smaller than Rivian btw, has made some interesting investments in preparation of the EV wave, and the one that was revealed yesterday might just be the most interesting. GM has purchased 25% of the company Pure Watercraft, an EB (electric boat) company. For the firm that can't stop reminding us that they are "all-in" on electrification, this feels right. Unfortunately, yesterday's market reaction of a 1.6% fall disagrees for the time being.
Thought Banana:
How to Shop for Free - Have you ever walked into a store and thought "wow, this stuff is cool, but I don't want to spend the money to get it"? Well fret no more, because shoplifting is apparently all the rage lately at Best Buy stores. 
Shares in Best Buy fell off a cliff yesterday after a lackluster earnings report showed depressed margins and lower than expected sales from the firm's e-commerce unit. However, the most interesting part of the report came when Best Buy announced that shoplifting and other criminal activity like organized large-scale theft had seriously put a dent in margins as well as the psyches of the store's floor workers.
Much of the organized crime raids - in which criminals will collectively rush into a store, grab as much as they can, and rush out - is concentrated in Norther California, according to the company. And it's not only happening to Best Buy. Walgreens recently shut down their 5 San Francisco stores to avoid the thievery while other retailers, like Nordstrom, Target, and plenty of mom & pop shops are suffering too.
We'll see if others follow in Walgreens footsteps and decide if the optimal move to prevent robberies is simply to close so there is nothing to rob. For now, this is obviously not the look San Fran and the rest of Northern California wants to give, but the fact that these issues are now appearing on the earnings reports of +$30bn companies is just insane.
"Perhaps brains or a skill are the most portable and best wealth preserver." - Barton Biggs
Happy Investing,
Patrick & The Daily Peel Team
Was this email forwarded to you? Sign up for the WSO Daily Peel here.