MARKETS
U.S. markets: Stocks wasted no time Monday, surging higher as fears of a U.S.-China trade war eased. The Dow closed above 25k for the first time since March 16.
International markets: European and Asian stocks strapped in for the joy ride.
Earnings today: TJX, HPE, Intuit
Want Morning Brew Daily Served Fresh to Your Inbox?
Drop Your Email Below...

MEDIA
Oh Mama, Netflix Got Obama

So you've just finished eight years in the most stressful job known to humankind...what's next?
Make your own House of Cards.
Barack and Michelle Obama signed a multi-year deal with Netflix (+2.36%) to produce unscripted and scripted TV series, documentaries, and features under a new company, Higher Ground Productions.
What type of content?
Hear from the former president himself (read in Obama voice):
"We hope to cultivate and curate the talented, inspiring, creative voices who are able to promote greater empathy and understanding between peoples, and help them share their stories with the entire world."
Tl;dr: Inspire people through video, whether that's on or off camera (the Obamas are expected to do both).
And while the financial terms weren't disclosed, we're guessing Barack will be making more than his previous $400,000 salary (CNN reports eight-figures). After all, this is the same company that's paying producer Ryan Murphy up to $300 million...and he never got within 50 miles of the nuclear codes.
This is a giant win for Netflix
Not that it needed much help with original content. A poll released yesterday showed 39% of U.S. consumers thought Netflix had the best original programming among subscription video services-that's easily good for the No. 1 spot. If you use binoculars, you can see HBO (14%), Amazon Prime Video (5%), and Hulu (4%) in the distance.
And don't expect that gap to close:
Netflix is spending 85% of its $8 billion content budget on original production.
By the end of the year, it hopes to have 1,000 originals streaming globally to its 125 million subscribers.
Bottom line: This company is something special. By landing talent with the popularity/global appeal of the Obamas, it's proved it's just as powerful as any media company out there.
INDUSTRIALS
GE Hitches Its Caboose to Another Train
GE (+1.87%) CEO John Flannery promised to sell $20 billion worth of assets. And by god, he intends to keep that promise. In an $11 billion merger, GE will offload its 111-year-old train business to rival Wabtec.
In return? GE and its shareholders will keep 50.1% of the joint operation and GE will receive $2.9 billion in cash.
So Flannery, why are you selling GE assets?
Well, you might remember...
GE was the Dow's worst performer in 2017.
Its profits have been dropping along with investor confidence (precisely the reason Flannery was brought in late last year).
Connecting the dots: GE is desperate to streamline its balance sheet and focus on its future-aviation, healthcare, and power. Dropping its legacy rail business feels like the perfect place to start.
ENTERTAINMENT
WWE Gives Fox the Chair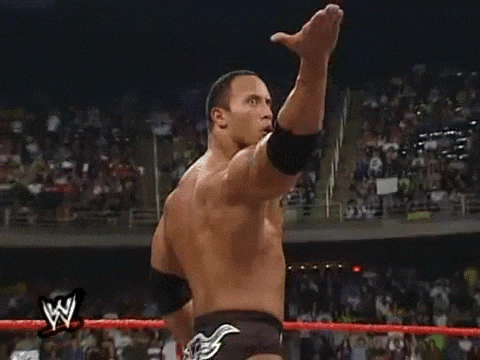 We don't always put GIFs of shirtless men in the Brew, but when we do...it's because World Wrestling Entertainment (WWE) and Fox are this close to a "massive" 5-year, $1 billion agreement to air SmackDown Live. WWE shares (+12.48%) hit an all-time high following the Hollywood Reporter scoop.
It's costing Fox a veiny arm and a leg: The $205 million per year deal would mean Fox is paying 3x more than NBCUniversal is currently paying to air the same program.
Can you smell what the "New Fox" is cooking? Following a (potential) sale of $52 billion in assets to Disney, a slimmed-down Fox is betting big on live sports and news. SmackDown's 2.59 million viewers per week are clearly a big part of the plan.
FORTUNE 500
These Companies Make a Lot of Money
There are a few things you can bet on in life: the McDonald's ice cream machine being broken and Walmart topping the Fortune 500 list, a rundown of the American companies with the highest annual revenue. With over $500 billion in sales, it came in at No. 1 for the sixth year in a row.
Here's your top 5:
Walmart
Exxon Mobil
Berkshire Hathaway
Apple
UnitedHealth Group
What else do you need to know?
Biggest winner: Tesla jumped 123 spots to land at #260.
Biggest loser: Xerox fell 129 spots to #291.
Best shareholder return: #306 Nvidia (5-year), #261 Netflix (10-year).
Threshold to make the list: $5.4 billion in revenue (up 6%).
AUTO
Making Headlines

As if the Tesla (+2.77%) Model 3 needed another problem to deal with, Consumer Reports didn't recommend the car.
Here's why: "Our testers also found flaws-big flaws-such as long stopping distances in our emergency braking test and difficult-to-use controls."
Expecting a Musk tweet in 3...2...1...
WHAT ELSE IS BREWING
Microsoft (+1.29%) acquired "conversational AI" startup Semantic Machines to make Cortana and its other voice AI systems more human-like.
Adobe (+2.15% after hours) is buying e-commerce company Magento Commerce for $1.68 billion...its biggest acquisition since 2009.
The UK isn't concerned that Comcast (-1.16%) acquiring Sky for $30 billion would raise antitrust issues.
Mark Zuckerberg's meeting with the European Parliament will be live-streamed today (12:15-1:30pm ET).
Goldman Sachs's chief economist said the long-term U.S. fiscal outlook isn't looking too hot.
The U.S. Supreme Court ruled 5 to 4 that employers have the right to prohibit employees from joining together in class-action lawsuits.
BREAKROOM
#TradeTalks Tuesday
TOGETHER WITH NASDAQ
The 50-30-20 rule. Write it down, tattoo it on your bicep...whatever you have to do to make sure you remember it. What is it? The holy grail of personal budgeting for those of us with student loans. But 50-30-20 is just the start: Brianna McGurran, a Personal Finance Expert at NerdWallet, offers plenty more useful budgeting tips in this short but sweet video with our friends at Nasdaq. And don't forget to search #TradeTalks on Twitter for the latest trading trends, education and news.
ANOTHER GREAT NEWSLETTER
Join 440,000+ executives and see what's next in technology, VC, and startups. If you're not already subscribed to CB Insights' excellent newsletter, you should. Their newsletter offers a data-driven, no fluff view into what's next in technology, startups, venture capital, and M&A.
BRAIN TEASER
Sarah went to get her drivers license. When asked her age, she replied: "My age today is three times what it will be three years from now minus three times what my age was three years ago." How old is Sarah?
(Answer located at bottom of newsletter)
Want Morning Brew Daily Served Fresh to Your Inbox?
Drop Your Email Below...

Breakroom Answers
Brain Teaser
Sarah is 18 years old.