What The Truck? | The Daily Peel | 11/5/21
Silver Banana goes to...

Market Snapshot
We may not have closed at all-time highs again, but the markets continue to move up and to the right. The Nasdaq and S&P both gained, rising 0.81% and 0.42% on the day, while the Dow killed the vibe and lost a teensy bit, falling 0.09%.
Financial Pandemic 2.0 is coming our way and you NEED to be prepared so you can profit and build wealth. Check out the seven steps here, before it's too late.
Let's get into it.
Macro Monkey Says
Jobs - Not like most of you will be awake for this, but the jobs report for the month of October will drop in a couple hours, at 8:30am, and Wall Street is pumped. Judging by the Fed's comments yesterday, the billion dollar question of "when will they raise rates" will become just a bit more clear.
Maintaining maximum employment and price stability, the Fed's dual mandate is a helluva lot easier said than done. Traditional economic theory says they work somewhat opposite each other - as job growth speeds up, inflation tends to as well. But, as we've learned, we can basically chuck the classic finance and economics textbooks out the window. Sorry, Adam Smith.
In the 1970s, Fed Chair Paul Volcker (PVol) demonstrated that high inflation can be reigned in by raising interest rates. That playbook has been the main tool to fight inflation ever since. But, here's the kicker, raising rates disincentives businesses to hire because the cost of borrowing becomes more expensive, meaning companies have less cash going around. So, when we're in an environment like the one right now where we want to maintain job growth but reduce inflation, raising rates is a tough call.
But, that's why we have smart people in charge. JPow and gang will assess the jobs report tomorrow and, if strong growth is present, this is likely an indication that rates can be raised sooner rather than later. There's your economics lesson for the day, you can Venmo me whenever you want.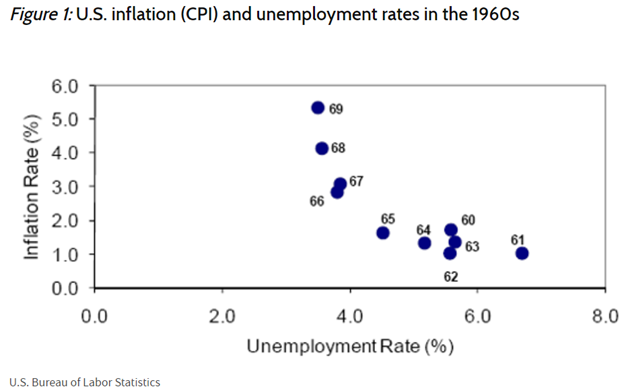 What The Truck? - Normally, truck drivers are the unsung heroes of global supply chains. They do the hard, sometimes intense work of delivering your stuff from halfway around the world right to your doorstep. Now, they're part of the problem.
Well, I guess the ones currently driving aren't the problem, but it's the lack of drivers that's the problem. Basically every part of the global supply chain is under strain and trucking can't escape that pain. The interesting part is that if we had this problem, say 5-10 years into the future, we probably wouldn't even have this problem. As little sense as that made, hear me out. Trucking is quickly getting infiltrated by the robots. If we had competent AI that could drive like Ricky Bobby, we wouldn't be in this situation. But if anything, this shortage will only expedite the process of robotic, or at least semi-robotic, truckers.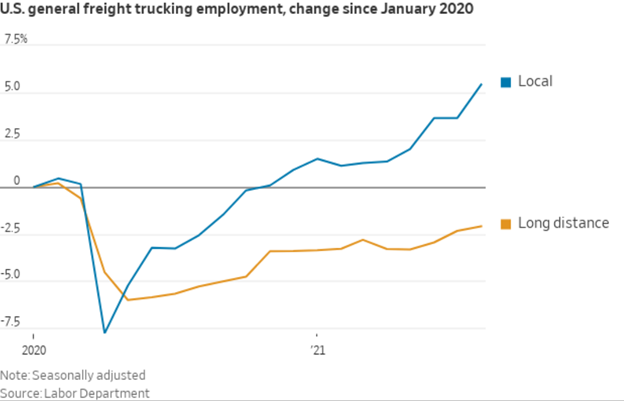 The Financial Pandemic of 2022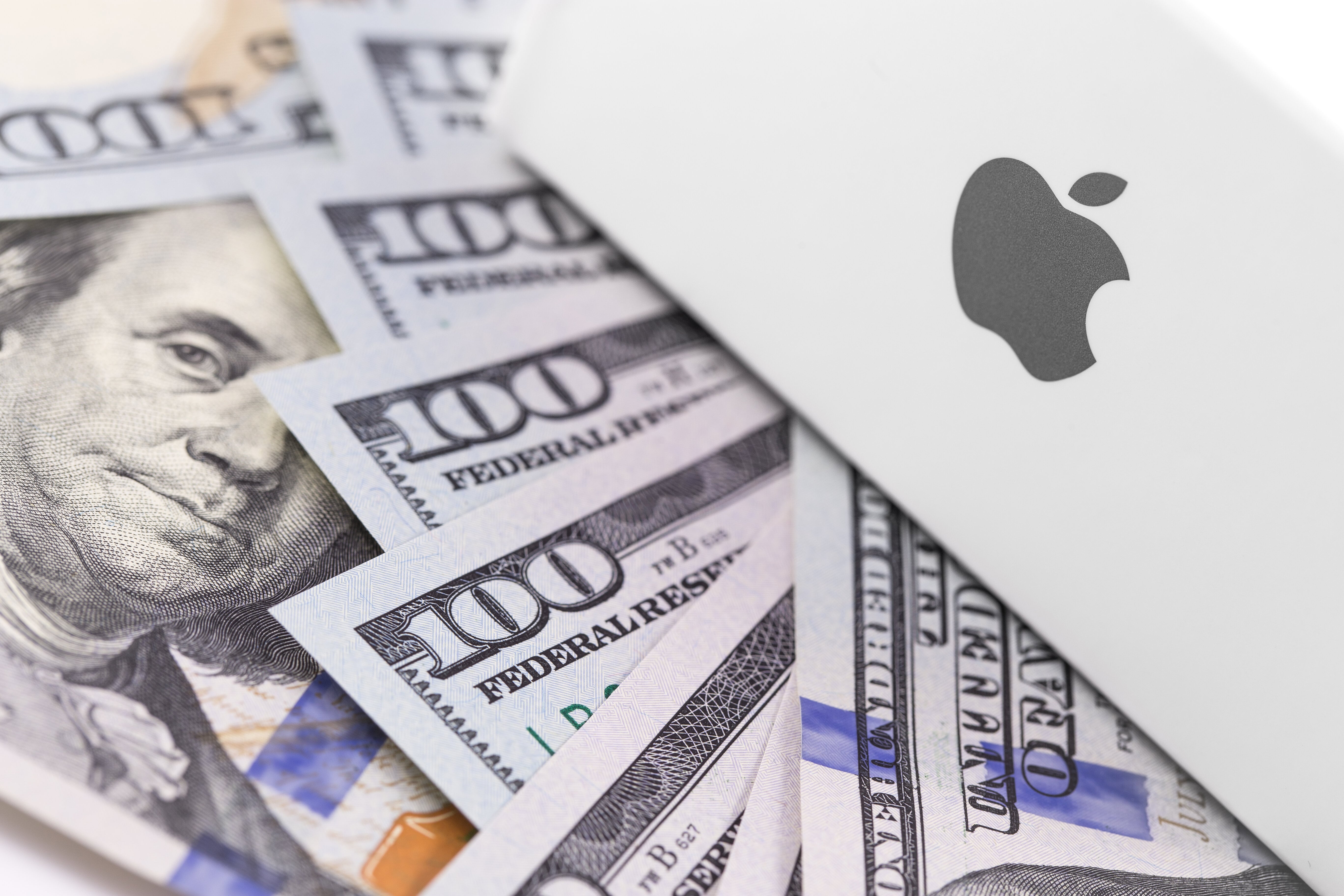 If you think what happened in the first phase of the pandemic was shocking, brace yourself for what's coming next.
Financial Pandemic 2.0 is likely to strike with even greater speed and force than 1.0. And this time, even the rich will take a hit. But, you can turn this crisis into an opportunity to swiftly build your wealth. Just follow these seven simple steps.
What's Ripe
Qualcomm ($QCOM) - I haven't had Doritos in way too long, but I thought Qualcomm's chip shortage was a much bigger issue than that. But as usual, I was wrong, and Qualcomm is still killing it. Shares gained 12.7% yesterday after the chip maker released stronger than anticipated earnings, highly unexpected as the world is still running low on semiconductors. Nonetheless, Qualcomm grew chip sales 56% YoY (somehow) and beat on earnings and revenue. Still, feel free to send me some Doritos whenever you get the chance.
Redbox Entertainment ($RDBX) - Uhh...yeah we have another weird one for you today. Redbox, yes that Redbox, the f*cking gas station video rental company f*cking skyrocketed 45.1% yesterday just days after completing their SPAC merger. Volume was even down yesterday, there is literally nothing that can be said beside what in the name of Aswath Damodaran is going on here??
What's Rotten
Allbirds ($BIRD) - The IPO world is a strange place, and after rising nearly 20% on their Wednesday debut, Allbirds stock fell back to Earth with a 10.2% loss. The shoe maker, who originally tried to call their IPO an SPO (sustainable public offering), certainly gave some investment bankers and other pre-IPO investors a fat bag with Wednesday's gain, likely leading to an unloading of shares yesterday. Not gonna lie though, their shoes do be mad comfy.
Penn National Gaming ($PENN) - War is upon us. The divine feud between Business Insider and Dave Portnoy, CEO of Barstool Sports (owned by Penn) played a part in Penn's 21.1% loss yesterday. I mean, the sh*tty earnings didn't help either, with EPS coming in at $0.52 vs $0.85 expected. Revenue missed too, but much more importantly BI is alleging Portnoy to basically be a sex-addicted pervert (debatable) and Dave was not happy. Please just go check out his Twitter feed, it's too much and waaayyyy too edgy to cover here.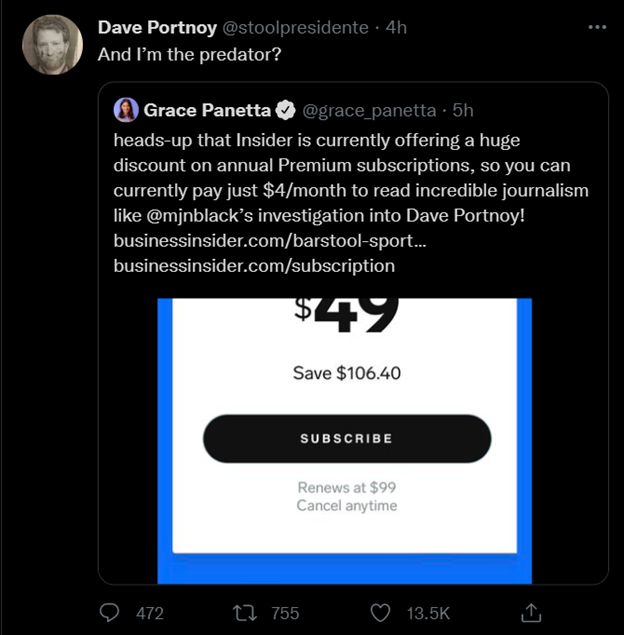 Thought Banana:
Let Them Go Broke - You guys know by now that I tend to lightly roast you all as well as myself and just about anyone I write about. Do not take the following roast lightly: anyone who invested in f*cking Squid Game token, SQUID, has a room temperature IQ and deserves to lose their money. Nonetheless, crypto exchange Binance announced an investigation into the token and the creators behind it after the value of a SQUID token soared 70,000% and then fell 99.9% in the matter of like 2 seconds. Binance said it's investigating this as a possible "rug pull" scheme...you THINK?!?! Wow! No Kidding! Unbelievable. I didn't want to glorify Squid Token by putting it in the almighty Daily Peel, but please just know this: if a crypto coin (potential fad) named after a popular Netflix show (total fad) gets released...DO NOT BUY IT. IT IS A SCAM. God damn.
"I always invest my own money in the companies that I create. I don't believe in the whole thing of just using other people's money. I don't think that's right. I'm not going to ask other people to invest in something if I'm not prepared to do so myself."
- Elon Musk
Happy Investing,
Patrick & The Daily Peel Team
Was this email forwarded to you? Sign up for the WSO Daily Peel here.