Wrong Place, Wrong Time | The Daily Peel | 10/20/21
Silver Banana goes to...

Market Snapshot
A strong day for earnings led the S&P up 0.74%, the Nasdaq 0.71%, and the Dow 0.56%.
No more guessing whether the market will go up or down. Artificial intelligence can predict what the market will do, 72 hours ahead of time...with 87.4% accuracy!
Join the FREE webinar and see what VantagePoint AI can do for you. Sign up now, space is limited!
Let's get into it.
Macro Monkey Says
U.S Dollar - Remember when we said that we'd hate to be a U.S. Dollar right now? Well, today you'd really hate to be one, as the dollar index, DXY, took a bit of a tumble, and not without cause.
In case you hadn't heard, the U.S. economy is changing pretty rapidly. Looming asset-purchase tapering, rate hikes, a near-breached debt ceiling, an a**load of government spending, not to mention rising inflation, and of course, energy issues, all coordinating to drive down the value of the dollar vs a basket of global currency peers. It's not all doom and gloom however, as the dollar remains up on the year, but it reminds us of the precarious position we find ourselves in. To add to that laundry list, other central banks are expected to tighten monetary conditions before the U.S. gets around to it, pushing the currency lower on a relative value basis. But I'm not burning my dollar bills just yet...
JPow Gets JPounded - You know that feeling of "wrong time, wrong place", when everything comes crashing down on you out of nowhere? Well, for our boy JPow, he's getting that, times the size of the Fed's balance sheet.
Revelations were made yesterday, upon financial disclosures from the Chairman of the Federal Reserve, that Mr. Jerome Powell, formerly known as JPow, allegedly sold somewhere between $1mm and $5mm worth of the Vanguard Stock Market Index Fund ($VTSAX) on Oct. 1, 2020, just before a somewhat significant market dip. While everyone is losing their minds over this, let's get some perspective. The VTSAX has returned ~36% since then, so if this was a nefarious trade, it sure wasn't a smart one. Not a single individual stock was traded, so it's not like the guy had insider info that oil was gonna explode so he loaded up on Diamondback Energy calls. But still, this comes right as the Chair is up for re-nomination and just weeks after the Dallas and Boston Fed Presidents, who faced similar allegations, resigned.
One person that is going to pound this story into diamond is Senator Elizabeth Warren, who is already not a fan of Powell, likely in attempt to get some fresh blood in his seat. Moreover, with all these stories of Fed officials, Representatives, and Senators trading at suspiciously convenient times, something has to be done. How funny would it be if tomorrow we find out Joey B himself bought a sh*tton of Nucor or something?
Use THIS to Predict Trends Up to 87.4% Accurately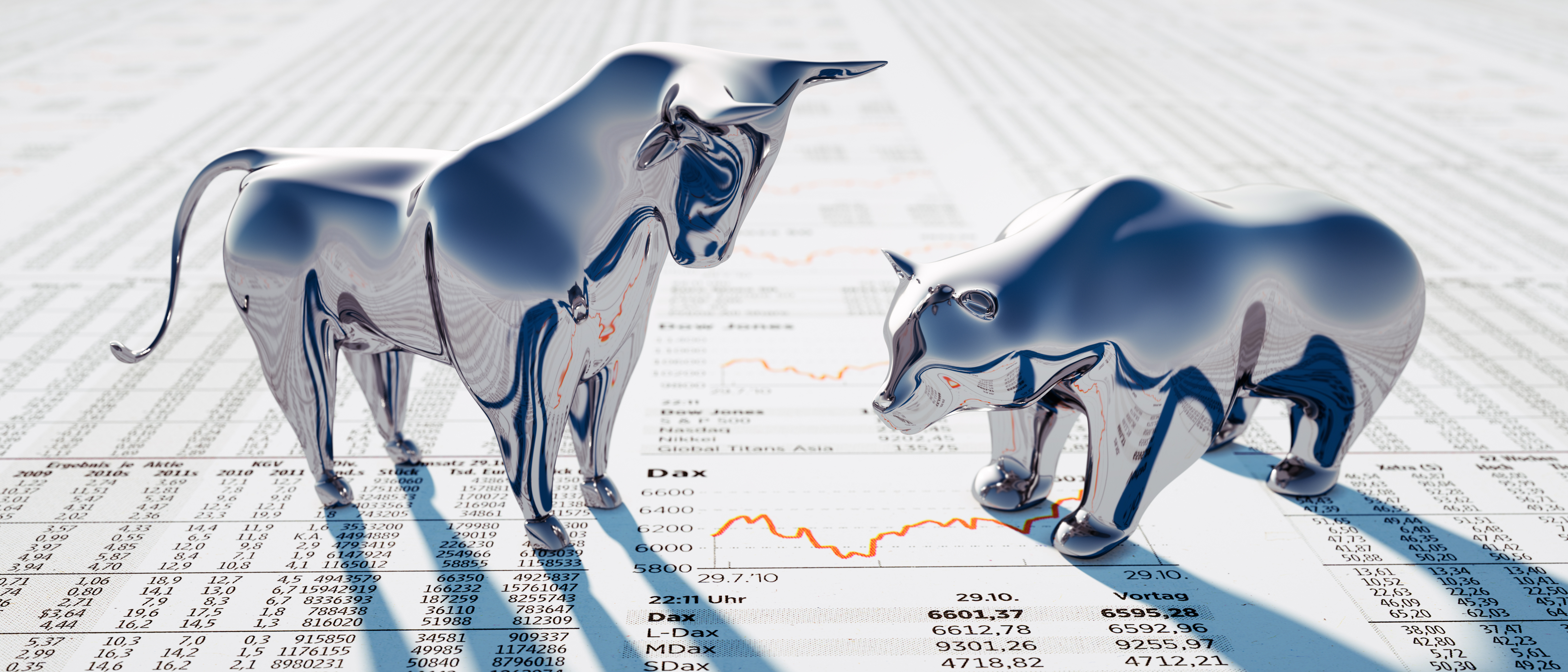 Artificial intelligence makes trading simple. See what stocks are on the rise this week, and what trades you should probably exit…before it's too late. A.I. can help you fine-tune your trading decisions by giving you up to 72-hour advanced market forecasting.
Save your seat at our LIVE online demonstration and see your stock forecasted today.
This event is absolutely FREE. Registrations close after the first 200 guests, so hurry up and save your spot now!
It's not magic. It's machine learning.
What's Ripe
Johnson & Johnson ($JNJ) - The maker of the third-best COVID vaccine managed to pull off a tolerable quarter, despite being, you know, third best. The company that puts the "big pharma" in big pharma rallied 2.3% yesterday, despite missing on both GAAP EPS and quarterly revenue. J&J did manage to beat sizably on net income, along with jacking up their FY'21 EPS projection to $9.82 and growing the ever-important medical device unit by more than expected. Oh yeah, and $500mm in COVID vaccine revenue helped too.
Digital Currencies (₿TC) - It's been far too long since we've been able to say this so, please, let me clear my throat: *ahem*, ALL-TIME HIGHS BABY LET"S GOOOO!!! 
As I write this now, one eye is watching a BTC price chart as it quickly approaches $65,000, as a result of the first BTC ETF listing. And it's not just BTC, almost the whole market is riding the wave, with the total crypto market cap up over 2.3% in the last 24hrs. To all the HODLers who bought on April 14th, congrats on finally being in the green, it only took your mortal enemy of institutional investors to push the price for you.
What's Rotten
Ulta Beauty ($ULTA) - If sh*tting the bed is a sport, give Ulta Olympic gold. The firm held an investor presentation yesterday, which is usually a time for companies to pat themselves on the back and get investors excited, but safe to say it did not go well. Shares fell 10.6% as investors were ridiculously disappointed by the firm's projections, things like a 5-7% revenue CAGR and "low to double digit EPS growth". Whatever "low to double digit" means, it was not a good look, so be sure to keep and eye out for Dec. 2 when the firm next reports earnings.
Macy's ($M) - Speaking of things investors didn't like, let's talk about Macy's. The department store is reportedly considering a spinoff, separating their e-commerce unit from the brick-and-mortar establishments. As weird as it sounds, this might actually be a good idea, but investors sure did hate it, sending shares down 6.1% on the day. Saks Fifth Avenue has done this before, to a moderate success, but it is activist investor Jana Partners that is really pushing for the split. Whatever it takes to keep those insane discounts going in their physical stores, I'm all for it.
Thought Banana:
Literally Bananas - Just when I thought you apes couldn't get any more degenerate, you have absolutely outdone yourselves. I can't believe I'm writing this, but some Messiah of a person actually put a giant statue of Harambe the Gorilla (RIP) on Wall Street right in front of the famous Charging Bull statue. Sadly no, that Messiah was not Chief Monkey Patrick, so please stop asking us.
Just look at this picture below. If this doesn't show the power of the retail trader, I don't know what does. They literally put hundreds of bananas around the base of the charging bull, too, presumably representing money made in stocks that was previously limited to a select few.
Honestly, I don't even know why I'm trying to make sense of this. It is absolutely hysterical and that's all that matters. Do they give out Nobel Prizes for memes?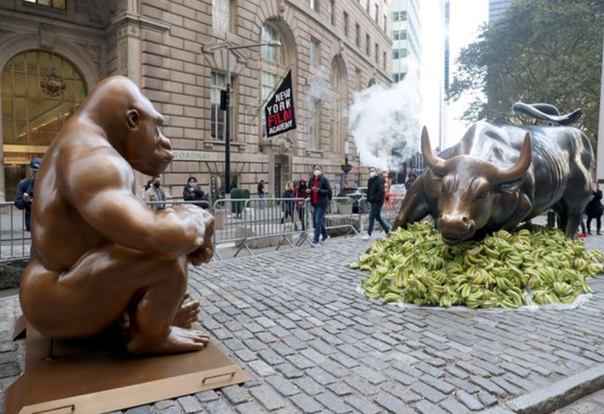 "Your success in investing will depend in part on your character and guts and in part on your ability to realize, at the height of ebullience and the depth of despair alike, that this too, shall pass." - Jack Bogle
Happy Investing,
Patrick & The Daily Peel Team
Was this email forwarded to you? Sign up for the WSO Daily Peel here.