Popping Pills to Perform...
Points)
on 7/18/12 at 10:30pm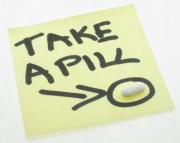 This may come as a shocker to some of you (sarcastic tone) but there may be rampant use of prescription medications in your office. Look around, how many of your office peers could be diagnosed with ADD or severe anxiety? Issues that require medication for legitimate reasons should not be judged, however, a growing trend indicates the use of medication is not based on diagnosis but on need to perform on the job. A recent article published by The Harvard Business Review highlighted this growing trend of pill popping in the office (Should Your Boss Encourage You to Take Drugs).
So, why are prescription medications flourishing? Is it the pressures of the job or the culture of the employment world? Should your boss "pressure" you into taking prescription medications to perform? In any case, the use of medication should be reserved for the impaired, not the disingenuous. Natural feelings of anxiety or lack of concentration should not be a cause for an (rx) script; these mental and physical reactions are again, natural, more or less the body's reaction to keeping us on our toes. So do yourself a favor, next time you have an interview, a big presentation, or can't stay focused on the job, seek a much safer alternative to popping a "magic" pill.
So, what are the alternatives? Here's 3 of the safest, most effective ways to stay focused and energized on the job:
(1) Sleep; affects cognitive abilities and energy levels. So, to ensure on the job performance make sure you catch enough zzz's.
Tip 1 Keep away from electronics before bed.
Tip 2 Refrain from caffeinated beverages and that late night cocktail.
Tip 3 Try and get 7-8 hours of sleep on a regular basis.
Tip 4 Have a pre-bed routine. Wind down, detach, and relax.
(2) Exercise;

John Ratey, an associate clinical professor of psychiatry at Harvard Medical School, compares physical exercise to medication, saying it offers some benefits of Ritalin, Prozac and morphine combined, without pills
(Forbes. Nevermind your Abs-Tone Your Brain).
Tip 1 Workout 3-4 times per week.
Tip 2 Mix some aerobic exercise with strength training. Optimize your time by doing high intensity interval training. Here's a few workouts from Menshealth.com that can help you get started.
Interval Training Workout
Strength Training Workout
Tip 3 If hitting the gym isn't your thing try something different; yoga, dancing, racquet ball, tennis, kayaking, swimming, ping pong…
(3) Eat Healthy; Nutritional health counselor Penny Klatell suggested busy professionals consider eating themselves to more consistent energy levels.

Food is both the culprit and the treatment for a big part of our lack of energy, muddled thinking, and mid-afternoon drowsy eyes
(Inc. How to Eat for All-Day Energy).
Tip 1 Eat a solid breakfast to start the day.
Tip 2 Eat every few hours including snacks in between meals.
Tip 3 Focus on meals with protein and complex carbs.
These are just a few alternatives to help you perform on the job without the need for pill popping. In any case, lets here some feedback from you guys. What are your experiences with office meds? Do you have any other alternatives or tips for performing on the job?