Welcome to Winter Depression
Investment Banking - ECM - 2nd Year Associate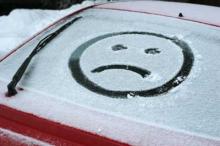 The depression is coming. No, not the financial markets. The depression I'm talking about is the rapidly approaching onset of winter. We all love waking up to crisp, fresh, snow-covered parks and seeing the trees hang with icicles, how lovely.
But then... within a few days, all has turned to hell. The snow, once so enjoyable and spirit-raising has started to melt and become trodden with dirt into a grey slush which accumulates along pavements, at entrances and generally everywhere. Alongside that we also have the biting cold wind, amplified by the man-made wind tunnels of skyscrapers.
Whether you're in New York, London, Chicago, Frankfurt, Paris or any other city with a similar climate, it's only a matter of time before your best shoes look worse than a beaten up old rusty Honda, you come into work with a nose to rival Rudolf and you take the subway into work dressed in so many layers you can barely move. I, for one, hate winter. How about you?
The WSO Advantage - Land Your Dream Job
Upcoming Events
Nov 29 2015 - 8:00am

to

Nov 30 2015 - 8:00am

Nov 29 2015 -

4:00pm

to

5:00pm

Nov 30 2015 -

8:00pm

to

9:00pm

Dec 2 2015 - 8:00am

to

Dec 3 2015 - 8:00am

Dec 2 2015 - 8:00am

to

Dec 4 2015 - 5:00pm
Poll
Long term, which career path interests you the most?
Accounting
1%
Asset Management
10%
Commercial Banking
1%
Consulting
4%
Corporate Finance / Strategy / Development
9%
Entrepreneurship
6%
Equity Research
3%
Fintech
2%
Hedge Fund
18%
Investment Banking
9%
Investment Advisor / PWM
1%
Private Equity
16%
Prop Trading
2%
Real Estate
6%
Sales & Trading
3%
Venture Capital
6%
Other Finance Role (academia, non-profit, government, legal, etc)
1%
Other - Non Finance
2%
Total votes: 1203