Mental Math Practice
CO
Points)
on 9/13/11 at 10:36am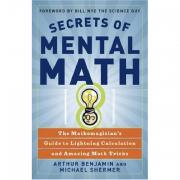 Morning everyone,
Since recruiting season is just around the corner and some of you may be preparing like crazy for interviews/tests, I want to share a book on mental math that has been extremely helpful to me. It's called "Secrets of Mental Math" by Benjamin and Shermer. You can find it on Amazon here
http://www.amazon.com/Secrets-Mental-Math-Mathemagicians-Calculation/dp/0307338401/ref=sr_1_1?ie=UTF8&qid=1315924413&sr=8-1
I don't think I'm slow at math but for some reasons calculating in my head under pressure isn't one of my strong suits. I am halfway through the book and find it not only smart, informative, engaging but also extremely fun. I guess this would be useful if you have to sit through numerical test, prepare for the GMAT or just simply want to have an interesting read!
My formula for success is rise early, work late and strike oil - JP Getty