Warren endorses government theft
Pages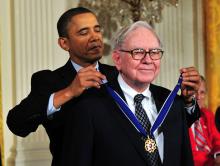 http://www.nytimes.com/2011/08/15/opinion/stop-cod...
Apparently Warren thinks the government will spend his money better than he can. He keeps mentioning this shared sacrifice thing, but I fail to see any sharing since over half this country shoulders no burden.
The government does not have a right to your earnings. We, the people, give it the funds to function. The government doesn't kindly let us keep our money, it should grovel and prostrate itself in homage to the tax payer.
I am glad I didn't read this bullshit before I met him. Made me lose all respect I have for the man.
The WSO Advantage - Land Your Dream Job
Upcoming Events
Nov 27 2015 - 8:00am

to

Nov 28 2015 - 8:00am

Nov 29 2015 - 8:00am

to

Nov 30 2015 - 8:00am

Nov 29 2015 -

12:00pm

to

1:00pm

Nov 30 2015 -

8:00pm

to

9:00pm

Dec 2 2015 - 8:00am

to

Dec 3 2015 - 8:00am
Poll
Long term, which career path interests you the most?
Accounting
1%
Asset Management
10%
Commercial Banking
1%
Consulting
4%
Corporate Finance / Strategy / Development
9%
Entrepreneurship
6%
Equity Research
3%
Fintech
2%
Hedge Fund
18%
Investment Banking
9%
Investment Advisor / PWM
1%
Private Equity
16%
Prop Trading
2%
Real Estate
6%
Sales & Trading
3%
Venture Capital
6%
Other Finance Role (academia, non-profit, government, legal, etc)
1%
Other - Non Finance
2%
Total votes: 1183