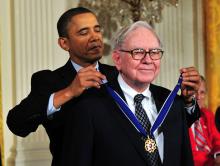 http://www.nytimes.com/2011/08/15/opinion/stop-cod...
Apparently Warren thinks the government will spend his money better than he can. He keeps mentioning this shared sacrifice thing, but I fail to see any sharing since over half this country shoulders no burden.
The government does not have a right to your earnings. We, the people, give it the funds to function. The government doesn't kindly let us keep our money, it should grovel and prostrate itself in homage to the tax payer.
I am glad I didn't read this bullshit before I met him. Made me lose all respect I have for the man.
Upcoming Events
May 24 2016 - 8:00am

to

May 25 2016 - 8:00am

May 29 2016 (All day)

to

May 30 2016 (All day)

Jun 1 2016 - 8:00am

to

Jun 2 2016 - 8:00am

Jun 8 2016 - 8:00am

to

Jun 10 2016 - 5:00pm

Jun 15 2016 -

7:30pm

to

8:30pm
Poll
Who is your favorite Hedge Fund manager?
Bill Ackman
13%
Steve Cohen
7%
Ray Dalio
17%
Ken Griffin
9%
Carl Icahn
10%
Jim Simmons
5%
George Soros
10%
David Tepper
6%
David Einhorn
9%
Seth Klarman
9%
Other / None of the above
6%
Total votes: 423