Inflation Mooning | The Daily Peel | 3/11/22
Okay, so Mr. Market decided fear was back on the table yesterday. Not only fear but also uncertainty and doubt, what some might call "FUD." Anyway, Oil fell (what?), and Treasury yields gained. 
As for equities, the Nasdaq fell 0.95%, the S&P lost 0.43%, and the Dow shed 0.34%. 
Let's get into it. 
Bullish on Inflation - Bulls, bears, and now apparently spiders raining from the sky, who knows what kind of market we're in. There are really only two things we're sure of, being 1) no one knows what's going on, and 2) inflation is ripping.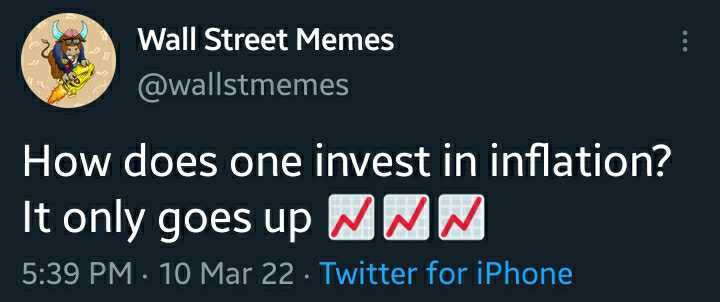 The only clear market direction appears to be inflation nonstop pushing higher. Yesterday, the BLS dropped the February CPI report. Market participants somewhat knew what they were in for, but the confirmation has spooked risk-on assets like equities and magic internet coins lower once again.

Inflation in February grew at an annualized rate of 7.9%, the highest in 482 months, or just over 40 years, all the way back to January 1982. For perspective (shoutout Gary V), that was the same month of the infamous "Ma Bell" AT&T breakup, which sounds like ancient history to me.
And honestly, if you asked anyone pre-C19 what they thought of the possibility for +7% inflation, they probably would've told you that was ancient history, too. But nonetheless, that's what we got. The increase represents a monthly jump of 0.8%, surprisingly in line with the 0.7% economists predicted.
The usual suspects are once again to blame. 
Energy gained 3.5% on the month, with fuel oil leading those gains, up 7.7% for the month and over 43% for the year. 
Food costs stormed 1% higher from January and a massive 7.9% since February 2021. 
Sheltering costs, which, if you recall, is a useless metric making up about 1/3 of the total reading, gained 0.5% month-over-month and 4.7% for the year. 
The surprise of the report, however, was seen in used vehicles and electricity, both falling for the month but still up precipitously on an annual basis.

Long story short, inflation is doing exactly the opposite of what we had hoped, and this report doesn't even account for events since the Russian invasion of Ukraine (aka, commodities mooning). 
Economists expect next month's numbers to be even higher, and although they were right this month, you apes know all too well how we feel about macro predictions of this sort.
But let's not end on a bad note. The report also indicates that wages grew on a real basis by -0.8% for the month - oh wait, that's not good either…
Amazon ($AMZN) - There's probably a reason why the word "Amazon" is so similar to "amazing," and yesterday's performance might be exactly why.
Amid a falling market and crashing tech sector, Amazon still put up a 5.4% gain. Diligent Peel readers will recall yesterday's rundown of exactly what's going on with the stock, but in case you missed it, let's catch up.
A 20-for-1 stock split is incoming, along with a $10bn buyback program. While that changes basically nothing for the firm, investors are hyped. 
CrowdStrike ($CRWD) - CrowdStike beat their earnings numbers like, well… it owed them money. Shares popped on the latest quarterly figures, snatching up a 12.5% gain amid a brutal day for tech shares.
The firm earned $0.30/sh on $431mn in revenue vs. expectations of $0.20/sh on $410mn. But the guidance raise was the key driver yesterday, with management projecting 2023 sales of $2.13bn - $2.16bn, well above the $2bn already priced in.
JD.com ($JD) - Last year's war between China and homegrown internet stocks took many casualties, but few worse than JD.com. Shares remain down 50% since peak, largely thanks to yesterday's 15.8% plummet. 
The firm reported their latest earnings figures, and despite being pretty okay, the Street was utterly repulsed. Revenue and EPS came in line, but slowing growth in annual active customer accounts was the headline number, with analysts looking for 577mn and only getting 570mn.
Damn, imagine being disappointed with having 570mn users…
Rivian Automotive ($RIVN) - Revving up for the company's earnings report, investors were not at all excited for the numbers, driving shares off a cliff to close yesterday.
The report dropped after hours, but investors had a strong conviction in the hours preceding. The problem is the conviction was in the wrong direction from what management wanted.
Shares closed the day down 6.4%, but let's see if they can turn that around and finish the week on a high note. Secure your bananas, apes.
Lace 'em Up - Get ready for fresh cut grass, pricy hot dogs, and even pricier beer: the MLB is back. After three months of cold-shouldering and seemingly endless b*tching from both sides, the MLB Player's Association has reached an agreement with team owners to get the season underway (almost) as scheduled. 
We don't talk a lot about the business of sports (or the sport of sports), but the MLB is a +$10bn organization with millions of diehard "customers" across the country. Baseball teams are effectively businesses themselves, some of which exude insanely high pricing power and customer loyalty other firms would legitimately kill for.
So, when the 2022 season was threatened, this was no small hiccup. That's 11 figures almost left on the table, but thankfully to fans and degenerate gamblers everywhere, the season will get underway just a week behind schedule.
The beef was complicated but essentially boiled down to disagreements over pay structure and labor contracts more generally. As of yesterday, Commissioner Rob Manfred announced the 162-game was back, with the opening day taking place on April 7th rather than March 31st. Now, the regular season will run a bit farther in the fall.
All's well that ends well. The new Collective Bargaining Agreement was agreed to by all 30 owners, so I'm sure the players are getting screwed somehow. Hopefully, their millions of dollars can dry their tears.
"A market downturn doesn't bother us. It is an opportunity to increase our ownership of great companies with great management at good prices." - Warren Buffett 
Happy Investing,
Patrick & The Daily Peel Team
Was this email forwarded to you? Sign up for the WSO Daily Peel here.