A Bull Trap? | The Daily Peel | 5/11/22
The futures yesterday morning (finally) pointed towards a good day for markets, and then $hit got kinda weird. Ether and Satoshis mounted a slight comeback. The 10-year yield moved sharply lower. Inflation numbers a la CPI are due out this morning; take a deep breath and get mentally prepared for a potential feast or famine in today's session.
Markets ended the day mostly flat after what I'd consider a roller coaster of a day. The Dow was down 0.26%, the Nasdaq was up 0.98%, and the S&P was 0.25% in the green.
Ready to save up to $2k on your summer travel? Stop dreaming and start planning. Try DFC for $1 if you sign up in the next 24 hours. Think; roundtrip to Hawaii from $175, Madrid from $335, and much more. Offer ends in 24 hours!
Try DFC for $1 Now
Congrats to yesterday's Brain Teaser winners! For today's winners, we will offer 150 bananas off the list price for our Real Estate Modeling Course.
Let's get into it.
The answer to yesterday's brain teaser was: You only have 7 eggs. Roosters can't lay eggs; only hens can.
Today, for our first ten respondents with the correct answer, I will unlock our Real Estate Modeling Course for 150 bananas off! LFG:
What is more challenging to catch the quicker you move?
Shoot us your guesses at [email protected].
Housing Market Shift? - The supply of homes is about to post its first year-over-year increase in about three years.
That's not all, folks.
Realtors are seeing a slowdown in bidding wars and a cooling off in the market.
Affordability is a challenge. With interest rates on the rise, already expensive homes are becoming more expensive to buyers who logically will be financing their home purchases.
Especially in the new home market, construction is slow, and new homes are very expensive compared to median incomes by state across the continental United States.
Growth in inventories is led by mid-sized family homes remaining on the market. This is quite the shift: during the last two years' housing bull run, these homes were the first to get snatched up, and typically the Spring is when these homes have the highest demand.
All of this might mean good news for buyers. For the last two years, sellers have carried most of the leverage. Just like employers in the digital economy, buyers were at the mercy of whoever was sitting on the other side of the deal.
It looks like things might slowly shift back towards a more even playing field for buyers.
But does this mean home prices will drop?
That's unlikely. If anything, the rate of change in home prices will slow. Technically, only with one exception in the last 60 years, home values have only ever gone up in nominal terms.
Houses are real assets. They're real property. Their value is inversely correlated with interest rates, but even a 3% move in mortgage rates doesn't mean home prices will suddenly plummet.
If you're in the market for a new house, you might stand a better chance of having an offer accepted near the asking price. However, if you're waiting for a home price bubble to pop, I wouldn't hold my breath. But then again, not financial advice.
Save Up to 90% On Your Next Flight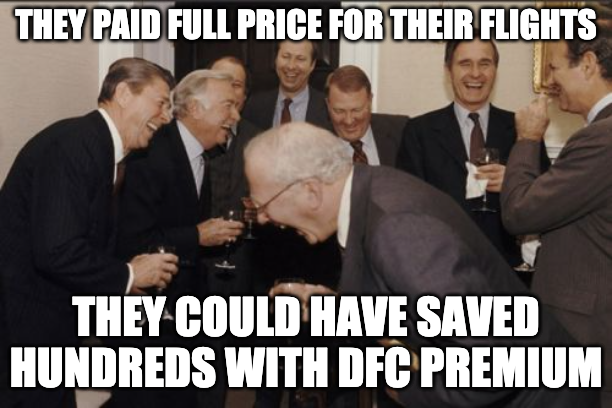 Ready to save up to $2k on your summer travel? Stop dreaming about that beach vacation and start planning. Try Dollar Flight Club for just $1 if you sign up in the next 24 hours.
Think; roundtrip to Hawaii from $175, Madrid from $335, Costa Rica from $205, and many more destinations for up to 90% off.
Join over 1 million happy travelers and join the Club…offer ends in 24 hours!
Nvidia ($NVDA) - Nvidia had a decent day, ending yesterday up 3.81%. This sounds awesome, except that they were down 7% the day before yesterday.
Shares of this formerly ripping tech name are beaten down, but hopefully, they will show a little upside between now and earnings on the 25th.
I know that many of you took a keen interest in the stock sometime in the last two years; fingers crossed that the stock gains momentum in the coming days and weeks.
Palo Alto ($PANW) - Shares of the tech name were up 5.35% yesterday, which is more or less a consolation prize after being down more than 13% in the last week.
Palo Alto does cybersecurity and is squarely a growth name. That being said, after such a beatdown since last week, I literally cannot think of an appropriate joke about $PANW.
Peloton ($PTON) - Oh, how the mighty have fallen. Since its mid-2021 highs, $PTON is now down over 85%. Yesterday the fitness company announced its earnings, and things weren't good, to say the least. On the news, shares dipped around 20% at open.
Even after installing new leadership, the growth-at-all-costs company is still losing money, and its revenues have fallen from the all-time highs it experienced about a year ago.
The irony is that I have never met someone who didn't rave about their little bike. People who own them are worse than crossfitters. After the disappointing quarter, $PTON closed down "only" 8.6%.
Fintech ($SOFI, UPST) - Fin/$hitech lately has not been… er, investable.
SoFi stadium is now worth more than the company SoFi. Think about that. After a leak or an error (you be the judge), trading of $SOFI was halted yesterday after a decent quarter with really awful guidance. On earnings news, $SOFI was down 12.06%.
Upstart had decent top and bottom line numbers, but after that, just about everything in their earnings call was no bueno. Reading between the lines, their transaction volumes are going to go down as interest rates balloon. Hawkish Fed = fewer loans for those of questionable credit. Yesterday $UPST closed down 56.42%.
Can Crypto Fight the Fed? - Crypto markets don't close. This implies that crypto, in general, is more liquid than stonks.
Not only can you lose money from 9:30 to 4 M-F, but you can also lose money overnight. It's a beautiful thing.
BTC bulls argue that the OG coin's fair value is between 50% and 300% higher than current levels. Their main point: BTC's value is in its reach as a network.
For years, we have been listening to cryptobros ramble on about the digital asset as an inflation hedge and a store of value. But when you compare the Nasdaq and BTC year-to-date, they look pretty damn similar.
It's funny; as stocks enter a bear market, smart investors say things like, "finally, more reasonable valuations." When crypto takes a dive, you don't hear the same sentiment.
What might be causing this BTC pullback in the short term?
Well, this is Bitcoin's first Fed tightening cycle. Even though blockchain technology is not new and predates the majority of our readers, this is the first time BTC has had the pleasure of getting squeezed by central bankers.
As the Fed tightens, stocks and crypto sell off as market participants look to increase liquidity and avoid downside exposure. Logically, it makes sense that BTC is one of the first asset classes to see downside moves when markets move towards risk-off.
When will BTC bottom? Well, how should I know? But if you're from the school of Cathie Wood, right now is one hell of a buying opportunity.
"The Federal Reserve simply does not have authority to supervise or regulate Bitcoin in any way." - Janet Yellen