Business Is Boomin' | The Daily Peel | 4/5/22
It's 1999, 2017, and 2020 all over again as tech stocks dug the market out of a hole yesterday, leading markets to broadly gain. Of course, professional pumper Elon Musk had something to do with it, but more on that below. Bonds continued to sell off, while the way overhyped 2- and 10-year spread stayed inverted. The Nasdaq led with a 1.90% gain, while the S&P had a 0.81% rise, and the Dow rose 0.30%.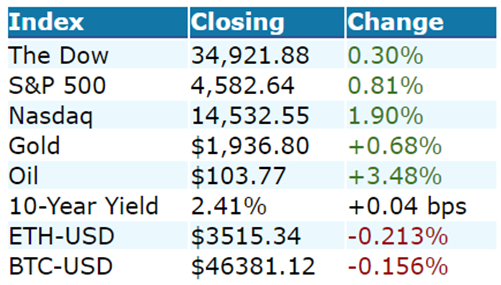 Yieldstreet lets you invest beyond the stock market with investments in real estate, art, supply chain finance, venture capital, and more - all at more attainable minimums than institutional funds. Deals target annual yields of 3-18% to help diversify and grow your portfolio. Come learn why over 350k members have invested over $2.5bn to date.
Let's get into it.
The Senate has a $10bn hole burning in its pocket, and according to polar opposites Mitt Romney and Chuck Schumer, they're looking to spend it soon.
The Daily Peel's 2021 CEO of the Year, Sam Bankman-Fried, wants to give away his $30bn fortune. Anybody got his Venmo? I have a request to make.
The official age to be called a boomer has been moved to 67, courtesy of the Social Security Administration.
Due to inflation, gangs of overweight digital penguins now cost $2.5mn
Asset diversification amongst under-explored asset classes can help you generate today's alpha.
Some people just want to watch the world burn. Oil prices head back above $100 on Saudi price hike and our crippling addiction to sanctions.
71-Year High - If there's one thing that we can be sure the economy has been very good at recently, it's shattering multidecade records. Unfortunately, most of those have been negative, like "Highest inflation in 40+ years" or "Oil prices haven't risen this fast since literally being discovered." But today, the tables turn.
Alongside a slowing pandemic, accelerating inflation, and the general public learning the acronym "NFT," 2021 proved to be the most profitable year for American corporations since 1950. That's 71 years. And if that hasn't quite sunk in yet, keep in mind that the Korean War started and the Xerox machine was invented that same year.
Measured by Post-Tax Profit Margins of Non-Financial US Corporations (damn, I think I gained 5 IQ points just by saying that), profitability levels surged a massive 35% in 2021. Sure, that's not too hard considering that's coming off the nightmare that was 2020, but it's also the first time overall profitability remained above 13% for more than a one-month period since at least 1950. In short... 
And it's no secret why. For starters, the unlikely trio of Donnie T, Joey B, and Daddy JPow dropped somewhere around $10tn (with a T) on the economy to fight a little thing called the c-virus. Throughout both 2020 and 2021, that egregiously unfathomable amount of money has trickled through to consumers and businesses, translating to higher spending on goods and services, which was often done at elevated prices because, you know, inflation. And, of course, zero percent rates, pent-up demand, and medical bills helped buoy profits as well, for better or worse.
But we all know U.S. corporations are incredibly generous and thoughtful organizations, so obviously, it wasn't just their NOPAT that blew up. Employee comp rose 11% annually, which sounds great, but actually isn't because the portion of that employee comp metric attributable to salaries and wages fell back to pre-2020 levels. Oh yeah, and inflation was still +7%.
As usual in American business, even the good stuff isn't all that great. At the same time that profits soared, so did things like buybacks and M&A. Of course, this is great for we apes that typically own something like 2-4 shares in these companies, but it isn't too great for those getting paid by these firms. But hey, as long as the gains keep coming, we'll take it.
Finally, Private Market Access for Retail Investors
Hey there, David. If you agree that ultra-wealthy Goliaths have had their pick of the private market litter long enough, then keep reading. 
It's time for a new age of portfolio diversification. One where investors like you can access previously exclusive private market investments all on one platform: Yieldstreet. With Yieldstreet, you can invest in a variety of alternative investments with low stock market correlation and all sorts of yields, durations, and minimums. 
Sign up today to start investing with fewer barriers and more freedom to build your ideal portfolio.
Twitter ($TWTR) - Elon Musk is back to honing in on his greatest talent: pumping random stocks and cryptocurrencies on Twitter, and yesterday's lucky winner was…Twitter.
TBH, this is a strategy Twitter should've thought of a while ago. I mean, with well over 300mn monthly users, they could've been pumping themselves this whole time, but I guess it takes a true innovator like Musk to come up with something so genius. First principle, apes.
But Musk isn't just pumping - the guy now owns ~9.2% of the social media firm(>$3.5bn). He's already the King of Twitter, but now speculators are speculating that the King might be looking to become the owner soon. Either way, traders were psyched, and $TWTR gained 27.13% to kick off the week.
DraftKings ($DKNG) - It's not March anymore, but the madness lingers even after yesterday's National Championship game. Yes, March madness is fun for everyone, but it's like Christmas every day for gambling firms like DraftKings.
And that's because all that money you lost betting on Kentucky and Duke goes right into the top line of firms like DraftKings. But rather than rely solely on the degeneracy of college basketball gamblers, the nation's leading betting site is still out here making deals, largely leading to yesterday's 7.14% gain.
Yesterday, DraftKings announced a deal with the Mashantucket Pequot Tribal Nation, who just so happen to own Foxwoods Resort Casino. Basically, the deal opens the door for DraftKings to begin allowing bettors at the Foxwoods in San Juan, Puerto Rico, to lose money on sports just like their U.S. counterparts. Good times.
Starbucks ($SBUX) - Most of the time, investors love to see a firm's founder take on the CEO role too. But when that founder comes in and says, "You know all that money we promised you? Yeah, never mind. And also, f*ck you.", things change. 
And that's what Starbucks Founder and (interim) CEO Howard Schultz did yesterday. The Man with a Plan came back and decided investors weren't getting their $20bn in buybacks anymore. Instead, Schultz decided Starbucks would keep all that themselves and reinvest that bag in operations. 
Investors were pretty upset, sending shares down 3.72%. So much for long-term conviction, I guess. 
Trump's SPAC ($DWAC) - Everyone knows TRUTH Social is basically already the next Facebook. That's obvious. What's not obvious, apparently, are the speed bumps along the way, like yesterday's 10.0% plunge out of nowhere.
That might be an exaggeration, but if by "next Facebook" we mean "one of the most hated companies in America," then we're right on the money. Similarly, if by "out of nowhere" we mean "company execs are quitting in droves," then, again, we nailed it.
And that's what happened yesterday. The Chief Technology Officer and Head of Product Development both placed out, signaling to investors that, uhh… let's say things probably aren't going too well. It might have to do with having a 75-year old and a former dairy farmer running the company.
Fed Says to Chill Tf Out - Lately, we at the Daily Peel, along with every other financial publication in the world and their mother, have been giving you the lowdown on a little thing called the yield curve and, more particularly, the 2 and 10 spread. In his loving omniscience, JPow must've smelled this coming a few weeks away. Hence, the Fed's recent release of a white paper under the official title of "Chill Tf Out."
My bad, that was a typo. The actual title is "(Don't Fear) The Yield Curve, Reprise." While I have no clue what's going on with the senseless punctuation in the title, the paper is far easier to understand.
Basically, the Fed argues that an inversion of the 2 and 10 spread is about as useful for macro predictions as knowing what color boxers JPow is wearing ($50 on gray). Instead, the argument made is that there is a better spread to look out for when trying to anticipate recessions, one the central bank has termed the "near-term forward spread." This is defined as the difference between two short-term yields, specifically being yields with less than 2-year tenors, with a focus on the 3- and 18-month spread.
The fundamental thesis is that the near-term forward spread has much more predictive power than the 2- and 10-year spread. We can't predict what's gonna happen in the next 5 minutes when it comes to financial markets, so thinking we can predict out 10 years is lunacy of the highest order. But, we can predict 3 and 18 months a lot better than we can predict 2 and 10 years, and as a result, history shows the near-term forward spread essentially is a function of fed funds rate futures. 
Acting in this way, the spread of 3- and 18-month yields is basically a market-implied expectation of future rate changes. When markets foresee an economic downturn, they expect rates to fall, thus lowering short-term yields and, at the same time, lowering the near-term forward spread, sometimes even falling negative.
Okay, enough nerd talk. Here's the TLDR: the 2- and 10-year spread has little predictive power beyond saying "markets are somewhat nervous about the intermediate-term economic outlook" and acts more as a self-fulfilling prophecy. Meanwhile, the 3- and 18-month spread historically shows statistically superior predictive power as a result of its shorter-term nature and correlation to fed funds futures.

Okay, now the nerd talk is actually over. Here's the actual whitepaper if anyone out there is macro-bro enough to read it. In short, stay skeptical, but don't shit yourself yet.
 "You can get in way more trouble with a good idea than a bad idea, because you forget that the good idea has limits." - Ben Graham