Consistent Gainz? | The Daily Peel | 7/8/22
Futures pointed higher after markets stitched together gains on Tuesday and Wednesday this week. Crude continued to flirt with $100 per barrel, eventually finishing above $103. Mortgage rates have fallen to the low 5s even as we know that Daddy JPow has more rate hikes in store for us, and ETH and BTC showed a little bit of upside during morning trading yesterday.
At the end of the day, the major indices all closed higher, with the Dow, S&P, and Nasdaq closing up 1.12%, 1.49%, and 2.31%, respectively.
Today's fast-paced environment demands rapid information sharing, collaboration, and deal flow. There's a reason why Caplinked has become the fastest growing data room in the business, serving firms big and small.
Starbucks for the week just for requesting a quote
Let's get into it.
Yesterday - Three travelers have a disagreement about the route they should take. Helen says that Eli lies. Eli claims that Helen and Peter speak the same, only doesn't know whether it's the truth or lies. So who is definitely lying?
Peter was the liar.
Today - For today's BBT, we will mail the first correct respondent a WSO T-Shirt. Show us what you've got, apes.
Is it legal for a man to marry his widow's sister?
Shoot us your guesses at [email protected] with the subject line "Banana Brain Teaser" or simply click here to reply!
Apps Slowing- As you've heard me rant about for the last few months, the housing market is probably going to move sideways for the foreseeable future, if not lower, in many markets.
The typical American buyer is a borrower when it comes to purchasing a home, and that demand, like retail demand, is softening.
Interest rates for ye ol' 30-year fixed have actually come down, even in the face of a Fed that wants to aggressively hike rates to curb inflation. However, decreased mortgage interest rates haven't motivated buyers to come out of the woodwork.
It's the opposite. Fears of an economic recession and the uncertainty surrounding their immediate financial situations are another compounding factor.
Add in that consumers are paying hundreds of dollars more per month on gas and food than a year and a half ago with the fact that the average mortgage payment for the average home measured by sale price has doubled, and you're going to have a rather brisk retrenchment of homebuyer sentiment.
Logically, refinance applications are going to decrease as rates rise. According to the Mortgage Bankers Association (slightly less sleazy than residential realtors), refis are down 7.7% week over week, down more than 75% from a year ago. At the same time, new purchase applications are down 4.3% from the previous week and only 7.8% from a year ago.
But when mortgage payments have basically doubled but wages have only grown a little under 5%, we are starting to see potential buyers unable to afford as much house as they once wanted during the C-19 housing frenzy.
If you're thinking about buying some real estate, now might actually not be that awful of a time. Hear me out.
Mortgage rates just dipped. You can still find a 30-year fixed-rate mortgage in the mid-4s, and prequalification for many of these loans locks in your interest rate for 60-90 days.
My personal, non-financial advice prediction is that in the next 2-3 months, inventory is only going to build. If you can score a decent rate on a loan, you just might be able to snatch up a decent deal towards the end of summer.
The beauty of this timing hack is that as home sales slow, all of the middlemen who stick a hand into the seller's cookie jar during this process are going to be less busy, so a 30-day close isn't going to be as big of a hurdle as it once was.
The Data Room That You Need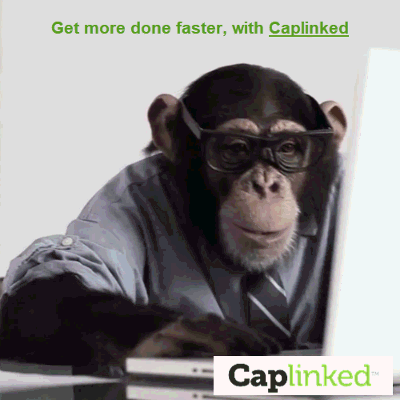 Today's fast-paced environment demands rapid information sharing, collaboration, and deal flow. There's a reason why Caplinked has become the fastest growing data room in the business, serving firms big and small.
Finally, here's your chance to leverage a virtual data room that has all you need to facilitate deal flow. With a platform that has both the tools and functionality to set your deals apart, Caplinked can help meet all your needs.
Semis ($SOXL, $SMH) - Finally, the semiconductor industry is showing signs of life. Shares of the 3x leveraged ETF $SOXL were up massively yesterday, just like $SMH, the semiconductor ETF.
Companies had stockpiled semiconductors during the early days of the pandemic, thinking that semis would never be available again. As it turns out, they're kind of important. A ten-cent chip can delay production and delivery of a $50k automobile. Go figure.
Today Samsung had the balls to finally prove that semis were oversold, posting better-than-feared results in a rough patch for all the semiconductor makers. $SOXL climbed 13.41%, and $SMH moved up by 4.62%.
Tesla ($TSLA) - Tesla shares climbed higher yesterday, closing up more than 5.53%, probably not on the news that Elon impregnated a Neuralink executive, and she secretly delivered twins in recent months.
It makes me wonder: does the world's richest man have direct access to infant formula somehow?
My musings aside, EV stocks ripped yesterday after some China news. Elon simps then did what they do best: irrationally pumping $TSLA stock.
Otis Worldwide ($OTIS) - Here's a less talked about name for you; yes, that Otis, the elevator people. Their shares declined yesterday, closing down 1.64%.
The interesting bit is that, like many other Wall Street names, they received a price cut from JPM today. That price target cut, however, was prior to their earnings announcement. We are going to see many more like this, methinks.
This target cut prior to their end of July report date is likely only part of the first wave of these.
Coca-Cola ($KO) - The Dow's biggest loser yesterday was $KO. It closed down about 0.79%. Not an awful day, to be honest.
$KO is actually up for the year, climbing more than 6% since January. They have amazing pricing power due to their global reach, supply chain mastery, and brand recognition.
That being said, part of me thinks that as markets buoy themselves against further freefall, some of the names that have actually done okay this year need to slightly correct. After all, all things trend towards the mean over time.
The Rise of the Machines - Labor costs in this country are at an all-time high.
That's actually kind of a no-brainer. Prices go up; it's what they do. We really are concerned when the rate of rising prices gets out of hand. That's called… wait for it… inflation.
But according to the most recent National Compensation Survey, a quarterly survey full of metrics on the cost of labor with related productivity measurements, labor in this country costs, on average, almost 41 bucks an hour.
$82k per year per employee on average, based on a 40-hour workweek with two weeks of unpaid vacation. This figure includes measurements from the mailroom to the board room. What is also included are high-schoolers working at fast-food restaurants making $20 an hour.
A story broke about three months ago about Chippy the Chip Machine. Chipotle is working towards a future in which high-schoolers are no longer taking tens of thousands of dollars per man-year out of franchisees' bottom lines. Indeed, we have already seen a push towards increased automation, not just in the food industry.
But think about your grocery store experience. Aside from the instacarters out there, when you go to the grocery store or a myriad of other big-box locales, you can expect only a limited number of manned cash registers. It turns out that it's more efficient and less expensive to host multiple self-checkout lines.
Does that mean prices went down after the roll-out of these unmanned miracles? Don't bet on it: it's unlikely you'll see a $5.49 burrito bowl again once Chippy figures out how to make carne asada and heat tortillas.
The immediate future of the economy is not, however, completely autonomous. Even if we had the technology to roll out novel, complex systems to automate the mundane, there is still an integration period during which the old tech needs to be phased out.
I liken this period to the time when folks rode horses next to Model Ts on dirt roads. Sure, the Model T had more horsepower and longer legs, but you probably would have preferred to be on a horse after a good summer rain shower.
It's the same with EVs. There are lots of early adopters (looking at you, Elon simps). But there will always be those of us who enjoy the smell of an engine running a little bit rich burning premium gasoline, even if it costs us $12 a gallon to drive only about one mile per dollar.
People and their ideas are the future. It's not just about technology. Economic developments are rooted in ideas that, in the words of Peter Thiel, are capable of being pushed from zero to one.
Successful investors clearly identify and stake their futures in these kinds of ideas and the people that back them.
"Brilliant thinking is rare, but courage is in even shorter supply than genius." - Peter Thiel