I don't need YOUR money | The Daily Peel | 8/5/21
Earnings continued to push stocks around causing the S&P to fall 0.46% while the Nasdaq crept up 0.13%. Lets get into it.
What's Ripe
Robinhood ($HOOD) – Apologies in advance as we will once again begin talking about god dang Robinhood today. I mean, how could we not? Shares rocketed up 81% midday, eventually closing up 50.4%. After falling 8% on its debut trading day, the stocks all time return of 102.1% seems to confirm that their beat down on Day 1 was pure vengeance. Now that we got that out of our systems, the (in)efficient market is taking over.
Coursera ($COUR) – This online education company's stock is giving a masterclass on how to go up. Lesson one? Beat earnings and increase projections. With 38% YoY revenue growth and a narrower than expected loss of -$0.05 vs -$0.11, shares soared 21.3%. Enterprise revenue was the main driver of growth, up 69% (nice) against last year. While the pandemic certainly helped, as long as colleges keep scamming America, this firm could just be entering its prime.
New York Times ($NYT) – Time to party like it's 1873 - newspapers are back. The New York Times, aka Substack's development camp, roared to life after yesterday's earnings release, rising 7.7% on the day. The big number was 8 million total subscribers, as reported by the NYT...oh wait. Anyway, the company did destroy earnings estimates, despite some lackluster digital user growth numbers. Keep those crosswords coming!
What's Rotten
Zymergen ($ZY) – You probably don't know Zymergen, and after today's 76.3% free-fall, it might not matter. Synthetic biology is often hailed as a generational wealth building opportunity, leading companies like Zymergen to ride that hype into an IPO, as they did this past April. Unfortunately, with great expectations comes basic expectations like making money, which Zymergen has decided to pass on at this time. The company announced that it expects 2022 revenue to be "immaterial", aka nonexistent, which is not something investors generally like.
General Motors ($GM) – It's a tale as old as time. You beat on earnings, but your forward guidance comes up short of expectations so you end up losing almost 1/10th of your company's value. GM is the latest victim of this vicious cycle, falling 8.9% yesterday. With EPS of $1.97 on $34.2bn in revenue compared to expectations of $1.82 & $29.9bn, the firm managed to deliver an upbeat quarter, despite some product recall events. However, full year earnings guidance came up short of analysts' hopes, leading to yesterday's rout.
CVS Health ($CVS) – Not a great call by CVS to follow GM's beat-and-fall strategy, but hey, sh*t happens. The pharmacy / convenience store / health hub knocked earnings out of the park, but their planned investment strategy was not to analyst's liking. For one, the firm is raising its minimum wage to $15/hr, and who would want a company they own to pay workers a living wage? Alongside that disappointment was an increase in forward guidance by only about 2%. shares fell 2.9% in response.
Macro Monkey Says
Credit – Much like Ed Sheeran to record labels, businesses are telling banks "I don't need your money." Undrawn credit commitments held at the big boys hit a record, growing 20% since last year to the $1tn mark. What's happening? Basically, businesses are requesting quick draw credit facilities, usually used for inventory or workforce purposes, but they aren't actually using them. These firms are drowning in cash, and not in a good way. Much of the reason they are so loaded up is an inability to spend it due to supply chain and labor issues. But, if and when these macro issues are resolved (largely up to the Delta variant), we could be looking right in the eye of a firehose of spending.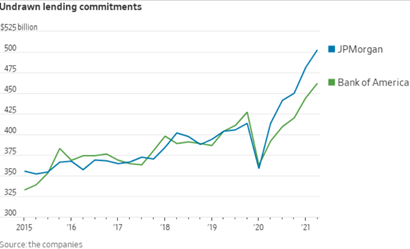 Food for Thought:
Let Them Eat...Broadband – I'll be honest, I didn't think Uncle Joe knew what the internet is, but I was wrong, $65bn wrong. Studies have confirmed meaningful (and obvious) production and quality of life advantages in areas of the U.S. with wide broadband access vs those without. With this, the internet has become as much of an everyday essential as roads or electricity, hence the hefty price tag in the infrastructure bill. Of that $65bn, $40bn would go to grants for states to pay operators to expand access to underserved regions...*Comcast has entered the chat*. Empowering states to run this operation is expected to yield better results than past attempts with the Feds in charge, so we'll finally be able to see what's going down in Glasgow, Montana or Supai, Arizona.
"All you need for a lifetime of successful investing is a few big winners, and the pluses from those will overwhelm the minuses from the stocks that don't work out."
– Peter Lynch
Happy Investing,
Patrick & The Daily Peel Team
Was this email forwarded to you? Sign up for the WSO Daily Peel here.