It's Here! | The Daily Peel | 11/11/21
Silver Banana goes to...

Market Snapshot
With much of Q3 earnings season gone with the wind, indices just aren't having as much fun anymore. Inflation popped way up, driving bond yields up and the equities market way down. The Nasdaq led the fall with a 1.66% decline while the S&P sank 
Public.com is the investing platform that helps YOU become a better investor. They've got educational content, millions of members, and crypto!  
Sign up for Public now and get a free stock slice of your choice valued between $3 and $300.
Let's get into it.
Macro Monkey Says
CPI - I'm going to venture a guess that maybe 5-10% of you reading this were born in or before the year 1990. If true, that means the remaining 90-95% of you are currently experiencing the highest annual inflation rate of your life. Congrats!
CPI data released yesterday revealed prices have gained 6.2% compared to last year. That reading is the single highest annual reading since, you guessed it, 1990, and comes in substantially above consensus estimates of 5.9%. If you're looking for some particular segments to blame, look no further than the usual suspects. 
Fuel prices stole the show, gaining 59.1% since last October. Unless you're super cool and hip and drive a Tesla or something, you've definitely noticed this already at the gas station. Overall energy prices, including for appliances used in your home, didn't catch a break either. Surging over 30% YoY, being comfortable at home is getting a lot more expensive, not great as we head into the cold months up North.
Other substantial contributors included meat, poultry, eggs, and fish collectively pushed prices 11.9% for the year. Vehicles, used and new, and vehicle part prices gained significantly as well with used vehicles leading the charge up 26.4%.
Is anyone surprised at the rate of inflation? Yes, it is quite high. Is anyone surprised at the drivers? No, supply chain issues have been a  nonstop news story since COVID started.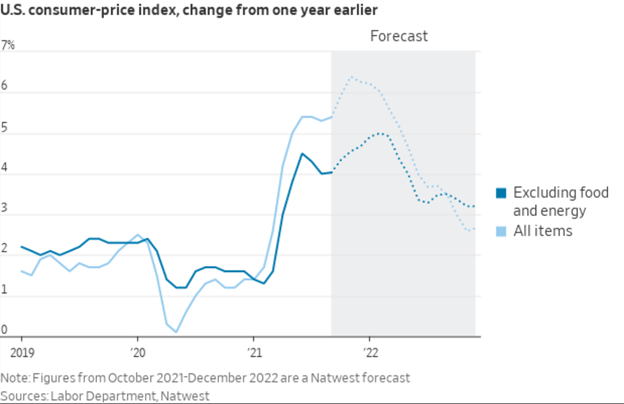 Riding Rivian - One of the most highly anticipated public market debuts came to fruition yesterday with Rivian Automotive officially completing their IPO, much to the satisfaction of early investors including Ford and Amazon.
Yes, it's an EV stock, a sector that many investors would argue is looking a little bubbly, but Rivian might be one of the only ones you could confidently point to and say "okay, this might actually have a future." Now, with that said, the stock is still valued ridiculously high. Originally planned to price shares around $60, the firm went with a $78 offering price that actually ended up going at around $112.50 at open, giving Rivian $12bn in new capital and a market cap of over $106bn. That makes Rivian the second highest valued U.S. automaker in the market, behind only Tesla and far exceeding one of their investors, Ford, at ~$77bn. 
There's a difference between a good company and a good stock. You're all big apes so I can't tell you what to do, but you know, just...keep that in mind...
Public.com Has $BTC, $SHIB, $DOGE, $ETH, and More!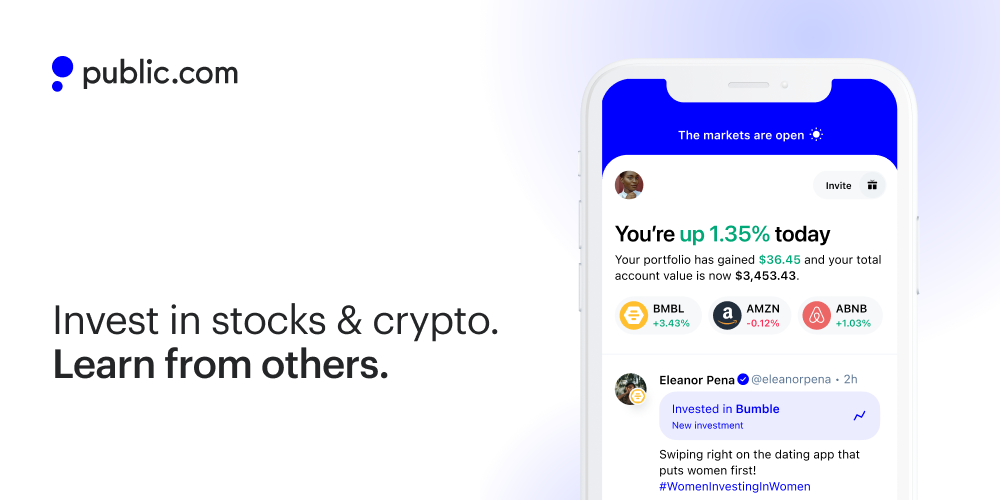 On Public.com, you can buy stocks and crypto with any amount of money. We offer bitcoin, ether, Dogecoin, Shiba Inu, Cardano, and more. Explore the world of crypto on Public. 
When you sign up for the investing platform that helps people become better investors, you'll get a free stock slice of your choice valued between $3 to $300, access to educational content, and membership to a community of over a million members. 
What's Ripe
DoorDash ($DASH) - After a few weeks of quieter trading, DoorDash burst back to life yesterday with a very welcome 11.6% rise. The food delivery firm announced plans to acquire global delivery platform Wolt for $8.1bn. The acquihire will leave Wolt CEO and founder in charge of DoorDash's international segment and will make the U.S. based firm a more serious rival to Dutch-based Grubhub owner Just Eat Takeaway. Investors, to say the least, were quite pleased, giving the company a nice tip for the delivery of some high quality news. 
Mastercard ($MA) - Mastercard, it appears, has in fact mastered the card business. Shares popped 3.9% yesterday on announcements made during a jubilant Investors Day presentation. Mastercard addressed their goal and plans to dominate what they see as a $255tn industry in payments and claimed it will be able to grow revenue at a double-digit CAGR through 2024 while maintaining a 50% operating margin. All fine and dandy, but really, anyone can slap numbers together and call it a "projection." We'll find out if sh*t hits the fan in due time. 
What's Rotten
Digital Currency Stocks ($COIN, $HOOD) - If shooting yourself in the foot was a sport, Coinbase and Robinhood faced off in the world championship yesterday. As Coinbase announced earnings that came in as somewhat of a disappointment, Robinhood's Crypto COO came out with an interview in which he trashed the company's main revenue driver, meme stocks. Tough look considering that's literally all their brand is known for. Robinhood fell 6.0% while Coinbase closed down 8.1%. 
Wendy's ($WEN) - Y'all are getting too healthy on me, and you're leaving Wendy's out to dry. Shares sank 7.1% on the day on the release of some not-so-bad earnings. Results for the quarter clocked in with an EPS of $0.19 on $470.3mm in revenue against consensus expectations of $0.18 on $470.5mm in revenue. The real disappointment came in with lower end of year guidance and depressed same store sales, so I guess, if you're not gonna buy the dip, at least go buy a burger.    
Thought Banana:
Short on Santa - Children around the world panicked last year at the idea that COVID might restrict Santa from sliding down their chimney, but it turns out it was this year they should've worried about. Not only are supply chain issues causing concern over gift giving on Christmas day, but like the rest of the labor market, mall Santas are in short supply. Of course, there is certainly no shortage of white-haired, bearded, rotund men across the nation, but there is a shortage of wanting to let children rub boogers on your jacket for hours at a time. Makes sense coming off a pandemic, but for the Santas who are in business, it's a great time to be St. Nick. 
"Money equals business which equals power, all of which come from character and trust." - J.P. Morgan
Happy Investing,
Patrick & The Daily Peel Team
Was this email forwarded to you? Sign up for the WSO Daily Peel here.