Jack 'em Up | The Daily Peel | 3/18/2022
Silver Banana goes to...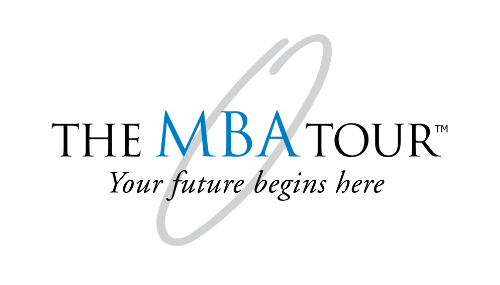 Market Snapshot
St. Patrick sure would be pleased that Wall Street was covered in green on his special day. Maybe it's the luck of the Irish. But regardless, stocks rallied for a third straight day yesterday, along with climbing oil prices and a falling dollar. Closing out, the Nasdaq finished up 1.33%, while the Dow and the S&P both finished up 1.23%.
Considering business school? Don't miss your chance to network with top business schools such as Harvard, Wharton, Columbia, UC Berkeley, Toronto Rotman & more!
Save your spot in the event in your region
The MBA Tour Eastern North America
The MBA Tour Western North America
Let's get into it.
Macro Monkey Says
Digesting the Fed - Like me, when I see my GPA at the end of the semester, monetary policy is getting tight. JPow was clearly hyped in his Wednesday speech, likely as a result of getting to say "jack 'em up" for the first time since 2018. 
And generally, when a Fed Chair says that, equities throw up and yield curves steepen. You may have noticed the literal opposite happen on Wednesday, so let's dive a little deeper into what might be going on.
First the bond market, because after all, we still only trust dogs and the bond market. Yield curves flattened following the Fed's announcement, coming way too close to an inversion of the US 5 and 10-year notes. 
This was essentially fixed income traders' way of responding, "bullsh*t," to JPow's confidence in the Fed's ability to orchestrate a so-called "soft-landing," a.k.a. a tightening cycle that reduces inflation without hindering the labor market. 
Basically, the bond market either thinks the Fed's plan will either 1) not be as effective in stopping inflation as JPow and the gang think, or 2) it will work so well that rate hikes and other measures will eat into labor conditions. Not exactly a winning kind of view.
Equities, on the other hand, might just be stupid. The only possible explanation for the rise across indexes is either that or equity traders had priced in at least a 25bps hike going into Wednesday's meeting and had anticipated the degree of aggression in planned monetary policy through 2023. 
This seems unlikely, as judging by market expectations as of Tuesday, equity investors were mentally prepared for a 25bps hike at this meeting, a max of 7 other hikes throughout this year, and 1 or 2 hikes in 2023. While that was certainly close, the dot plot and Fed commentary now signal 3 or 4 rate hikes, which would generally scare traders more than a dog looking at a vacuum. 
But regardless of what happens in the incredibly short term, history tells us that returns following a hike or during a hike cycle aren't too shabby. According to a Deutsche Bank study reviewed by Reuters, equities average a return of 7.7% in the 12-months following the start of a rate hike cycle. Reuters also looked at a study by Truist, showing that the average annualized return throughout the course of a hiking cycle is 9.4%. 
Keep in mind hiking cycles tend to come into play when the economy is doing well and profits are being pushed higher. Inflation might have something to say about that. But for now, let's just keep our fingers crossed.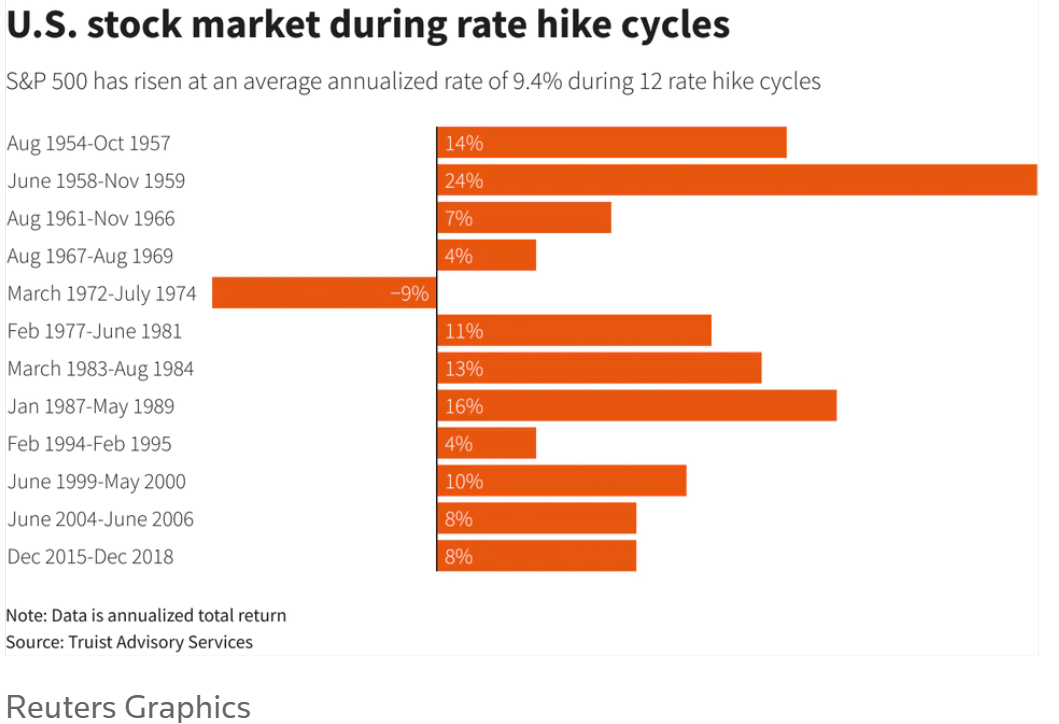 Network with Harvard, Wharton, Columbia
& more top business schools!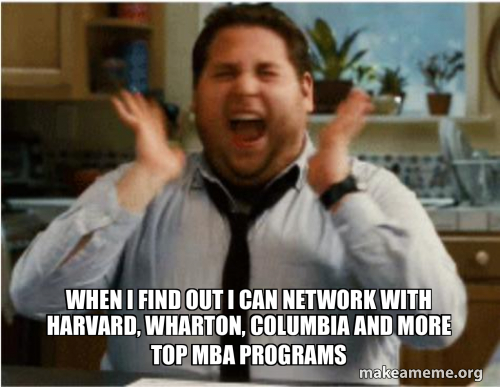 Join Harvard, Wharton, Columbia, UC Berkeley, Toronto Rotman & more top business schools this March at The MBA Tour. This is your chance to attend interactive presentations to compare various programs, improve your application, get exclusive GMAT tips from the exam creators & more!
Register for the event in your region
The MBA Tour Eastern North America
The MBA Tour Western North America
What's Ripe
Energy Stocks ($XLE) - Remember everything we said yesterday about Ukraine and Russia coming close to a peace deal? Yeah, so that was a f*ckin' lie. Russian officials discredited the reports early yesterday, and for stocks, war is back on. Hence, the rise seen in energy names yesterday. 
Oil prices shot right back up over $100, and energy names like Occidental Petroleum, gaining 9.5% (with some help from Warren Buffett), were loving it. As for the overall sector, energy ETF XLE gained 3.4%. 
The moral of the story: you can kiss that hope for lower pump prices goodbye. 
Dollar General ($DG) - Apparently, disappointing earnings can't even bring you down when all the market wants to do is go up. We can thank Dollar General for proving that with its 4.5% gain yesterday.
The firm reported lower than expected Q4 revenue, raking in only $8.65bn vs. the $8.7bn expected. Meanwhile, earnings of $2.57/sh fell right in line with consensus expectations.
But, the actual (and only) hype of the report came with the announced 31% dividend increase and positive guidance. 
Still, I have a feeling that given the macro environment, the best guidance investors could've gotten would've been a name change to 2 Dollar General.
What's Rotten
SolarEdge ($SEDG) - No stock in the S&P 500 had investors more on edge yesterday than… SolarEdge. The bottom performer in the index, the relatively large solar stock, put up a loss of 5.9%.
Basically, the firm is trying to get more money from more investors, which really pisses off existing investors. SolarEdge announced plans to conduct a public offering of 2mn shares of common stock. At Wednesday's close, that would imply the company is expecting to receive ~$670mn. 
Of course, at the same time, this dilutes the ownership of existing investors. But with a market cap of >$16bn, it ain't too bad.
McDonald's ($MCD) - I know, I know, a 0.28% fall isn't exactly "Rotten," but McDonald's announcement yesterday sure is. The firm said it could lose up to $50mn per month as a result of store closures in Russia and Ukraine. I don't care what y'all say, but that's Rotten AF.
The fast-food chain was hesitant to pull out of Russia alongside the torrent of other firms in late February, and now we know why. Sales in the two countries make up nearly 10% of the overall revenue pie, which equates to a little over $2.3bn in sales getting wiped away. Anyway, have fun on the next earnings call!
Thought Banana
We Have to Talk About Nickel - If I had a nickel for every time the London Metals Exchange f*cked over nickel traders in recent weeks… you get the point. We've been talking a lot about the volatility in oil markets, but when it comes to nickel, oil looks like a damn target-date fund.
First, some context. The LME, or London Metals Exchange, is the main hard commodity exchange in Europe. Seemingly unrelated, but stay with me here, Russia produces about 7% of the globe's nickel supply and about 20% of the premium nickel needed for things like EVs. Okay, anyway… Trading of nickel on the LME has gone to absolute sh*t lately, all thanks to Russia. See, all makes sense now, right? 
Basically, when the war started, nickel prices absolutely rocketed beyond any reasonable level and to heights that the exchange was absolutely not able to handle. Prices of the metal shot up from ~$30k to over $100k in 18 damn minutes! Really can't make this stuff up. But as a result of the insane price rise, the LME had to shut down trading of the commodity and has basically had to do so ever since.
Honestly, the situation has so many moving parts and details it would probably take up 3-days worth of Thought Banana to sufficiently cover. For the full rundown, see the Bloomberg link at the top of today's edition (however, be warned - I guarantee they're not nearly as absolutely hysterical as we are).
"Speculation is an effort, probably unsuccessful, to turn a little money into a lot. Investment is an effort, which should be successful, to prevent a lot of money from becoming a little." - Fred Schwed Jr.
Happy Investing,
Patrick & The Daily Peel Team
Was this email forwarded to you? Sign up for the WSO Daily Peel here.