JP Morgan Vs. JP Morgan | The Daily Peel | 12/15/21
Silver Banana goes to...

Market Snapshot
The jitters among investors are still here and ready to party. Yesterday was another not-so-great day for bulls, with U.S. indices dropping across the board. The Nasdaq led the decline, falling 1.14% while the S&P lost 0.75% and the Dow shed 0.3%.
Professional research is hard to come by and expensive, but it doesn't have to be. WSO Alpha has professional research, a 10 year-old portfolio to trade with, and more!
Let's get into it.
Macro Monkey Says
Fighting with Yourself - Sometimes, especially in investing, your biggest enemy can be yourself. Even more especially if you work at JP Morgan. America's largest bank is currently seeing the square of the century, a heated battle of JP Morgan vs JP Morgan. So what's going on?
Everyone wants millionaire clients in the financial services industry. Fortunately for JPM adviser Gwenn Campbell, she is really good at getting exactly those. Unfortunately for Gwen, JP Morgan's private bank is a little jealous and has started ruthlessly soliciting her client roster. Speaking of roster, did I mention that one of her clients is Alex Rodriguez? That's right, A-Rod is not done being at the center of controversies yet. 
Basically, Campbell was recruited by JPM in October 2020 and taken from Bank of America Merrill Lynch (BAML) where she built her book of business. Upon receiving confirmation that no other part of the firm at JPM would try to steal her clients, Campbell left BAML and brought a lot of dough over to JPM. Now, JPM's private bank is trying to patch a cut of that dough. In response, Campbell has begun arbitration proceedings with the company.
Truthfully, fights like these happen all the time in finance. The stakes aren't usually as high and the details are almost never this public, so grab some popcorn and enjoy the show while you can.
Hi, Hikes - Or maybe it's high hikes? Who knows…at this point its really only JPow and the economic Gods. But obviously, the market is going to try its damndest to take a guess at future rate levels. As it stands right now, Mr. Market is dancing around 80% odds of at least one interest rate hike before the Fed's meeting in June of next year. 
If you're putting two and two together and thinking "inflation, Powell retiring the word transitory, etc.", trust your instincts. If not, allow me to elaborate.
The interest rate set by the Federal Reserve, known as the Fed Funds Rate, is a 25bp range of where the Central Bank believes the base rate should be. Influenced by the formulaic Taylor Rule, JPow and the gang do hold power to change rates on a discretionary basis. This base rate is the interest rate that banks lend to each other at for overnight deposits, and that all other rates in the economy - your car, your mortgage, your student loans, etc. - are set on top of. So, when the Fed believes the economy is overheating, as they appear to believe now, they will raise that base rate.
Why do this? Well, higher rates = more expensive, which disincentives spending and (ideally) slows things down to reign in inflation and get the economy back on course to "equilibrium." In short, raise rates → slow down economy → lower inflation.
Given recent data on inflation, its no surprise whatsoever that the market is expecting hikes. What is unknown, however, is the timing of rate hikes along with the number and degree of those hikes. A one-time 50bp hike is a lot more rattling than two spaced out 25bp hikes. This may have sounded super boring to you, but trust me, hedge funds get built around this stuff. Run with it, or run from it!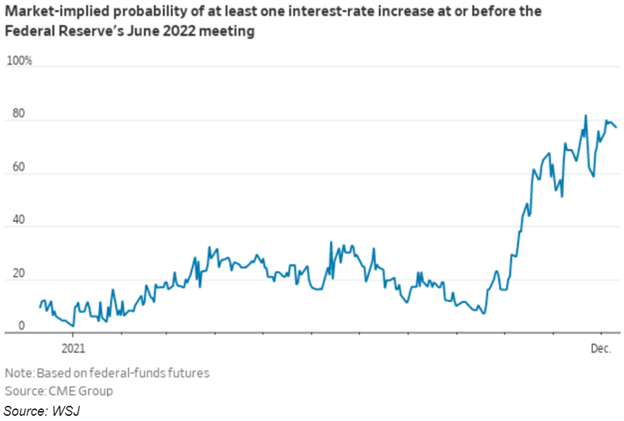 It's ALL About The Benjamins
WSO Alpha has an average annual return of 19.6%...for an unmatched Risk/Reward profile. Alpha has the research and the portfolio you need to start making money!
What's Ripe
GameStop ($GME) - Apparently my GameStop slander from the other day came back with a vengeance because shares popped once again yesterday. The meme stock saw a gain of 7.9% while most other (aka, real) companies took a mild dive. While $GME did usurp Tesla's throne as the most searched for stock so far this year, this is likely just a big "buy the dip" moment as Monday's close was the lowest since March.
Beyond Meat ($BYND) - So it turns out yesterday was just a great day for (objectively) garbage companies. Speaking of which, shares in vegetable meat maker Beyond Meat popped 9.3%. They can thank analysts at Pipe Sandler for the upgrade and can thank McDonald's for the reason behind the upgrade. Beyond sandwiches have a nationwide rollout at the fast food chain incoming, so maybe mix in a McPlant with your Big Mac(s).
What's Rotten
Microsoft ($MSFT) - Investors are getting antsy. With all eyes on inflation, the Fed, and Omicron, traders seem to be expecting rockier roads over the next few months. Exhibit A, Microsoft's 3.3% drop yesterday. As the software maker is part of the small contingency of names that have pushed the S&P to record after record this year, investors could very well be pocketing gains and shifting dollars to safer assets like treasuries and other bonds. It's all about future expectations, and it seems like the anticipatory carnage is hitting blue-chips first.
Sunrun ($RUN) - Don't worry, the sun is doing just fine, but yeah solar companies aren't. At least, they weren't yesterday, and Sunrun was the poster child, losing 15.7% on the day. Solar subsidies have been a huge driver for installation growth among consumers across the U.S., so when California announced a far less incentivizing solar subsidy plan going forward, investors weren't happy. As the largest solar panel installer in the nation, traders weren't happy.
Thought Banana:
King of the Nerds - Be honest with me, how many of you started playing chess after watching Queen's Gambit and then quit like two weeks later? Yeah…same.
Not Magnus Carlsen. This gangster out of Norway has secured 5 world titles in a row, solidifying himself once again as the Master of Grandmasters. This past weekend, Carlsen bagged his fifth title, and there's big money (and drama) along with it.
Let's start with the drama. Just yesterday, the Champ let his underlings know exactly how he feels about their skill against his. Carlsen announced that he is considering only defending his title against one specific player, Iranian-French Grandmaster Alireza Firouzja. Basically, Carlsen said "Y'all are trash. I only feel the need to defend my title against this guy. I'm way better than everyone else and I know it." Ballsy move, but gotta respect it.
Anyway, onto the business side. Carlsen, along with the trophy, brought home $2mm in winnings after the tournament. But that's far from all. In addition to a handful of sponsorships, Carlsen is the co-founder of Play Magnus, a holding company that manages 12 subsidiaries surrounding the chess magnate. Currently listed on the Oslo stock exchange, this business built on one chess player is worth about $115mm and registers 4mm users worldwide with 9% owned by Magnus himself. 
Just goes to show you, if you get really, really good at just about anything, you can monetize the sh*t out of it. Once again, the nerds win out in the long run. Imagine if Bobby Fischer had a publicly traded chess business?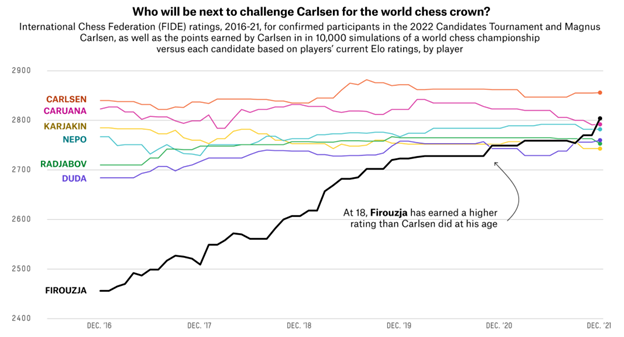 "The trend has vanished, killed by its very discovery." - Benoit Mandelbrot
Happy Investing,
Patrick & The Daily Peel Team
Was this email forwarded to you? Sign up for the WSO Daily Peel here.