JPow Speaks…but SBF Speaks Louder | The Daily Peel | 12/1/22

Dec 1, 2022 | Peel #349
Give your silver bananas to...

Welcome to December, apes.
It's officially the last month of the year, which means we have to ask - how'd those 2022 resolutions work out? Did your crypto and/or stock portfolios change at all? Do you miss the pandemic yet??
Yeah, same here. Regardless, we have 31 days left to turn the 2022 narrative around and end it on a high note. Markets already did so yesterday, largely thanks to the homie JPow (more below), and now it's our job to keep the good vibes going. Roaring 20s, here we come.
Let's get into it.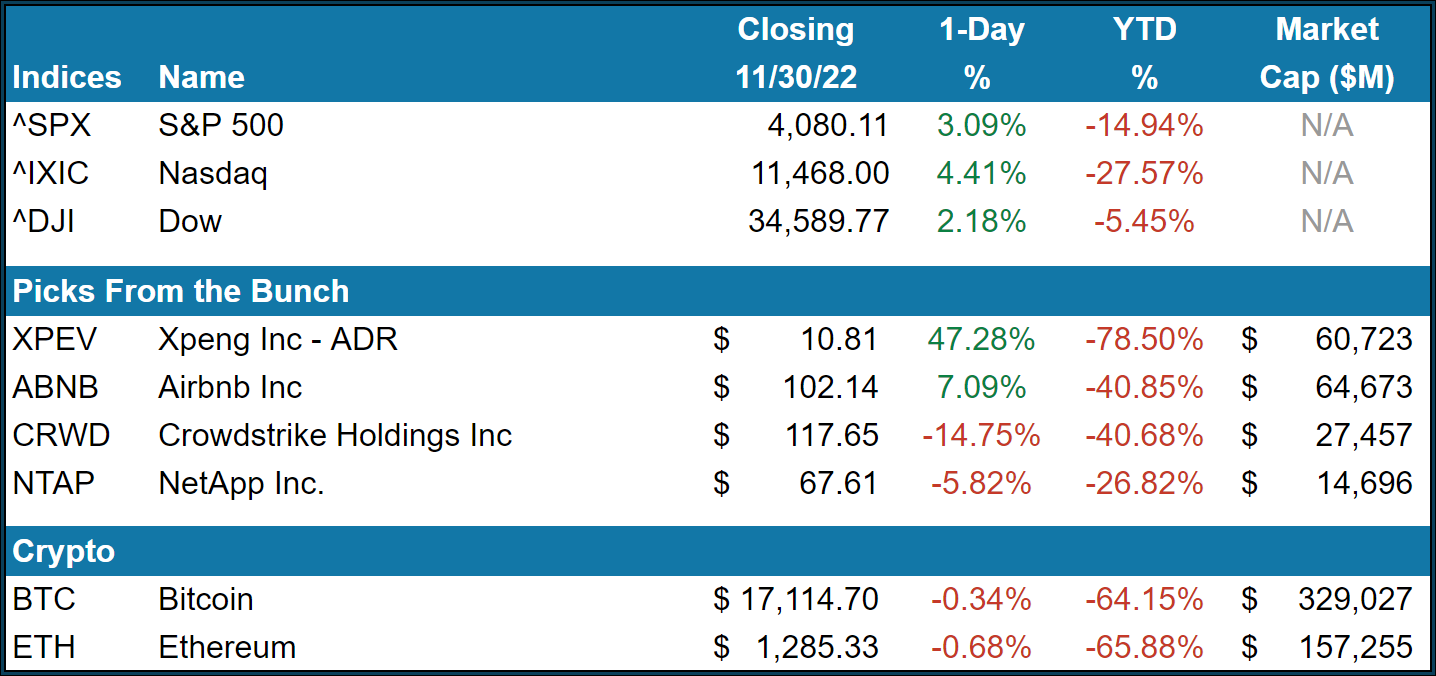 They'll Give You $100 if You Invest as Little as $100...WTF?!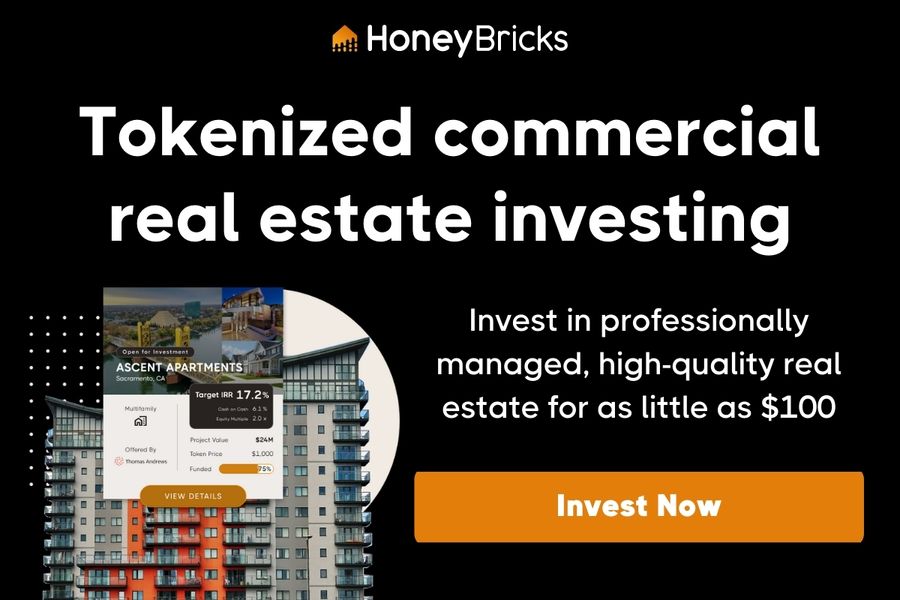 So our partner Honeybricks agreed to give $100 for the first 10 Peel readers that invest $100 or more on their platform. Yeah, so 100% return out of the gate.... yes, that is insane!
But don't worry…if you weren't as lightning quick as those first 10 speedy apes, Honeybricks has made this deal even crazier. Now, the first 100 of you fine apes that sign up will receive 1 FREE token for every 5 tokens invested! Basically a 20% off deal but in a way that works better for everyone. Now there's really no excuse to sleep on this, but you better be quick!
Honeybricks is an awesome way to be able to diversify your portfolio into Commercial Real Estate without having to risk your entire bonus...
Over the last year, real estate has massively outperformed Gold, Crypto, and the S&P 500.
Even if you've been priced out of the housing market, you can still access the passive income and wealth creation that comes from real estate with HoneyBricks.
Their tokenized platform for commercial real estate investing will get you in the game
>>> Grab your FREE token now <<<
JPow Speaks
On Tuesday, we warned you that markets would have all eyes on Mr. Jerome Powell yesterday…
And for once, we were actually right. Now, it was pretty obvious that Chair Powell was gonna run markets yesterday (even more than he already does), but nobody exactly which direction he would run them.
Turns out it's up. Very up. Wednesday's lower open and choppy morning session was quickly and violently put to rest by the chairman himself giving off the much anticipated "we'll cool it with the rate hikes" type vibe.
Powell's speech, excitingly entitled "Inflation and the Labor Market," was overall pretty bearish on the near-term future of the economy and financial markets. But no one had time to care because as soon as JPow dropped the line "The time for moderating the pace of rate increases may come as soon as the December meeting," the buying ensued.
Using the classic language of Fedspeak, Powell essentially said the following:
We might be able to chill on the size of rate hikes this month
We will probably have to keep rates at elevated levels for longer than we previously thought
Wage growth needs to revert to around 2% annually to put the nail in inflation's coffin
Like wage growth, labor demand needs to chill out, too
We're still super uncertain about what inflation and the overall economy may do
The full speech obviously goes far more in depth into the factors driving those conclusions (in a much less idiotic way, too), but at the end of the day, those five factors were essentially what markets heard.
Still, with 30-Year fixed mortgage rates still well over 6%, 1.7 open jobs for every unemployed person, and PCE "Core" inflation remaining triple that of the Fed's target, don't let yesterday's market reactions get you too excited yet.
The overall message of the speech was one of battening down the hatches-not necessarily because economic conditions are expected to worsen, but because the 400+ PhDs at the Central Bank and we have absolutely no clue what to expect. But hey, at least they're honest.
Xpeng Inc. ($XPEV) ↑ 47.28% ↑
Normally, ~50%+ up days are reserved for acquisitions and certainly not the result of pure garbage earnings reports…
But China's homegrown EV maker Xpeng showed us yesterday that you really can never say never, especially in a market as desperate for growth as this one.
Xpeng stepped in dogshi-I mean, dropped their latest earnings yesterday morning, reporting sales, EPS, and guidance that all came up woefully short. But shares still rose almost 50% (bc who tf knows why), so I'm sure investors weren't too upset.
Airbnb ($ABNB) ↑ 7.09% ↑
If you thought staying in someone else's home while paying exorbitant fees for things as basic as cleaning while you're still expected to do most of the cleaning yourself was great, well then you're gonna love this!
Now, Airbnb is allowing you to do the very same thing, but this time, in someone's apartment!
Honestly, I kinda thought this was a thing already, but I guess not. Airbnb has been reading The Art of the Deal and has made some money moves around getting landlords to be more chill around Airbnb Apartments. This brand-new market segment gave shares an additional boost yesterday, leading to a 7.1% pop.
CrowdStrike ($CRWD) ↓ 14.75% ↓
So, if bad earnings reports are actually good, the opposite must be true, right?
Yes. and CrowdStrike unequivocally proved this yesterday. The firm reported Q3 earnings late on Tuesday, showing sizable beats on revenue and earnings, largely momentous ARR growth of 54%.
But like your annoying boss, the market said, "not good enough." Mr. Market was expecting something more like 60%+ ARR growth, so naturally, shares dumped.
If anything, Xpeng and CrowdStrike are indicative of just how brittle markets are right now, particularly for high-beta names. Any mild beat or miss in expectations has led to nothing short of utterly hysterical reactions from Wall Street traders. Be careful out there, apes.
NetApp ($NTAP) ↓ 5.82% ↓
But luckily for them, CrowdStrike investors weren't alone in suffering from success. Cloud service provider NetApp also kicked earning's *ss, but lower-than-expected guidance took shares on a tumble.
Revenue came in line while EPS danced on the grave of market consensus, beating by nearly 12%. The problem? Expected revenue growth for the full fiscal year was cut from 6-8% down to 2-4%.
SBF Speaks
Somehow, even with all eyes on the Fed, the speech by JPow didn't even take the headliner spot yesterday. No, that was won by none other than The Daily Peel's first-ever Platinum Banana Winner for CEO of the Year in 2021, Sam Bankman-Fried.
Putting aside how icy cold that take turned out to be (please roast me, I deserve it), SBF's heavily anticipated interview with the NYT's Andrew Ross-Sorkin turned out to be kind of a nothing-burger.
Headlines read that SBF "admitted to mistakes" or that he "didn't ever try to commit fraud," but like…didn't we already know this??
Clearly, there were mistakes made, and of course, he's gonna get out there in full cover-up mode, and that's just what he did. To Ross-Sorkin's credit, this interview was much less of a "puff piece" as the NYT and others are alleged to have released of late, but still, let's not pretend we learned anything substantial.
SBF largely took this opportunity on the big stage to express his regret and acknowledge what he sees as a "mistake" rather than fraud. Which, I mean, you gotta respect at least a little. After all, there's still no certainty around the criminality of his actions.
But on the other hand, it definitely seems like he committed fraud. Uproar ensued over the mere idea of SBF being given the limelight, and I respect that too. Was Bernie Madoff given a second to speak when he was "suspected" of committing fraud? There's a solid argument on both sides.
But maybe the biggest disappointment is how anticlimactic this interview was. For all the hype, we learned little, even despite SBF dropping gems like "I had a bad month." Now, we'll have to wait for the inevitable court proceedings, and now that I'm excited for.
The big question: Did SBF make "mistakes," or is he one of the biggest scumbag fraudsters in human history? Or both?
Yesterday - Find a number less than 100 that is increased by one-fifth of its value when its digits are reversed.
Answer: 45
Today - It's 30 bananas off the Hedge Fund Interview Course for the first 15 correct respondents. LFG!
Shoot at me a thousand times, and I may still survive. But one scratch from me, and you will find your prospects take a dive. What am I?
Shoot us your guesses at [email protected] with the subject line "Banana Brain Teaser" or simply click here to reply!
"Markets are never wrong – opinions often are." - Jessie Livermore