Major 2021 Vibes | The Daily Peel | 1/24/23

Jan 24, 2023 | Peel #384
Happy Tuesday, apes.
Congrats on the gains yesterday; you earned them, literally and figuratively. But it probably had absolutely nothing to do with your stock-picking prowess, as it seemed like literally everything gained yesterday, giving off major 2021 vibes. A soft landing is becoming the base case for many as Nick Timiraos (aka Fed Woj) calls for a rate hike pause this spring. Fingers crossed, he doesn't jinx us.
Let's get into it.
Want to Work in PE and Afraid of LBOs?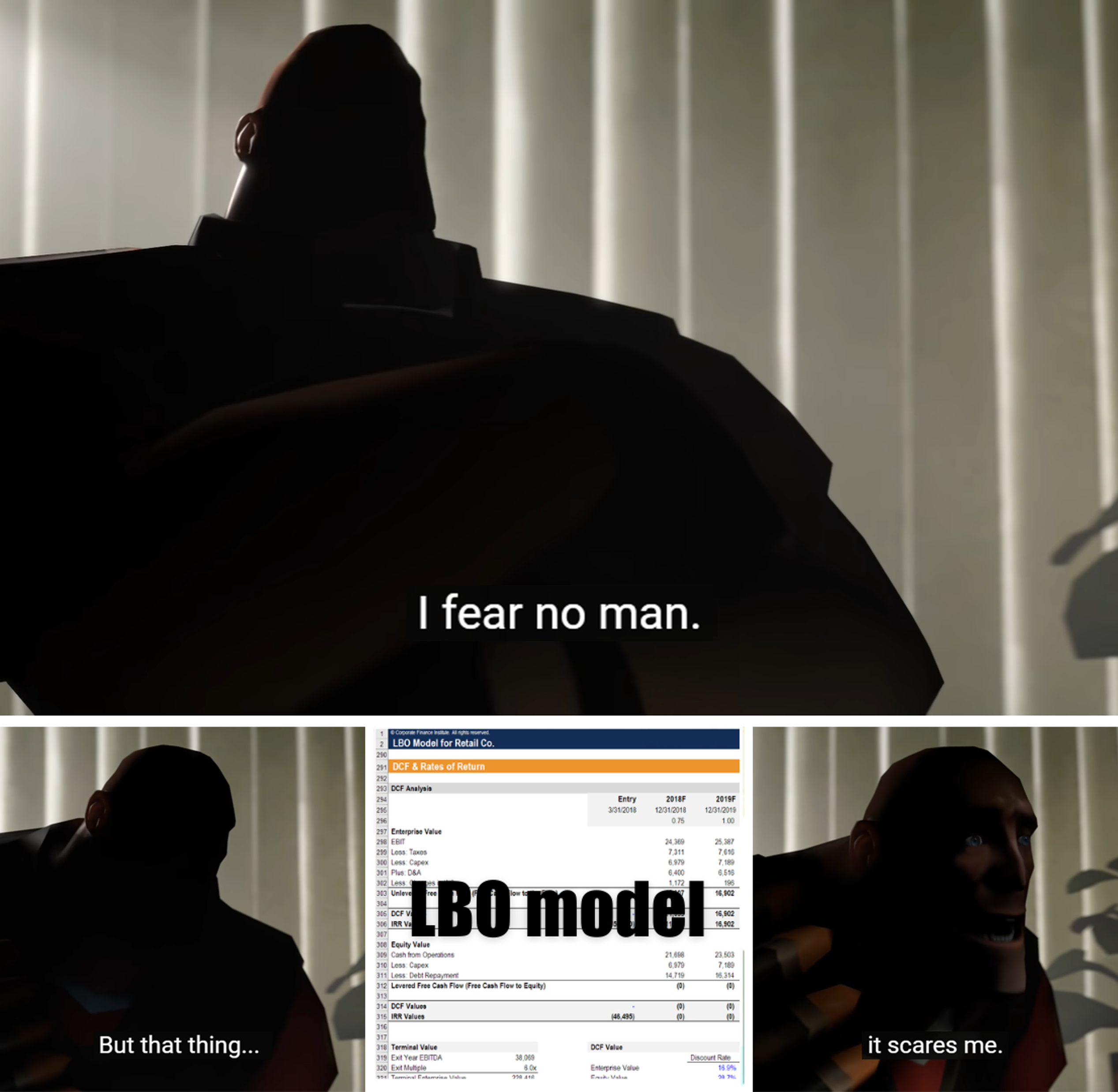 Leveraged buyouts are tricky. The best way to learn about LBOs is building them from scratch on the job. The second-best way is by taking the WSO LBO Modeling Course.
We'll teach you about return drivers, tax complexities, debt schedules, projecting cash flows, and everything else you need to thrive at a prestigious private equity fund.
JPow Chill…
Or so says Nick Timiraos of the Wall Street Journal.
Commonly referred to as "Fed Woj," this boy Nick absolutely dominates the game of reporting Fed news before the news has even reached the Fed itself. It's a modern miracle, and someone's gotta get this guy a damn documentary or something (Nick, if you're reading this, hmu…).
But for real, he's one of the very, very few writers who, obviously along with myself, can actually affect policy at the Central Bank, move markets, and change the minds of Fortune 500 CEOs. Game respect game, and so for this week, he's got me beat.
Over this past weekend, Nickyboi lit the match that got yesterday's fire started. In his (somewhat lengthy, but that's none of my business) piece published in the WSJ on Sunday, he basically blew the horn and gave some legitimacy to the idea that the Fed may be on course to chill tf out with rate hikes. Clearly, this got investors hyped.
Rate hikes, along with inflation, utterly decimated markets in 2022 simply by making the cost of capital higher than zero for pretty much the first time since pre-GFC. You remember it all too well, don't you? We don't have to beat that dead horse.
Whether or not he's right, he's sure onto something. We've seen declining inflation, aka "disinflation," present since June of last year. Moreover, the out-of-control prices dominating the housing market seem to be on the downtrend as mortgage rates nearly hit 7.5% a few months ago, currently sitting at an average 30-year fixed of ~6.3%.
But it's not all sunshine and rainbows just yet. The labor market has been a bigger prick in JPow's side than that professor that still makes you wear masks to class.
But hang on a second, isn't that exactly what we want? Cooling demand without decimating employment seems like the ideal scenario to me. Many economists have been tweaking because the U.S. economy has never gotten itself out of an inflationary spiral like last year without hurling into a recession and sending unemployment to the moon. But hey, just because it hasn't happened doesn't mean it can't.
And that's especially true in macroeconomics. Every day something that's never happened before happens, so why not here? As pointed out by Stephen Miran, the lack of layoffs in the construction industry, in particular, appears to have been the secret to success for unemployment not skyrocketing.
As he points out, the Infrastructure and Jobs Act (IJA) has incentivized builders to hang onto to hard-to-come-by labor despite a roiling housing market in anticipation of Uncle Sam making it rain across the sector later this year. As Stephen puts it, the "race is on" between lagging home sales and a slowdown in building permits vs. a pickup in the economy and deployment of IJA funds.
The last thing to keep in mind is that monetary policy operates on a lag worse than Google Stadia. Maybe in the days of typewriters and wearing suits on planes, this was fine, but in a world drowning in real-time data, it's easier to spot discrepancies.
It's barely been a year since the rate hike cycle kicked off, and we've already beaten the sh*t out of costs like energy, housing, and other commodities while we observed a slowdown in the cost of labor in December as well. JPow, my guy, what more do you want??
Semiconductors ($SOX) ↑ 5.01% ↑
Semi stocks were so hot yesterday that it almost gave me a…
Anyway, shares in big names like AMD (+9.2%), Nvidia (+7.6%), and Qualcomm (+6.6%) went on a ride after analysts at Barclays suddenly decided they're bullish on the industry again. Specifically, two of those names, AMD and Qualcomm, were shouted out along with Skyworks and received upgrades to overweight at the bank.
But the other names came to the party, too. No one likes to ride coattails (unless ofc your dad is an MD), but hey, I'm sure investors will take it.
Spotify ($SPOT) ↑ 2.07% ↑
My news-podcast listeners out there, if they haven't already, will probably hear about this Spotify news on Spotify at some point today. So meta, so cool. That is unless you're one of those Apple Music freaks.
To each their own, some people just like worse products. Anyway, Spotify shares got a boost yesterday after announcing a ~6% RIF across the company. Shareholders were nothing less than psyched at the idea of eviscerating the livelihoods of ~590 people. Who doesn't love Wall Street?
At the risk of sounding like a broken record (or a looping stream, lol), I won't bother telling you how Spotify is the latest name to join the growing chorus of tech layoffs. Who knew the hottest tech trend of 2023 would be firing people?
Xylem ($XYL) ↓ 7.95% ↓
That word look familiar, but you don't know why? Same. Well, come back to 8th-grade science with me for a sec and recall that xylem is the water transportation system inside of plants. The more you know.
Xylem and the boy phloem are commonly paired up, but yesterday it was all about the (soon-to-be) team of Xylem and Equova Water Tech (+15.23%).
Xylem announced plans to purchase the smaller water-tech (what?) firm for $7.5bn, a ~30% premium over Monday's closing price. Shareholders bailed, likely viewing the deal as former prez Donnie T views NAFTA.
The deal should close midway through the year and speaks to the consolidation of an industry whose resources (aka stuff that every single one of us desperately needs to survive) are quite literally drying up.
Bank of Hawaii ($BOH) ↓ 4.38% ↓
Things were not very Aloha at the bank of Hawaii yesterday as the island's second-largest bank posted somewhat ʻIno loa earnings numbers.
That means bad; you don't have to Google it. Despite beating on both the top and bottom lines, investors erupted in rage over the bank's last quarter as investors prepared for the end of this super fun rate hike cycle.
Mahalo for nothing, I guess.
Citadel Financial Performance Last Year
You know how they say that the real richest people or the real most-influential people are the ones you never hear about? Yeah, they're talking about Ken Griffin and Citadel.
Ken Griffin, as some of you may remember, was the number one enemy to Keith Gill and his legion of fellow ape-minded crayon-eaters on the subreddit r/WallStreetBets in January 2021. Back then, he was in deep water. Now? Kenny officially holds the title for the largest amount of money ever made in a single year by a hedge fund. And yes, he did it in 2022.
That makes Citadel, in 2022, the most successful hedge fund of all time. On the firm's ~$54bn in assets, these guys and gals generated a monstrous 38.1% return to deliver the $16bn, squarely beating John Paulson's measly $15.6bn made in 2007.
Further, 2022's disgusting performance puts the firm at the top of the list (as you can see above) in net gains since inception.
Oh yeah, and in case you didn't know, Paulson made that bag by betting against housing in 2007, a bet commonly called the "greatest trade of all time."
While we might not know the exact bets made, there are really only a handful of options. Betting against U.S. treasuries, which had their worst year since…ever…seems like a likely starting point. I mean, after all the GME and AMC sh*t, the firm clearly isn't afraid to take a massive short.
All in all, Citadel's gross trading profit was ~$28bn in 2022, with that additional $12bn coming in the form of various management fees and other expenses. Absolutely despicable.
But hey, it sure does work. Clearly, the firm is onto something with its high-frequency trading, market-making, and other misanthropic activities. Repeating that in 2023 will be difficult, but Ray Dalio's Bridgewater did hold the crown seemingly forever beforehand.
Given that the runner-up in 2022 was D.E. Shaw with $8.2bn, some on Twitter are already questioning the legitimacy of the returns. It feels a little early to start throwing around Madoff accusations (I mean, can we at least finish with FTX and Scum Bag-Fraud first?), but nonetheless, they're already rolling in.
Watch out, Jim Simons, competition for the title of "greatest investor of all time" is heating up.
The big question: Will Citadel's strategies be able to replicate the same success in '23 and beyond? How will investors in other funds react when they see Citadel dancing all over them? Is that a toupee on Ken Griffin's head??
Yesterday - You can see me in water, but I never get wet. What am I?
A reflection.
Today - It's 100 bananas off the WSO's LBO Modeling Course for the first 10 correct respondents. LFG!
No matter how little or how much you use me, you change me every month. What am I?
Shoot us your guesses at [email protected] with the subject line "Banana Brain Teaser" or simply click here to reply!
"A bull market is like sex. It feels best just before it ends." - Barton Biggs
Happy Investing, Patrick & The Daily Peel Team
Was this email forwarded to you? Sign up for the WSO Daily Peel here.