Pre-Turkey Prognosis | The Daily Peel | 11/24/22

Nov 24, 2022 | Peel #345
Happy Thanksgiving!
Wednesday was one of the slowest days of the year for equity markets as total volumes fell over 30% the day before Thanksgiving.
Equity indices posted gains for the second day in a row as the Fed's meeting minutes highlighted there is a consensus among officials for slowing the pace of rate hikes. Treasury yields sank on the news, and the Dollar slipped after softer PMI data than anticipated.
The 10-Year Treasury yield ended near the lows of the day, 3.69%, and the Dollar slid 1.01% after a batch of weak economic data. The VIX, Wall Street's fear gauge, fell to 20.35, a level not seen since August's bull run in stocks.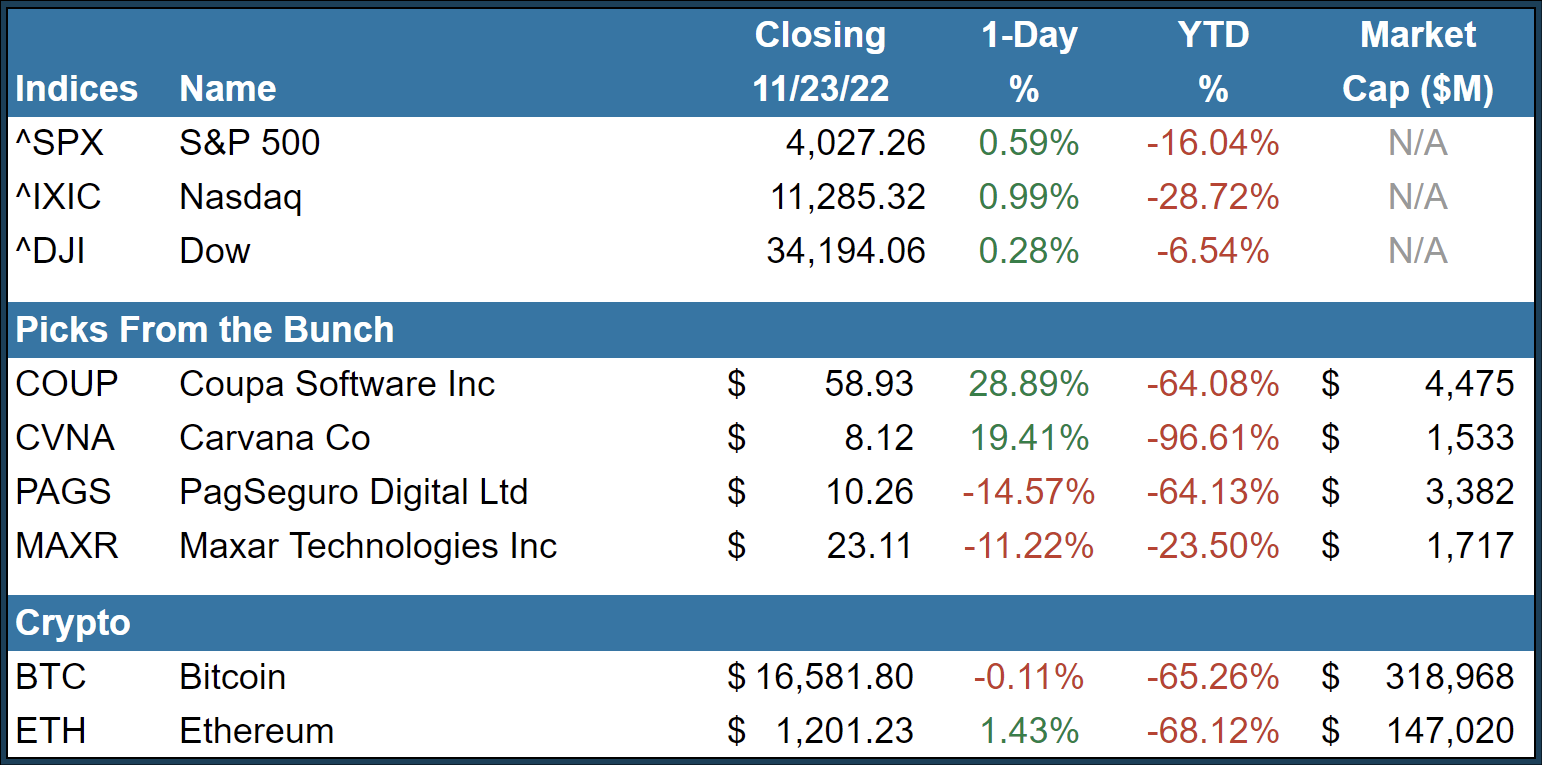 If You're Still Using a Mouse in Excel, This Is for You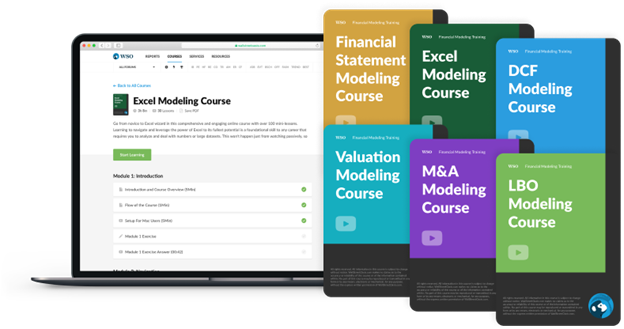 We all know that one guy that's a wizard in Excel. He can whip up a model in no time, dancing around the keyboard with seemingly every shortcut known to man.
If you use a mouse to navigate a spreadsheet, you won't be taken seriously on Wall Street. Take your modeling game to new heights with WSO's Elite Modeling Package, which contains everything you need to know to land a prestigious gig in finance.
This is way better than Accounting 101-detailed case studies on companies like Nike, video tutorials on building different models, and lessons that build on one another will keep you engaged and ready to wheel and deal in Excel.
We know Peel readers will gain a ton from this package. In fact, we're so confident that we're also giving away access to our Accounting Foundations Course for the first 50 Peel readers to sign up for the Elite Modeling Package in the next 24 hours. That's an insane amount of value that you can't afford to pass up.
In order to break in on Wall Street, you need to rub elbows with the right people. But once you get there, you won't last long without the required skills. Do your future self a favor and sign up today.
Federal Reserve Showdown
November's official Fed minutes were released today, indicating a decidedly dovish consensus among board members, which helped lift hopes for a stock market rebound.
Most Fed officials called for a moderation of rate increases to 50 bps from December onward, as they believe inflation has peaked. Some, including Vice Chair Lael Brainard, have been outspoken in voicing their desire to slow the pace of rate hikes.
On the other hand, Fed Chair Jerome Powell has been forthright in his belief that monetary policy is not yet restrictive enough, pointing to recent strength in the labor market and persistently high, albeit slowing, inflation.
Powell and his board are at odds over the pace of monetary tightening as they grapple with contrasting views on economic indicators:
Inflation: The never-ending debate continues as to whether or not inflation has "peaked" (the new buzzword replacement for "transitory") or not. Judging by the recent minutes, most committee members believe inflation has, in fact, peaked based on the last few readings of softer CPI & PPI data, while others dismiss recent inflation readings and cite long-term expectations as a more appropriate measure.
GDP Growth: The Fed has to balance taming inflation while not sparking a prolonged economic downturn. This is a precarious practice because Fed Hikes take about 12-18 months to see the full impact on the economy. As they fight to reduce inflation, the Fed also needs to project where they think GDP will land. The IMF has cut its GDP forecast for both 2023 and 2024, potentially signaling a need for a slower pace of hikes.
\While Powell continues to remain a perma-hawk, as it stands now, he is on an island all alone. The committee leans heavily dovish, with Vice Chair Brainard as their fearless leader. It will be interesting to see the tension unfold.
Coupa Software ($COUP) ↑ 28.89% ↑
Coupa Software surged after it was reported that Robert F. Smith's Vista Equity Partners is exploring an acquisition
This comes after Vista agreed to pay $4.6B for software-security firm KnowBe4 Inc. While no deal is imminent and either party could back out, Coupa soared 36% on the news
Carvana ($CVNA) ↑ 19.41% ↑
After a string of recent downgrades from analysts across the street, Carvana finally got a boost after an insider agreed to purchase a block of shares
Chief Product Officer Daniel J. Gill purchased $1mn in shares, providing a much-needed vote of confidence for a stock that has dropped over 96% YTD
PagSeguro ($PAGS) ↓ 14.57% ↓
After the company completely whiffed on Q3 earnings, they reported results that missed expectations and issued lower guidance
PagSeguro continues to be negatively impacted by persistent macroeconomic headwinds in Brazil
Maxar Technologies ($MAXR) ↓ 11.22% ↓
The company said that costs to amend a contract as a result of a satellite shipment delay will impact bottom line
Maxar and EchoStar have been in contract agreements for Jupiter 3, which was originally scheduled for January 2021. The amendment pushes the shipment date back even further to April 2023.
The average cost of Thanksgiving dinner is 20% higher this year.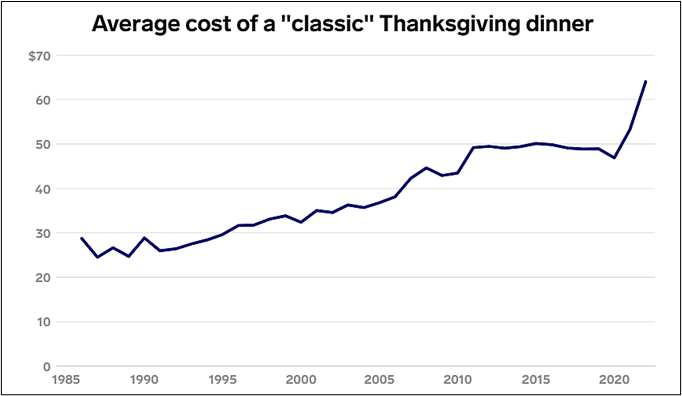 The World Cup Has Kicked Off
This year's FIFA event has drawn a lot of attention. From Qatar's decision to ban alcohol to charging countries for insensitive chants, all eyes have been on it.
What has not been widely discussed is the impact on the stock market for World Cup host cities. In fact, equity markets for those countries have reliably outperformed peers.
According to data from Al Jazeera News, the stock market indexes of host countries for the last seven World Cups averaged 21.8% in the year leading up to the event and 13.4% in the year after, compared to average growth for world peers of 4.3% and 9.5% respectively.
Brazil, however, is a notable outlier, as its stock market declined 34.0% due to deteriorating economic conditions, a political crisis, and persistent inflation in 2014.
2022 has been a brutal year for equity markets across the globe, as we are all dealing with collective post-pandemic inflation, tighter monetary policy, and slowing growth leading to recessions in many countries.
Still, in the midst of the storm, the QSE Index (Qatar's leading equity benchmark) was up over 20% at its height this year. While the Index is trading well off its highs (up +4.5% as of October 31), Qatar is still far outperforming global indices this year. If we take a much longer-term view back to 2010, when Qatar first began preparations for the event, the gap between the QSE and peers is even wider.
This relative outperformance is driven by a domino effect of increased domestic spending for the big event, leading to higher profits for local companies, which is reflected in higher stock prices.
Qatar has spent over $300 billion on infrastructure projects in preparation for hosting the World Cup. These projects include the subway system, roads, highways, and even a new airport.
As Qatar looks to beef up its infrastructure, developers benefit because many of their longer-term projects wrap up quicker, allowing them to book profits. Employees benefit as these large-scale projects create job opportunities. This is compounded as the actual event kicks off, with tourists flocking to the area and spending money.
As your equity and crypto portfolios continue getting decimated, it might be time to look outside of US equities for a slight glimmer of hope.
Yesterday - Who spends the day at the window, goes to the table for meals, and hides at night?
Flies.
Today - It's 100 bananas off the WSO's Elite Modeling Package. LFG!
Two in a corner, one in a room, zero in a house, but one in a shelter. What am I?
Shoot us your guesses at [email protected] with the subject line "Banana Brain Teaser" or simply click here to reply!
"A correction is nothing more than a Wall Street euphemism for losing a lot of money very rapidly." - Peter Lynch