Recession Risk Realized | The Daily Peel | 7/29/22
Futures cooled after Wednesday's rally, indicating that markets wanted to lose ground into Thursday's GDP print for the second quarter. Earnings season rolled on, GDP was down 0.9%, marking a second consecutive quarter of GDP contraction, and PCE numbers showed a 6.5% increase year-over-year.
After the GDP print, markets surprisingly rallied. At the closing bell, the Dow was up 1.02%, the Nasdaq moved 1.08% higher, and the S&P closed up 1.21%.
Network with top-ranked part-time, online, and hybrid MBA programs, such as Northwestern Kellogg, Chicago Booth, Duke University, Boston University, Carnegie Mellon University, Georgetown University, and more, on August 17th! Learn more
Let's get into it.
Yesterday - What runs all around a backyard yet never moves?
A fence.
Today - It's 50 bananas off of our WSO resume review service for the first 15 respondents. LFG!
How can a man who shaves a half dozen times per day still have a long beard?
Shoot us your guesses at [email protected] with the subject line "Banana Brain Teaser" or simply click here to reply!
GDP Print - After weeks of everybody belaboring the point that the US economy was slowing, yesterday was the day of reckoning.
To be clear, economists' estimates before the print were that the GDP numbers would show a very slight expansion of the economy, a would-be sigh of relief after a contraction during the first quarter of this calendar year. But the supply chain is still in shambles, and businesses aren't as healthy as they used to be.
The print is in; GDP was down 0.9%. This marks a second consecutive quarterly contraction for the US economy, commonly thought to be the definition of a recession.
I hate to say it, but I'm a bit relieved that GDP contracted… because I have been banging the drum on the r-word turned recession for like six months, and I didn't want to look stupid running my mouth about it almost every day.
Whether we are in a recession or not, the interesting thing is that the economy is weakening and doing so in a hurry. Jobless claims are up, inflation is hurting consumers and businesses, and rising interest rates are going to discourage growth.
Additionally, one has to think that if Daddy JPow doesn't think the full effect of his first 75 bps rate hike is fully realized just yet, there is going to be some serious squeeze in the pipeline after a second 75 bps rate hike.
One of the nice things about this GDP print is that markets are starting to move away from inflation risk as the driving factor and towards recession risk. Bonds are finally starting to behave like, well, bonds.
As we see high inflation data and negative growth, it would appear that we could be entering a stagflationary period, which, as we all know, isn't good for anyone. The good news: the economy is slowing so dramatically that inflation might not be the problem it is today in about a year's time.
Is this period of economic slowdown pervasive, pronounced, and prolonged? You heard it here first: I think we're only seeing the tip of the iceberg.
The MBA Tour Spotlight
on Degrees for Working Professionals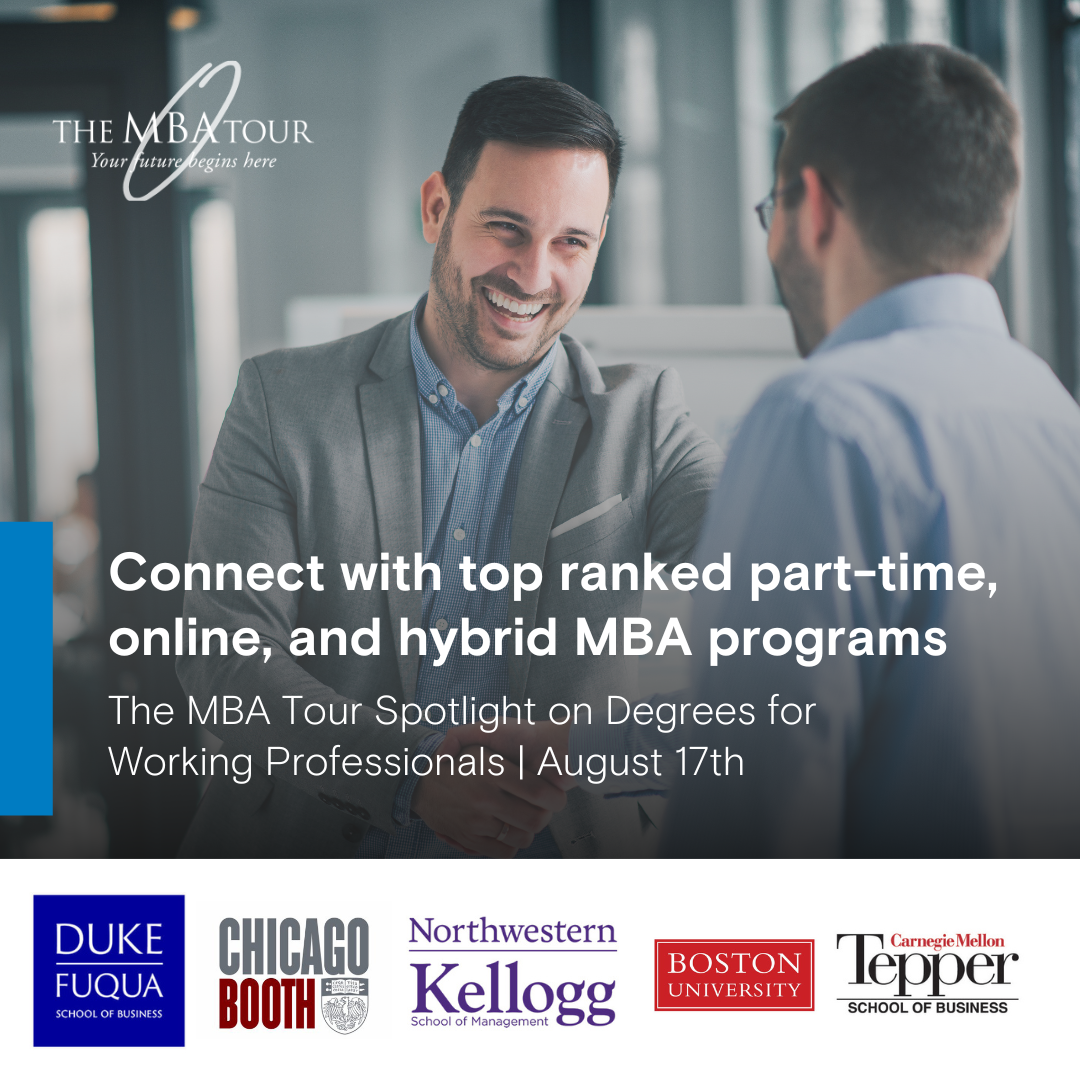 Are you ready to begin your MBA journey without sacrificing your current position? Don't miss The MBA Tour Spotlight on Degrees for Working Professionals on August 17th!
This is your chance to speak directly with top-ranked part-time, online, and hybrid MBA programs, such as Northwestern Kellogg, Chicago Booth, Duke University, Boston University, Carnegie Mellon University, Georgetown University, and more!
Old Dominion Freight Line ($ODFL) - Sometimes, even good ol' fashioned, non-sexy tickers have great days. Today was one of those days for $ODFL.
Old Dominion is one of the biggest shippers in the country, and it had a good quarter, beating estimates for profits and revenues. These cats reported on Wednesday, and their quarterly call sent shares soaring yesterday.
At the bell, $ODFL was up 7.20%.
Etsy ($ETSY) - Apparently, e-commerce isn't as dead as we thought it was. Etsy posted a solid quarter, hitting a home run on the bottom line while edging out analysts' expectations for revenues.
Apparently, business is great for the online marketplace. After their earnings call, shares of $ETSY climbed 9.86%.
Comcast ($CMCSA) - Making money is nice, but having a growth slowdown is something that can kill a stock.
That's kind of what happened here. After beating analysts' estimates for both revenue and earnings, Comcast indicated that the consumer's appetite for broadband isn't what it used to be.
Shares of $CMCSA finished the day down 9.13%.
Stanley Black and Decker ($SWK) - This is exactly what happens when earnings miss and you slash guidance.
Shares of $SWK were down 15% pre-market after an earnings flop, with considerable misses on both the top and bottom lines. To make things worse, the company cut its guidance for future revenues, sending shares tumbling.
At the end of the day, $SWK closed down 16.07%.
Ma Out - Jack Ma, long a target of regulatory scrutiny in China, has announced that he will cede control of Ant Group.
The Chinese billionaire, one of the PRC's most prominent entrepreneurs, is finally hanging it up. The move has allegedly been long considered as something of a release valve for pressures put on the business by the Chinese authorities.
The verbiage in the news about the change of control is that regulators didn't "demand it," but they do bless the transfer of control of one of China's biggest companies.
In 2020, Ma actually was widely reported as missing; his usual public persona was noticeably absent for months, most likely out of fears about retribution for public comments made about the good ol' boys club in Chinese Finance. There were even fears amongst journalists that Ma was silenced by the Chinese government-as in, permanently silenced.
At times, China is a hard business partner. Businesses that once relied heavily on Chinese exports to supply their operations are now struggling to import the right mix of goods and raw materials to meet demand.
The Zero C19 policy has left millions of workers stuck at home, slowing down the Chinese economy to a state that hasn't been seen in decades. Unemployment in the PRC is high, the housing market is in crisis mode, and the Chinese consumer is sitting on their yuan due to fears of the next lockdown or financial instability in the country.
An overreliance on China has proven to be a thorn in the side of the US economy as the economy reopened after the pandemic.
Additionally, America's reliance on rare earth metals and certain products amounts to a national security challenge, particularly with China's tendency to surveil, steal, and meddle through intelligence and corporate espionage operations.
Enter the CHIPS Act. This quarter trillion dollar behemoth of a bill proves what the bicameral branch of our government thinks about China.
The latest version of the bill aims to jumpstart spending on R&D to close some of the gaps in technology areas in which the Chinese have a head start. It also proposes almost $55Bn of direct stimulus to construct and expand semiconductor facilities.
To put things in perspective: software and microchips are everywhere, so I do recognize the value in bringing chip production on shore. Similar to domestic energy issues, semiconductor security is national security.
Even your toaster these days has a computer inside of it, and the logic for that computer runs using software on a chip on a teeny, tiny board that today was probably made overseas.
Now scale up and away from toasters, and think about the chips required to run or build cars, airplanes, power plants, water treatment facilities, defense systems, etc., etc., the list goes on. There are brand new cars sitting in parking lots right now waiting for chips from overseas.
If the relationships with foreign trade partners really sour, imagine the economic slowdown and security crisis that would ensue if we can't source chips to toast our bread or shoot air-to-air missiles.
This is probably an oversimplification. We will see how this complexity unfolds.
"Being rich is having money; being wealthy is having time." - Margaret Bonanno