Retail Remains Strong | The Daily Peel | 5/13/22
Well, yesterday morning appeared like a good morning for stonks to effing rip, and the day did not disappoint. Retail numbers looked decent, and Daddy JPow spoke in an interview with the Journal. The 10-year yield moved higher before the interview, ending the day still flirting with the 3% mark, and the VIX is now just above 26.
Markets moved higher; the Dow was up 1.34%, the Nasdaq moved higher by 2.76%, and the S&P climbed 2.02%.
Property owners can quickly and efficiently generate extra rental income on Neighbor, a free online storage and parking marketplace. Some properties earn an extra $10k/month. Neighbor even brings you renters. Check it out here
For today's Banana Brain Teaser, I will discount our WSO Elite Modeling Package by 100 bananas for the first 15 respondents with the correct answer.
Let's get into it.
The answer to yesterday's Brain Teaser was "the future."
For today's BBT, I will discount our WSO Elite Modeling Package by 100 bananas for the first 15 respondents with the correct answer. Here we go again:
What has the most moving components of any timekeeper?
Shoot us your guesses at [email protected] with the subject line "Banana Brain Teaser" or simply click here to reply!
Retail, Baby - Aside from consumer sentiment, another great metric that indicates the health of the average American is retail numbers.
Yesterday, retail sales and something of a core retail data, excluding vehicle sales, were released.
The numbers were decent. We expected a 1% increase since last month, but we only saw a 0.9% increase. Not a huge deal on the miss.
When compared to expectations, these numbers are pretty good, and when you compare the revisions from the last round of numbers, retail still looks strong.
Even though retail is moving higher, these numbers are well below their highest levels.
The consumer appears to be strong now, but how much longer can they keep spending with inflation at these levels and rising rates?
These numbers show us that economic growth is subtly slowing and that the risk of a recession exists.
The interesting thing about these numbers is that even with super-strong retail expansion in the last quarter, we saw a GDP contraction. With a slowdown in growth, it would appear to the uninitiated that another contraction and, technically, a recession will result.
That being said, there's still a chance that the economy can grow this quarter, even if only slightly.
Ask me about it again in about 8 weeks.
Increase Profits with Neighbor Storage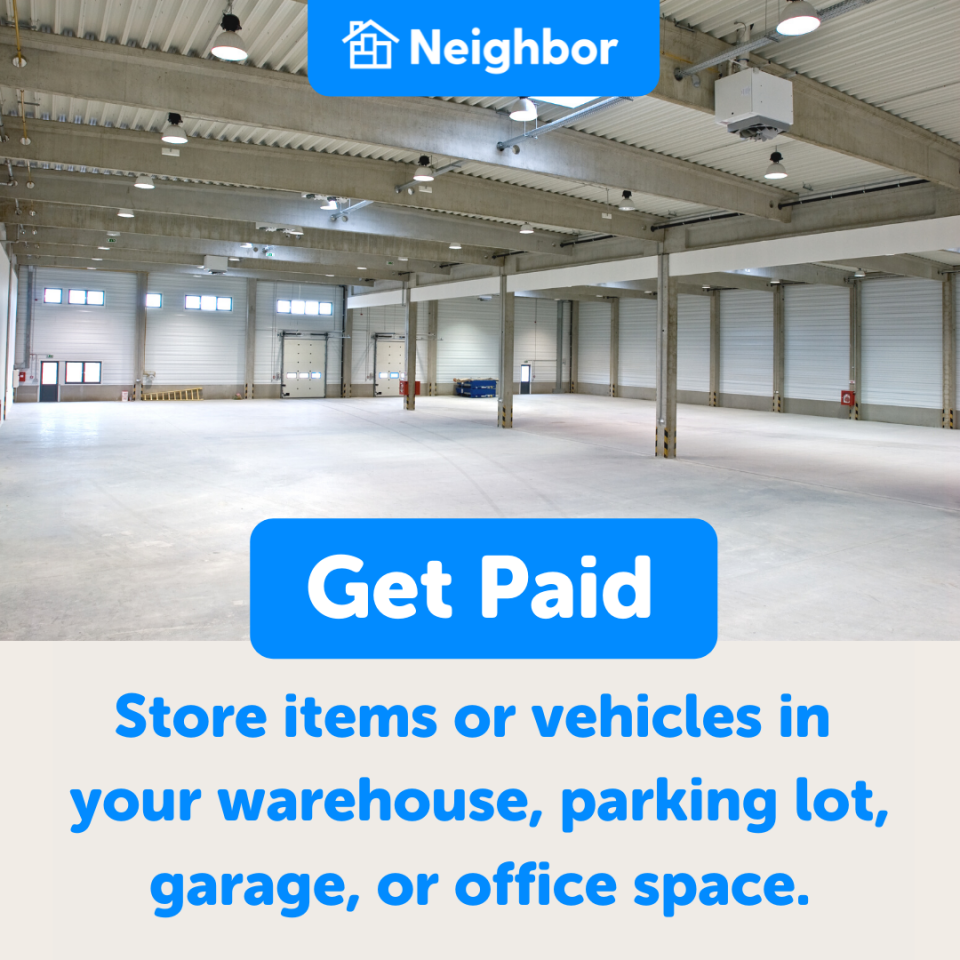 Neighbor is a free online storage and parking marketplace where commercial property owners can generate additional rental income. Some properties earn an extra $10k/month per location. They even bring you renters.
Neighbor provides $1mn in liability protection, and they will help find your ideal renters. Have an empty parking lot? Let Neighbor help you introduce an Uber fleet to your town.
Home Depot ($HD) - Big box home improvement retailer $HD had a smashing quarter. Like, one of their best ever. Weirdly, their share price flirted with losses today, but eventually, the bulls prevailed.
Their top and bottom line numbers were blowouts, and analysts absolutely whiffed. $HD closed up 1.67%, helping the Dow move higher.
Here's a crazy thought: maybe $LOW will also blow out this morning before the market opens, but this isn't financial advice.
The Internets in China ($KWEB) - Chinese internet stocks like $BABA, $JD, and $PDD had a solid day yesterday. They helped the KraneShares CSI China Internet ETF climb 3.22%.
These stocks started to move higher after an upgrade to overweight by the analysts at JP Morgan. Included in this upgrade were Tencent, Alibaba, Meituan, NetEase, and Pinduoduo.
The irony is that JPM said that these same names were uninvestable for the next year or so… 2 months ago.
We will see what happens with delisting and regulatory rumors, but for today, investors pumped these names higher.
Walmart ($WMT) - Shares of Wally retreated by around 7% before their earnings call yesterday morning. They had a rather bad quarter, particularly when you compare to fellow big box brother Home Depot's blowout.
Wally typically deals in ultra-low margin goods and at low price points. This has a different clientele compared to that of a home improvement store targeting homeowners and upper middle class families.
Even after good comps in their online retail business, guidance from Wally tells us that consumers are trading down to cheaper brands and that the fast and loose spending of the last 18 months might be drying up amongst Wally's typical customers.
On earnings news and the less palatable guidance, $WMT closed down 11.38%.
The Dollar Stores ($DLTR, $DG) - Both of our favorite low price, dollar-ish retailers were down yesterday, occupying spots amongst the S&P's top laggards.
Maybe they're getting squeezed by higher prices finally and will now be renamed. The cost of changing the name on the signs to $1.50 General or Tree alone would be in the millions of dollars.
After yesterday's retail numbers and Wally's guidance, I would imagine that these cats would have seen a slight pump from investors. I would expect lower-income buyers to stop shopping at Walmart and transition to these dollar stores instead. However, I was not a retail analyst in my former life, so wtf do I know.
$DLTR lost 3.16%, and $DG was down 2.80% yesterday.
WTF is Innovation Anyway? - Define "innovation" for me. I'll wait.
Many investors, particularly in the tech and growth spaces, pride themselves on being able to uncover innovative ideas that will change the world. If you find the next Amazon or Facebook, you obviously know what innovation looks like. Emphasis added for sarcasm.
Particularly since the dot-com bust of the early 2000s, those seeking to uncover the innovations that will change our lives have been pretty successful.
After the advent of the internet and the proliferation of 3G and 4G, why wouldn't software-defined innovation change how we live?
But are these innovation pickers actually good at spotting innovation? Or was growth literally propped up by an ocean of liquidity, next-to-free money, and bamboozled investors?
Investing in the next batch of Musks and Zucks and Thiels right now is going to become increasingly difficult. As interest rates rise and cheap money goes the way of the Dodo bird, putting an additional dollar into the growth of innovation will become more challenging.
On the VC front, competition for this next dollar is going to get tighter. In the last few years, we have seen gobs of money invested into technology startups, particularly in software-as-a-service growth companies.
It's unlikely that we will see the same concentration of private investment into a single technology type in the coming months and years.
I have no doubt that the next killer app in the post-5G marketplace will change how most of us live our lives, particularly in the West. But do I know what this killer app is yet? Nah, your guess is as good as mine.
"The intelligent investor is a realist who sells to optimists and buys from pessimists." - Benjamin Graham