Rocky Start to an Important Week | The Daily Peel | 7/26/22
Markets couldn't figure out how they wanted to start the day on Monday, and markets had mixed results. WTI Crude closed up just north of 2%, and BTC dipped below 22k. ETH traded between 1500 and 1600 bucks, and the 10-yr yield remained below 3%.
At the closing bell, the Nasdaq closed lower, down 0.44%. The S&P and the Dow were up 0.13% and 0.28%, respectively.
We're excited to announce WSO has partnered with Bloomberg Exam Prep to offer a whopping 100 'naners off regular GMAT prep plans. For this application cycle only, use their prep technology to crush the GMAT. Get the score you need to set your application apart. Use this link
Let's get into it.
Tired of rate hikes yet? Investors are betting that the Fed will actually 

cut rates in 2023
It might be a little bit premature to count your chickens, Barclays chief of asset allocation says
A food fight between publishers and librarians is the dramedy you didn't know you needed
We can't forget about the war in Ukraine, and in addition to the human cost of war, there is an economic toll on the troubled nation
Getting into a great business school could be the difference between a gig at Northwestern Mutual or Goldman, and the best way to boost your chances of success is with a solid GMAT score
Yesterday - The person who makes it has no need for it. The person who purchases it does not use it. The person who does use it does not know he or she is. What is it?
A coffin.
Today - It's 75 bananas off our IB Interview Prep Course for the first 15 respondents. LFG!
What can't speak but will talk back?
Shoot us your guesses at [email protected] with the subject line "Banana Brain Teaser" or simply click here to reply!
Middle Class Woes - There's a great rant from Bernie Sanders on the cost of everyday life as someone who has a close to minimum wage job, lives in an urban area, and can't afford to move to somewhere with a lower cost of living. I recommend it – to me, it was eye-opening.
But it turns out that right now, it's tough to be in the middle class, as households with incomes in the 60th to 80th percentile in America are feeling the squeeze the most.
During the pandemic, thanks to enhanced unemployment benefits, stimmy checks, and being locked down in their homes, the working poor actually ended up saving money. For many households, these stimmy checks plus enhanced unemployment benefits actually paid more than their jobs.
Contrast this with the middle class; if you lost your job in the middle class, your unemployment check plus stimmy checks didn't make up the ground that you lost.
The middle class spends more of their income on goods and services that have gone up in price. Think about the cost of commuting into a city from a suburb or rural area.
Driving 50 miles per day in traffic has more or less doubled in terms of cost if you're driving the same car as two years ago. If you were forced to upgrade, your new or even used car payment is higher than ever before.
According to Moody's analytics, the upper middle class, defined as households making between about 75k and just shy of 130k, actually have less in savings per household and in aggregate than every other income bracket except for families making under 30k per year.
Many of these upper-middle class families have 401ks and IRAs. These retirement accounts have been crushed this calendar year, giving back, in many cases, all of their pandemic gains.
Those close to retirement in the middle class are in a rough spot. Their retirement accounts are dwindling, and the cost of living in many parts of the country is absolutely skyrocketing.
This is such a problem that some retirees are returning to the workforce. If you retired in early 2020 and then saw your investment account balances go up almost triple-digit percentages after the March 2020 pullback, you were riding high.
Now, sentiment amongst the middle class has taken a harder hit than any other income bracket. The psychological burden of losing loads of money in stonks has forced many middle class boomers to pull a Bret Favre and re-enter the workforce.
No one knows what the future holds. How high will rates rise? Will inflation be curbed by demand destruction alone? Will Daddy JPow take my job?
Even if I had a crystal ball, I wouldn't share the answers with you.
The Best Way to Prep for the GMAT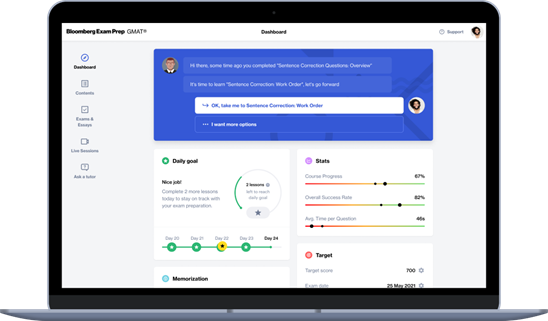 We're excited to announce WSO has partnered with Bloomberg Exam Prep to offer a whopping 100 'nanners off regular GMAT prep plans. For this application cycle only, get the score you need to secure your seat at a T20 or even a Magnificent 7 MBA program.
The admissions process is rigorous & highly competitive. Set yourself apart with a prep plan to master the entire exam curriculum. Leverage adaptive learning technology, premium content and one-on-one tutoring to earn your best score, guaranteed.
World Wrestling Entertainment ($WWE) - WWE received an upgrade today, sending shares soaring.
After Vince McMahon announced his retirement amid sexual misconduct allegations. Now, there is a good chance that the media brand is ripe for an acquisition. This is an interesting turn of events, and I'm sure there are many millennials out there who would love to turn this one into a meme stock.
Shares of $WWE climbed 8.49%.
I thought, as a wrestler, you want to go out on top. Sorry, Vince. Too soon?
Ryanair ($RYAAY) - Shares of the European budget airline popped yesterday after a strong quarterly earnings report. They still lost a little bit of money on the bottom line, but things are looking up.
The company is expecting to return to pre-C19 profitability sometime this year or early next year. However, their leadership dubbed their recovery as "fragile," mentioning that big price increases in oil or another geopolitical event could force their good news story off the tracks.
Shares of Ryanair closed up 4.64% yesterday.
Newmont Goldcorp ($NEM) - If you thought that gold mining stonks were an inflation hedge, maybe that hope was misguided.
$NEM reported earnings yesterday, missing expectations by almost 25% on the bottom line.
The gold miner's shares hit a new 52-week low, and at the end of the day, things were not pretty. Shares of $NEM declined by 13.23%.
Weber Inc ($WEBR) - When it rains, it pours. That's what happened for Weber Inc this quarter.
Not only did the grill maker have a crappy quarter when it comes to sales, but their leadership also announced that their CEO is calling it quits. They're struggling to control costs and are considering layoffs and inventory management tactics to save a little bit of money.
Shares of $WEBR cratered Monday, closing down 12.65%.
Did You Get the Memo? - Cheap money, in the words of Rick James, is a hell of a drug, and that's why all over the western world, central bankers are sh*tting in their shoes over how fast they can raise rates without crushing any sort of economic activity.
Even ze Germans are getting on board with buying troubled debt from struggling southern European economies a la American bailouts in the early days of the Great Recession.
We are going to hear from Daddy JPow later this week, and we might see another outsized rate hike from the Fed following their FOMC meeting.
It would appear that many economies are struggling to combat inflation and the appropriate monetary policy in an unstable, unpredictable macro environment.
All of this being said, I'm not sure that Russia and China got the memo. In a world where the PRC seeks to reestablish a multipolar global order, the Chinese are sticking with their fairly loose monetary policy.
Their central bankers are quoted barking sentiments such as domestic markets drive Chinese monetary policy and that liquidity in China is better than it needs to be in today's macroeconomic environment.
Then you have the Russians. As we watch them execute their grand strategy running a move out of their regional destabilization playbook in Ukraine, their central bank is actually chopping rates.
This kind of makes sense; if you were an exporter of any sort of good besides energy before the war in Ukraine, you probably can't export after the war in Ukraine. The world is united against the Russian economy, except for when it comes to energy in Europe.
The Russians are actually considering further rate cuts. Their economy is going to contract this year significantly, as raw material imports are another challenge, and the foreign investment well has gone more or less dry.
Speaking of rate cuts, some investors are actually betting that Daddy JPow is going to chop rates in 2023 to save us from a deep recession.
I've said this before: this is a dumb strategy. It's like drinking ten shots at the bar and jumping into your car to drive home to make sure you're off the road before the booze hits ya.
The interest rates derivatives market is showing that this hunch is actually more than just a little bit common. This type of move would be something that previously would have been considered impossible, but today investors are betting on the return of cheap money at the end of 2023.
"The stock market is filled with individuals who know the price of everything, but the value of nothing." - Phillip Fisher