Sad Consumers, Hungry Babies | The Daily Peel | 5/16/22
After checking the futures Friday morning, we sighed a breath of relief when they pointed towards some green finally. WTI Crude is back above $110, Gold lost almost 4% last week, and BTC is trading above $31k as of yesterday afternoon. Cryptobros are finding out the hard way that many stable coins are anything but.
All the major indices climbed higher Friday morning, and when the bell rang, the Dow had climbed 1.47%, the S&P 500 was up 2.39%, and the Nasdaq had moved higher by 3.82%.
For today's Banana Brain Teaser, we will unlock our Valuation Modeling Course for 75 bananas off the sticker price for the first fifteen correct respondents. Good luck!
Certain skills are indispensable in finance: using Excel without a mouse, a thorough understanding of the principles of financial statements, and PowerPoint Ninja skills to slay any pitch deck. Set yourself up for success and sharpen your skills with our WSO Foundations Package.
Let's get into it.
The answer to Friday's Banana Brain Teaser was "Post" and "Office"; congrats to our winner.
For today's BBT, I will unlock our Valuation Modeling Course for 75 bananas off the sticker price for the first fifteen correct respondents.
In the most recent 2021 edition of the Oxford English Dictionary, which word is spelled incorrectly?
Shoot us your guesses at [email protected] with the subject line "Banana Brain Teaser" or simply click here to reply! (Sorry for the broken link in Friday's issue!)
How Y'all Feeling? - Consumer sentiment is one of my favorite metrics among the usual suspects of economic data and indicators, and apparently, y'all aren't feeling that great.
The nerds in Ann Arbor put together a consumer sentiment report on a frequent basis, attempting to provide insight into the mind of the average consumer. Friday's report is in; the news is not good. Consumer sentiment is at a 10-year low.
In a market economy like ours, consumer spending is critical. It is literally the lifeblood of economic health.
When consumers feel bad about the state of the world, they do interesting things. They start to protect their next dollar and question how they should be spending their current dollar. Consumer sentiment usually only dips this low during an r-word. This might hint that one is actually already here.
Regardless of this one month's reading of the tea leaves for consumer sentiment, the overall trend has also not been good. Consumers are feeling the squeeze in a lot of places. Housing costs, gas prices, expensive groceries, and formula shortages.
While this metric isn't foolproof, it does scream to me that we are in a different economic cycle than we were a year or even six months ago. Hopefully, we can find a way through it together, Apes.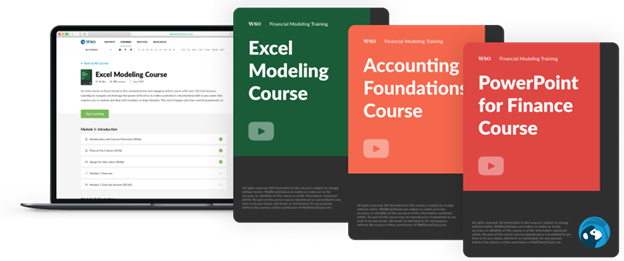 Certain skills are indispensable in finance. Financial statements are the backbone of fundamental analysis, and Excel and PowerPoint are their love languages. If you want to be successful in this world, knowing the ins and outs of these three foundational topics will make you dangerous in any shop, from boutique to BB.
Dive into more than 100 lessons put together by experienced finance professionals that will help you sharpen the skills you need to build your foundation in finance with our WSO Foundations Package.
Docusign Inc ($DOCU) - Shares of $DOCU soared on Friday, gaining 13.36%. About time, too, considering that no one in the fintech/e-commerce space has had a pulse in weeks.
There wasn't any real news, but we think $DOCU ripped because of the Nasdaq-led Friday rally. It brought a tear to our collective eye to finally see some positive excitement after another tumultuous week.
Adaptive Biotechnologies ($ADPT) - Adaptive Biotechnologies had kind of a meh quarter but a really rough month, moving from almost 11 bucks down to about 7 over the last 30 days.
That is, until Friday. On no apparent news, shares of the biotech company just ripped, closing up 19.77%. Reminds me of better times.
Twitter ($TWTR) - Well, the Cinderella story is on hold. Elon let the world know (in a tweet, ironically) that the LBO is on hold until further info is divulged about fake accounts.
This isn't the first time a tweet has affected something in his portfolio. On the news, $TWTR was down 9.67% on Friday.
DaVita ($DVA) - Friday was a tough day to find movers in the wrong direction, hence why I'm telling you about a healthcare company that was only down 2.91%.
A week ago, it announced earnings, which weren't actually that bad. There was no significant movement on the stock after a pretty serious top and bottom line miss. But $DVA has had a rough month, shedding more than 16% slowly in the last 30 days.
Formula What? - Nope, not talking about Formula One Miami or any of the absolute bangers that went down last weekend. Side note: if you haven't been to Miami, I highly recommend it.
Today, we're talking baby formula. Most of you probably don't give a flying fart about it, but putting milk into babies is the best investment a country can make.
Baby formula is the new toilet paper. Think about that.
As of earlier this week, more than 40% of baby formula nationwide is sold out. Not all shelves are empty, but it turns out that many places that sell it have even had to start rationing.
There is new faux and even legitimate outrage over this. After all, this is allegedly the most prosperous country in the world.
Rumors are flying. The whisper is that the Department of Homeland Security is stockpiling it to give to migrants crossing the nation's southern border. Others point their fingers at a recall of several related and prominent formula brands.
The real culprit, though, in our eyes, is trade policy.
It turns out that the U.S. market for baby formula is what I love to call over-regulated. Formula from other parts of the world, namely Europe, does not comply with FDA's labeling requirements.
That tiny little technicality? Well, that makes it illegal here in the Home of the Brave.
It's so illegal that even when people are desperately trying to buy the stuff for their spawns through third-party vendors direct from Europe, customs and border patrol agents are known to seize it at the border.
If only CBP was this good at sniffing out fentanyl, but I digress.
In addition to this policy stance, the new NAFTA agreement that was intended to make North American trade great again under the last administration actually discourages imports of the breast milk substitute from our closest neighbors.
Indeed, through taxes and tariffs, domestic producers have a captive audience for formula production here in the States.
Supply shortages like this make me question our country's policies on trade in a world that has experienced unavoidable globalization in the last 40 years. We aren't living in a world with a global shortage of baby formula. It's localized.
It kind of makes you wonder: if desperate parents can't get formula from other producers around the world, what has gone wrong?
"Wide diversification is only required when investors do not understand what they are doing." - Warren Buffett, The Oracle of Omaha