Science Keeps Sciencing | The Daily Peel | 12/14/22
Happy Wednesday, apes.
Scum Bag-Fraud got arrested, scientists are sciencing, and the latest CPI dropped-it's been a hell of a week already. As promised, things have already been interesting, and we haven't even gotten to the Fed meeting yet.
Speaking of which, skip class and tune in at 2 to see what monster JPow and the gang inevitably drop on us. Already the dollar, along with treasuries, have sold off, but what's he gonna make 'em do today?
Let's get into it.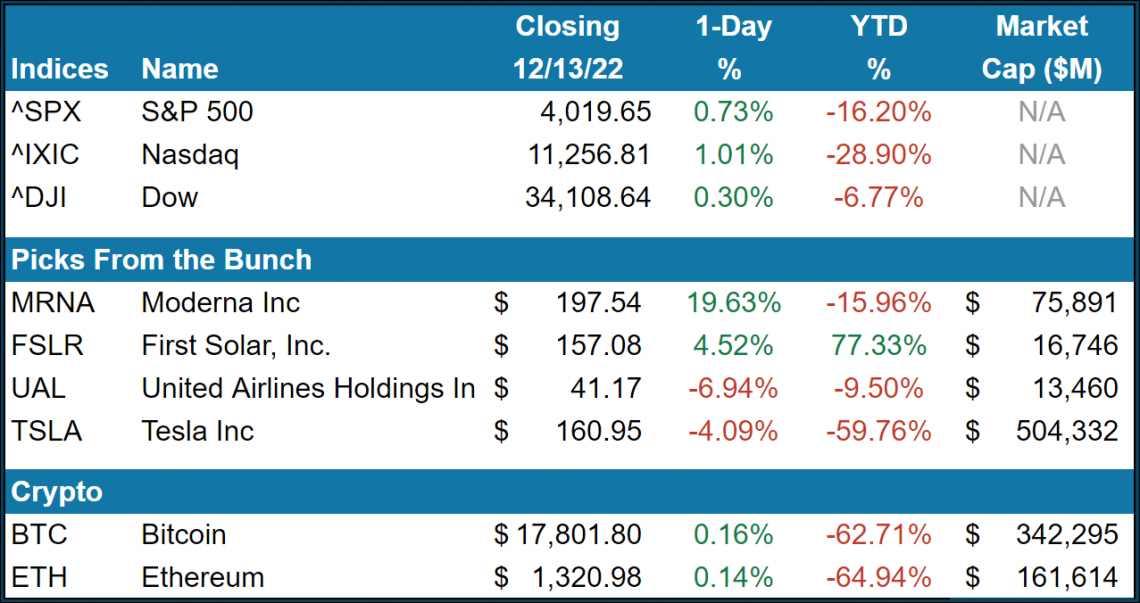 Break into PE And Climb Your Way to LP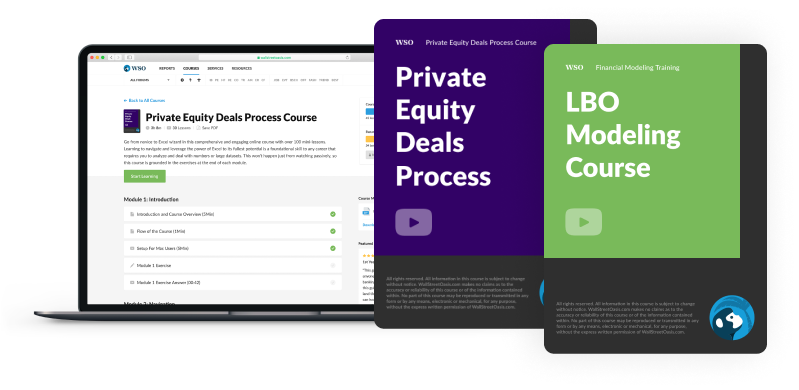 It only takes a few grueling 100-hour weeks in IB to start dreaming about the promised land of private equity. There's more prestige than being stuck in the bullpen, you get to learn the ins and outs of all kinds of industries, and… you make bank.
But competition for the few junior seats top shops make available each year is fierce. Every 2nd year analyst on the Street is vying for a spot, and you need something to set you apart.
That's where WSO's PE Master Package comes in. Learn to talk the talk with LPs through guided video lessons that teach you how to evaluate investment opportunities, the nuts and bolts of auction-based deals, and other nuances of the field.
We want our loyal Peel readers to gain an edge on the competition, so we're also giving away free access to our Excel Modeling Course for the first 50 readers to sign up for the PE package in the next 24 hours. Three total courses-that's some serious value right there.
Analysts up and down the Street are brushing up on their skills as we speak, so there's no time to waste. Sign up today and put yourself in the best position possible to land a gig in the most prestigious field in finance.
The Most Important CPI Report Ever…Until the Next One
It happened. Yesterday, the Department of Labor f*cked around… and we found out.
November 2022 saw consumer prices increase by 0.1% on a monthly basis and 7.1% since the same period last year. Estimates varied because economists have no idea what's going on, and ultimately, the official data came in well below those guesstimates. Markets were psyched.
Well, they were psyched for about a hot minute. US equity indices popped to start the day, spending the rest of Tuesday's trade chilling out and likely realizing that 7.1% inflation is hardly something to celebrate. Just because it's the lowest level since December 2021 doesn't mean it's "good."
Still, the S&P closed up 0.73% by 4 pm ET. Can't complain, but if you asked most traders on Monday, they would've told you that a surprise lower would induce a high equivalent to the first time you smoked a blunt.
But let's get a bit more granular. Seeing a lower CPI is great, but the natural next question is, "so, what prices fell?" I'm glad you asked…
Commodities, less food and energy, fell 0.5% in November
Meanwhile, piped natural gas fell 3.5% for the month, and
Overall energy costs fell 1.6% for the same period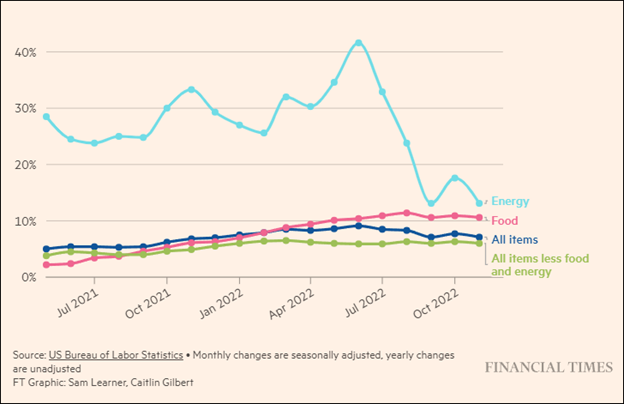 But, of course, it wasn't all sunshine and rainbows. Most prices of common consumer goods did continue their rise last month, particularly fuel oil, food, and wages.
But energy, food, and an income aren't all that important, right? Exactly. While this is certainly welcome news, we're far from out of the woods yet. As JPow basically begged us to understand last month, the Fed continues to expect a lot more work to be done to quell this inflation bomb dropped on 2022.
Now, all eyes turn back to Powell and the FOMC. Later today, the Fed will announce its latest rate hike. All the cool kids expect the fed funds rate to be hiked from 3.75-4% to 4.25-4.5%. But who knows if 7.1% is enough to turn the battleship led by JPow around?
Stay tuned. We'll find out in a few short hours.
Moderna ($MRNA) ↑ 19.63% ↑
Saving the world once wasn't enough for Moderna. I mean, just look at what they did yesterday…
Shares flew nearly 20% on the back of positive results of a phase 2 clinical study, done in collaboration with Merck (+1.78%), that demonstrated a treatment for melanoma able to reduce recurrence and death by a MASSIVE 44%.
Wow. And yes, you read that right. We're talking a potential treatment for one of humanity's most common cancers. Along with Keytruda, Moderna's new, snappily-named mRNA-4157/V940 vaccine may be the dynamic duo that patients and doctors have been waiting for. Fingers crossed.
First Solar ($FSLR) ↑ 4.74% ↑
First Solar made big news yesterday by being the…first solar…stock added to the S&P 500. Shares went on a 6.5hr bender, gaining 4.52% on the news.
Now really, it's the first *pure play* solar stock in the S&P, but the pun was just too good. Getting added to the S&P is a major vibe check for investors. It's basically like the institutional financial world giving the company in question a gold star, and man, do investors love gold stars.
United Airlines ($UAL) ↓ 6.94% ↓
Oof. Tough day for United Airlines despite the fact that we got confirmation that the cost of energy, one of the company's highest costs, has declined precipitously.
Of course, shares declined precipitously, too. Leading the nosedive was news that United, together with Boeing, has inked the largest widebody plane order in the history of American aviation. 100 Boeing 787 Dreamliners (and the option to buy 100 more) are coming United's way.
We can only assume that United got hooked up with this deal due to the absolute battle brewed between Boeing and Airbus. With Boeing still struggling since all those plans started dropping from the clouds, they def wanted this bad.
Still, investors weren't feeling it. United now expects roughly 700 new planes over the next decade. That's a lot of changes and a lot of pilot training that has to go down from now until then. Just hopefully, none of the planes do…
Tesla ($TSLA) ↓ 4.10% ↓
After reading that Elon is no longer the world's richest man yesterday, you might've thought, "Whatever. The share price will turn around." You were wrong.
Shares in Musk's (former?) favorite company that he owns crashed another 4.1% yesterday as everyone now apparently just hates Tesla.
Like yesterday, the move is likely related to shareholders feeling like a side hookup to Musk's latest project-turning Twitter into a battleground for people (and bots) to digitally scream at each other over how they feel about Twitter.
Median Consumer Price Index, 2010-2022

Fusion Breakthrough
If it sounds too good to be true, it probably is. That iron law instilled by grandparents across the world is as true today as it ever has been, but the thing is, fusion energy *may* just be the exception to that rule.
Free, clean, and unlimited-that's the promise of fusion-produced energy. Now, if you're like me ~1.5 hours ago and have no idea what fusion is or means, please allow me to elaborate.
Fusion is the process employed by stars like the sun to produce energy. Have you ever noticed the sun's battery die? Exactly.
Fusion energy is produced by forcing atomic nuclei together, which for some hella sciencey reasons, produces a verified f*ckton of energy.
Fission energy production, which you've likely heard of before, is created through the opposite process: splitting those nuclei apart.
The thing about fusion, however, is that it's a whole lot harder to produce. Back in the 1960s, nerdy physicists at the Lawrence Livermore National Laboratory's National Ignition Facility (LLNL NIF) first theorized the idea of creating fission energy by employing lasers in its production. This past week, they did just that.
Avid ape-readers of the Peel know that I'm never one to exaggerate or be sarcastic, so this should come out crystal clear. Fusion energy production at scale has the potential to create literally free, unlimited, and completely green energy for essentially the entire planet. Someone punch me in the face; this can't be real, right?
Well, it's not yet. Not really. Just as it's been 60 years since the idea of generating energy through fusion using lasers was posited, the same group of nerds expects it to take roughly the same time period before the technology reaches scale.
If you're like me, your first thought was probably, "cool, but how can I trade on this?" Well, that's a tough call. There cannot be any kind of historical price action to reference because this has literally never happened before. Ever. Other than the sun, this is the first time that fusion energy has been created in our entire solar system. Humans are good.
For now, your trade ideas are as good as mine (or probably better, actually). Let's just enjoy the vibes for now.
It's been a rough year, and yesterday, baby steps were made in both the development of fusion and cancer treatments (shoutout Moderna).
To paraphrase Ice Cube, Yesterday Was a Good Day.
The big question: Can humans truly develop and foster fusion energy and put to rest the challenge of energy scarcity forever?
Yesterday - What English word has three consecutive double letters?
Bookkeeper.
Today - It's 100 bananas off the WSO's PE Master Package for the first 15 correct respondents. LFG!
A rebus is a pictogram that represents a word, phrase, or saying. For example, "Ci ii" represents "See eye to eye." What word or phrase does the following rebus represent: O_ER_T_O_?
Shoot us your guesses at [email protected] with the subject line "Banana Brain Teaser" or simply click here to reply!
"Markets are constantly in a state of uncertainty and flux, and money is made by discounting the obvious and betting on the unexpected." - George Soros
Happy Investing, Patrick & The Daily Peel Team
Was this email forwarded to you? Sign up for the WSO Daily Peel here.