Stringing Together Some Steam | The Daily Peel | 7/7/22
Markets climbed once more, stringing together a little bit of a winning streak in the last few trading days. Treasury yields moved higher while Oil continued its downward trend.
At the bell, the Dow was up 0.23%, the S&P climbed 0.36%, and the Nasdaq was up 0.35%.
It's exhausting filtering through the garbage and verifying information from a tab full of various websites. INVRS is a place for dedicated DIY/retail investors to have high-quality investment research conversations with premium data & tools seamlessly tied into the platform. Try the Beta for Free Today
Let's get into it.
Yesterday - When can 8 plus 8 give you four?
When dealing with time. 8 a.m. plus 8 hours is 4 p.m.
Today - For today's BBT, we will chop 100 bananas off of our LBO Modeling Course for the first ten correct respondents. Let's try this one:
Three travelers have a disagreement about the route they should take. Helen says that Eli lies. Eli claims that Helen and Peter speak the same, only doesn't know whether it's the truth or lies. So who is definitely lying?
Shoot us your guesses at [email protected] with the subject line "Banana Brain Teaser" or simply click here to reply!
EuroZone Fears - Have you checked the value of the Euro versus the Dollar lately? Yesterday it was holding at 20-year lows, around $1.02.
If you like sipping fruity drinks in Ibiza or Mykonos, this is good news, although hotels and Airbnbs don't really seem like a deal even with a strong dollar.
There are two huge, massive concerns in Europe right now.
The first is very similar to our North American fears of an incoming recession. It's like watching a train wreck materialize slowly; I just can't turn my head.
The second major concern amongst our neighbors across the pond is energy. Namely, where the f*ck can we get it from and for cheap?
Something I've been commenting on for the last two months is that in the Northeast US, utility rates for electricity and natural gas are typically set with a time horizon explicitly identified for that particular rate. This enables the semblance of price stability for the consumer, even during periods of volatility.
Well, the "low season" for natural gas and electricity use up here is actually in the summer. Consumer energy prices are higher in the winter, so I'm waiting for the other shoe to drop this fall when we see that we will be paying $1000 a month to heat and power our homes.
Europeans also feel the same, except they're scrambling to figure out how to even source energy to power their economy, homes, and offices.
This supply-side uncertainty is forcing Europeans to lose sleep at night, and if they can't figure it out, so will uncontrollable shivering through a long northern winter a few months from now.
The silver lining: a slowing economy demands less energy. The moral of that story is that a Eurozone recession might mean a slight reprieve on energy demand. But that doesn't guarantee that heating a home or apartment in Europe this winter won't cost 4x what it did last winter.
If this sounds dire and like a bunch of doom and gloom, don't just read it here. Take a look at inflation rates, European consumer sentiment, and PMI over there. These metrics are all indicating that the picture over there is even less rosy than here in the land of the free.
That being said, I'm still planning my European vacation with my strong dollars, and I am going to have a great time doing it.
The Home of Quality Investing Analysis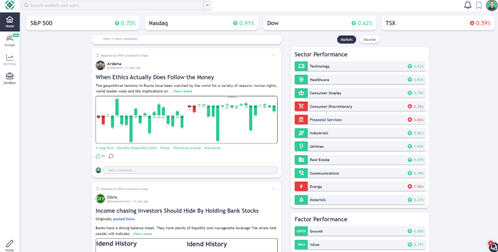 Ever followed an investment story online and found yourself literally cringing? The internet is flooded with low-quality investment discussions with little nuggets of gold hidden here and there. It is exhausting filtering through the garbage and verifying information using a plethora of websites. INVRS is a place for dedicated DIY/retail investors to have high-quality investment research conversations with premium data & tools seamlessly tied into the platform.
Virgin Galactic ($SPCE) - Shares of $SPCE climbed higher yesterday, moving over 5.20% after hours.
News is out: Virgin is pursuing a partnership with the Boeing Company to produce the next generation spaceship.
Say what you want, but in the last ten years, the New Space industry has received tens of billions in investment, and that trend is probably going to continue.
Gamestop ($GME) - Shares of Gamestop had a rough regular trading session yesterday, but the OG memestonk saw a great pop after hours. Their shares traded more than 8.50% higher in extra innings.
The reason: even though their stock split was announced weeks ago, their board finally approved it.
So apes, is $GME still going to the moon?
Gaming ($CZR, $PENN) - Both $CZR and $PENN were at the top of the losers list for the S&P yesterday, losing 4.59% and 3.99%, respectively.
As consumer softening continues to progress, recession fears are going to eat further into anything that is perceived as discretionary. Gambling is in this bucket, hence the pullback in these two tickers yesterday.
Chinese Tech ($KWEB) - Here we go again. The biggest laggards in the Nasdaq yesterday were a handful of Chinese tech names. JD.com, Pinduoduo, Baidu, and NetEase all retreated at least 3% during yesterday's trading.
The Chinese Internet ETF that we like to mentally benchmark Chinese tech performance to was down 3.73%. It was not a good day to be a bull on the Sleeping Giant's tech companies.
What Kind of Recession We Talking? - Nothing illustrates the disparity in the Street's ability to predict the future like the gap between Citi's and JP Morgan's estimates for a barrel of oil. The gap: well, on the low end, it's $65, whereas the high-end anchor is over $300 per barrel.
These are similar analysts with relatively similar educational backgrounds and career experiences, and they somehow hang their hats on research that helped them arrive at these types of estimates.
My point is that predicting the future is hard.
When it comes to strategic guessing on the type of inbound recession that we are going to experience, that's tough too.
Will it be something like the housing crisis-fueled Great Recession earlier this century? I highly doubt it. I don't foresee that level of housing foreclosures and rapidly rising unemployment.
Think about it. Mechanically, the logistics of the financial system are way healthier today than back then. That contagion amongst the major components would need to be way worse than how things look today.
I heard a joke recently about everything being cyclical in life; the same can be said of markets. If you wait long enough, everything is cyclical. For example, the bear market we are in could be a cyclical bear market if things last long enough.
Another quip I heard was that not all recessions can last in nominal terms.
If you just have a little bit of population growth and marginal productivity, you'll make it through it.
"It's fine to celebrate success, but it's more important to heed the lessons of failure." - Bill Gates