Strong Finish to a Strong Week | The Daily Peel | 8/1/22
Futures Friday pointed towards positive territory. What a big week for earnings! Apparently, markets liked what they saw from 175 companies in the S&P this week, sending markets way higher for a fabulous week for bulls.
Earnings were, in fact, better than expected last week, but economic data was worse than analysts thought. Inflation is up, GDP is contracting, and J-Lo looks really good for being in her 50s.
At the closing bell on Friday, the Dow was up 0.97%, the Nasdaq climbed 1.88%, and the S&P was up 1.42%.
What do you think, Apes? Is this a dead cat bounce or a legit rally signaling a strong economy?
The M&A Science Academy has what you need to master M&A. Learn about diligence, integration, change management, and more through videos, ebooks, and downloadable checklists, all at your own pace. Use code (dailypeel) for 30% off your subscription. Sign up today
Let's get into it.
Friday - How can a man who shaves a half dozen times per day still have a long beard?
He's a barber.
Today - It's 100 bananas off of our Elite Modeling Package for the first 15 respondents. LFG, Apes!
What has many keys but can't open a single lock?
Shoot us your guesses at [email protected] with the subject line "Banana Brain Teaser" or simply click here to reply!
A Growth Story - The macro picture right now is definitely a growth story but not the one that I had imagined.
Last week, the Eurozone announced that its economy actually grew in the second quarter, contrary to everyone's opinion about how rough of shape the continent is in.
At the same time, after the "experts" predicted modest expansion in the States, the economy shrank by a little less than 1% in real terms during the second quarter.
Mind you, in nominal terms, the economy stateside grew considerably; it turns out, however, that inflation gobbled up all of those gains and then some, putting the economy into the red for the second consecutive quarter.
Inflation in Europe is also a massive problem. Their number is 8.9%. That's historically high, and it probably reminds some of us (or our parents?) of the 1980s when hot inflation was more or less the norm in many parts of the world.
The kicker for Europe is energy security.
Germany is the largest economy in Europe, and it is by far the most modern from an industrialization and technology perspective. Capricious, stop-and-go energy deliveries from Russia crushed the German economy in the second quarter.
For this challenge, there is no solution in sight. Ze Germans are likely going to get the short end of the stick for as long as Putin is a pariah amongst world leaders.
Contrast that with the US economy. Rising energy prices have hit consumers in the wallets and businesses in their financial statements, but it's relatively unlikely that economic output will be literally throttled because there's not enough oil or gas to scale a factory up to full production.
Energy security is national security. With enough pain from an energy crisis, we could very well see heightened political and diplomatic tensions that could escalate to something more serious if cooler heads don't prevail.
Another geopolitical catastrophe, whether it's an energy crisis or a famine, would not be good for markets. If you've enjoyed this bear market rally during the last month, you'd probably not enjoy the backslide caused by another conflict in Europe.
The M&A Science Academy
Is the New Way to Learn M&A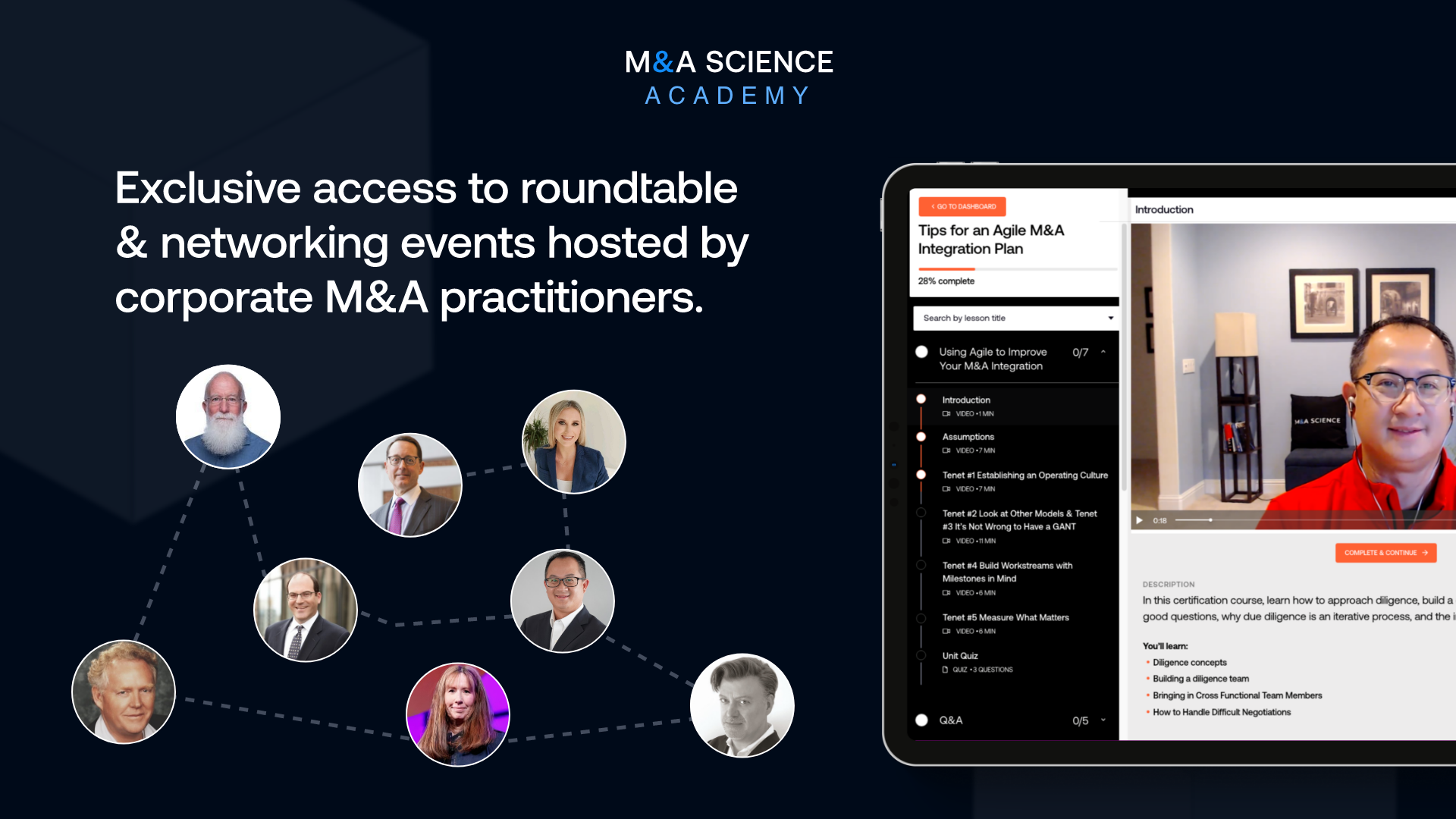 The academy is a self-paced, online learning platform that includes 50+ M&A courses that cover a variety of topics.
Learn about diligence, integration, change management, valuation, and more. Each course is taught by a leading industry expert and lessons include videos, ebooks, quizzes, and downloadable checklists. Members also have exclusive access to quarterly summits, networking events, and roundtable discussions. Use code (dailypeel) for 30% off a monthly or annual subscription.
Amazon ($AMZN) - Even after posting its second consecutive quarterly loss, investors have dubbed $AMZN a port in the storm. Arguably the most valuable aspect of Amazon's business AWS saw solid growth, and top line growth for the tech giant was by all metrics impressive.
On the retail side, I was effing shocked to hear that consumer spending on Amazon's platform is still strong in the eyes of Amazon's leadership. This is a different story than what we've heard at the Walmarts, Costcos, and Best Buys of the world.
Amazon did note that inflation was the big challenge, not inventories like some of its competitors have complained. If you got into Amazon after their massive disappointment last quarter, you've already netted a pretty penny since the stock's cratering.
The thing dragging down Amazon's profits is its investment in Rivian. If you're curious how I feel about Rivian, check out the Daily Peel archives and reference all the sh*t that I love to talk about that name.
Amazon announced upbeat guidance, uncharacteristic of a company that just posted a loss. The Street gobbled up $AMZN's sentiments and slingshotted shares higher. After earnings, $AMZN was up 10.36%.
Energy ($XLE) - WTI Crude climbed by almost 2% on Friday, closing just shy of $100/barrel. That isn't the full story, though.
Exxon and Chevron all had fabulous days on Friday, in part due to blowout earnings. In the words of Joey B, these cats made "more money than God." I'm not sure how true that is, considering they made less money than Apple for the quarter, but energy profits are indeed up.
At the closing bell, the S&P Energy ETF was up 4.34%, capping off a week during which the sector gained almost 9%.
Roku ($ROKU) - I lol a little bit when I think about this one. If the likes of Netflix and Disney Plus are struggling right now, it's logical that a company I consider second-tier in the content distribution business is having a worse time of it.
That's exactly what happened this quarter for Roku. They ended up posting a wider loss than expected, and their revenues were more disappointing than your ice cream scoop falling off your cone on a hot day.
Shares of $ROKU dumped 23.07% on Friday. Yikes
Intel Corp ($INTC) - Right on the heels of the CHIPS Act passing through congress, Intel posted weak revenues and a slimmer than expected quarterly profit.
Intel had problems rolling out data center chips in this recent quarter, and they echoed many other companies in their complaints about supply chain challenges.
This was the largest decline in year-over-year profits for $INTC in more than a decade.
Shares of $INTC dumped 8.56% yesterday.
Where is the Recession? - Even though we've hit the common law definition of a recession with two consecutive quarters of GDP contraction, things aren't exactly as bad as can be across the board.
What I mean is this: certain sectors and different parts of the economy are in different phases of a downturn. For example, online ad spending is basically a luxury good. Companies that are looking to cut expenses are cutting back on their ad spend to save a buck or two.
On the other side of the coin, think about travel and hospitality. Are restaurants on Nantucket feeling the burn of an economic slowdown right now? Nope, they're having their best summer in years as red-blooded Americans turn their wallets inside out after having travel FOMO for the last two years.
Rich Americans are spending like crazy. If you have money, you're using it like an electrolyte sports beverage during the Tour de France Femme avec Zwift.
This is across all financial media. The top 10% of Americans are loading up their credit cards and contributing to their savings accounts like it's going out of style.
Those with lesser means are also spending their faces off. However, the difference is that this consumption is on the things the working poor need to survive.
Gas, groceries, rent: the things that we'd all consider basic necessities are more expensive than ever before, and it is dipping into what little discretionary consumption that this socio-economic class was capable of enjoying.
No two recessions are the same. Think about the Great Recession; the downturn was fueled by a housing market crisis built on a foundation of predatory lending and bad loans. This caused a domino effect that turned into financial contagion across the world, sending Main Street and Wall Street reeling.
Today's recession is still developing. Inflation, supply chain woes, rising interest rates, and a tough macro environment. These are the new variables.
Investing during a time like this can be hard, especially when literally no one has all the answers. Having a plan and sticking to it can pay figurative dividends for your longer-term outlook if you're a long-only kind of investor.
While stonks do actually go down and some companies literally go to zero, it has been proven that markets over time trend towards growth and positive territory. The challenge right now is positioning yourself to take advantage of that long-term trend.
"Generally, the greater the stigma or revulsion, the better the bargain." - Seth Klarman