The Dreaded Probe | The Daily Peel | 2/27/23

Feb 27, 2023 | Peel #407
Happy Monday, apes.
Who likes getting punched in the face over and over again? Well, we hope you do because Mr. Market sure does, and he's taking you and your stocks with him.
Following some eye-watering inflation data on Friday, markets sold off like they owed their dealer money before the weekend. U.S. equities finished broadly lower, while Treasury yields spiked quickly before mellowing out just a tad for the rest of the day.
Be sure to duck today if you see another punch coming your way, apes.
Let's get into it.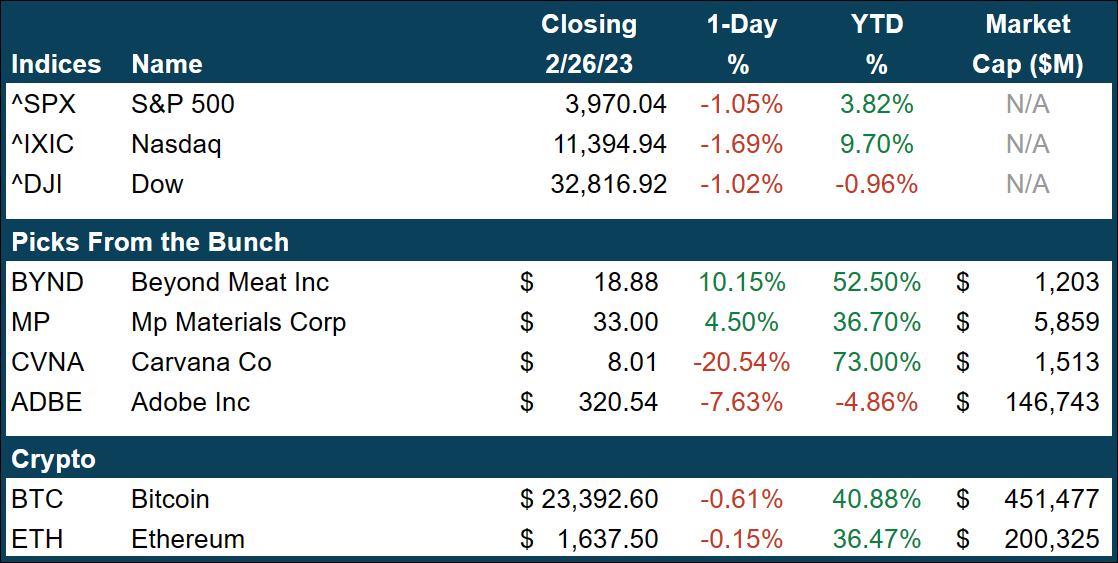 Take Your Finance Career to the Next Level
Attention all financial wizards and career climbers, are you ready to take your modeling skills to the next level?
If you're looking for an undervalued investment in your career, look no further than WSO's Elite Modeling Package! With 6 courses designed to turn you into an absolute Excel master, this is the package that keeps on giving.
From building a 3-statement model to tackling complex LBO modeling and M&A transactions, this package has got you covered. You'll also build a solid foundation in trading comparables and precedent transactions analysis and DCF modeling, all using the versatile and relatable example of Nike, Inc.
And as if that wasn't enough, the first 3 Peel readers to sign up for the Elite Modeling Package in the next 24 hours will also get access to our Foundations Package! That's right, a two-for-one deal that'll have you feeling like a baller in no time.
So don't miss out on this opportunity to boost your career, and invest in WSO's Elite Modeling Package now! #ModelOn #FinancialGains #CareerGoals
Core Day
Everyone loves a solid core day, and the Federal Reserve is no different. Except, instead of trying to finally get those 6-pack abs, the Fed tries to get that 2% inflation target. Same thing, right?
And just like your regular consumption of 6-pack beers prevents your success, the fiscal and monetary $ printing prevents JPow's success. Nevertheless, we fight both on.
But, instead of looking in the mirror to check his progress, JPow checks government reports and other "official" data for these measures. And finishing out last week, we got the latest and (according to the Fed) the greatest report on consumer prices in the form of the January Core Personal Consumption Expenditure (PCE) price index.
The PCE basically measures the same basket of goods as the CPI, but with food and energy excluded, as well as various other alterations to the weightings of the other line items.
Like golf, we're looking for a low score here, and unfortunately, that is not at all what January gave us. PCE clocked in at 4.7% for the month of January, beating expectations of 4.3% for the year and registering the highest monthly gain since August at 0.6%. Needless to say, Mr. Market had a meltdown only slightly less egregious than Kanye West on that whack-a** Alex Jones guy's show.
Mr. Market reacted in such a way for the exact reason you're expecting me to tell you right now. Inflation came in hotter than expected, particularly on a monthly basis, with the acceleration of PCE growth reaching levels not seen since the days of peak inflation last summer.
There was a brief moment there for a few months where we thought this whole thing might actually be transitory. Friday ripped those hopes apart like Charlie Munger ripped Disney apart this past weekend.
This acceleration in PCE comes on the back of a hotter-than-expected CPI report, and a way-too-jacked jobs report coming out of January as well. One of those would be bad enough, but all three of those things clocking in successively pretty much explain why the S&P has wiped out almost all of 2023's gains.
Aside from Mr. Market's schizophrenic hysteria, futures markets trading rate-linked assets pushed the implied probability of a 50 bps rate hike at FOMC's next meeting to 36%, more than double that of the previous week at just under 18%. Further, the 2-year treasury yield, which basically serves as the bond market's fed funds rate, jumped over 4.8% for a quick sec and still sits at the highest levels since 2007.
The narrative among some experts and "experts" out there is mostly just speculation, but there's nothing we love more here than that, so let's run with it.
Basically, some believe the broad-based inflation the economy has ridden since late 2021 is playing out over two primary cycles. The first was goods inflation, which of course, peaked last summer with things like gas and lumber hitting all-time highs. Now, some argue that we are experiencing that second cycle, being services inflation, as costs associated with the services side of the economy are newly in the driver's seat.
On the other hand, maybe we just haven't tightened enough, and prices are setting up to give us the liveliest dead-cat bounce of all time. Fingers crossed for the former, and just remember we're looking for golf-score inflation: the lower, the better.
Beyond Meat ($BYND) ↑ 10.15% ↑
This might be Beyond Meat's first time in the highly sought-after "What's Ripe" section of the Peel. If true, welcome to the club, team.
And after Friday's earnings data, it's clearly a club this team belongs in (for now). The plant-based meat slinger reported a smaller-than-expected loss of $1.05/sh on $80mn in top-line sales, also beating expectations.
This thing was beaten up so badly you'd think it was getting jumped by a rival gang on the daily. And because shares had been dumped worse than you on prom night while also posting those stellar earnings, no one cared that sales had fallen 20% YoY; it was just right off to the races.
MP Materials ($MP) ↑ 4.50% ↑
A lot of people like to "go raw" (whatever that means…), but the one company in the U.S. that can claim it goes raw more than any other is raw materials firm MP.
But not only are these materials raw, they're also rare. And this rare-earth materials miner just proved that going raw and going rare is the only way to win, posting a nearly 200% beat on EPS, registering $0.42/sh on the bottom line, on sales that handsomely beat as well.
Nationalistically, a win for MP is lowkey/highkey a win for the U.S., too, as almost none of our boomer-a** M&I names get into the rare earth space too deep. MP is here to change that, and with numbers like this, they appear well on their way.
Carvana ($CVNA) ↓ 20.54% ↓
Carvana must've accidentally placed their share price on one of their car elevators, as this thing just simply cannot stay in one place. If true, however, the elevator is clearly broken because all it seems to do is go down.
The poster child of 2022's growth-tech reckoning, Carvana shares were down as much as 99% from all-time highs, but after Friday's earnings report, it looks like the limbo bar just got even lower.
Carvana's per-share loss of $7.61 came in 3.3x the already-garbage-as-f*ck expected loss of $2.28/sh. Sales also came in far lighter than expected, while planned cost reductions didn't exactly live up to the hype.
Essentially, execs reiterated the fact that things are going terribly and confirmed they aren't getting much better in the short term. Safe to say, it was a great way to end the week!
Adobe ($ADBE) ↓ 7.63% ↓
Adobe's got a lot of work to do if it doesn't want to see coal under its Christmas tree this year, as the software giant has officially been placed on the DOJ's naughty list.
Like you getting your yearly physical, companies hate to be probed too. And now, Adobe is facing the dreaded probe from the Justice Department over its planned $20bn acquisition of the design software firm Figma.
Clearly, investors were pretty sweet on this acquisition, already largely pricing the stock as if it had been completed and leading to Friday's re-rating.
Buffett Be Spittin'
Like Julius Caesar to the Roman Army or Steph to the 2017 Warriors, Warren Buffett absolutely runs Wall Street.
The 92-year-old "Oracle of Omaha" has been dropping annual letters from his investment powerhouse, Berkshire Hathaway, since Eisenhower was in office, with the first coming a few months before Hawaii was even a state. But, despite Buffett's letters beginning in 1959, he's been investing for much longer and argues that not much has changed to the fundamentals of the game since then.
The overarching message of Buffett's letter was one of optimism. Like Tesla publishing its patents, Buffett and his co-pilot Charlie Munger (99 years old) essentially give out the secret sauce to their investment success every chance they get, but the thing is, no one follows it.
These geriatric geniuses once again reiterated their belief that any bet against the United States is a bad one in the long term. Buffett muses that he's been investing for about 1/3rd the life of the U.S. as an independent country and that, despite the polarization and other bad things du jour, the one thing the U.S. has always done historically is come out stronger in the long term. He basically dared anyone out there to short the U.S. as long as he and Charlie could take the other side of the bet.
Buffett opines that Berkshire's success has been far and away attributable to "about a dozen" or so good decisions, including investments like Apple, American Express, Coca-Cola, and others, as well as hiring people like Ajit Jain. To get specific on one note, Buffett paid approximately $1.3bn for the firm's position in Coke. That same position today is worth approx. $25bn and raked in over $900mn in dividend payments last year alone. Fairly decent call right there.
Moreover, Berkshire shareholders have had pre-PTSD for the last probably 15 years or so, knowing that just one bad heartbeat could take their CEO and one of, if not the, greatest investors of all time out of the game. Calling it nerve-racking would be an understatement, and as these two don't get any younger every year, succession is often top of mind.
The boy Ajit Jain, presently the Vice Chair of Insurance Ops at Berkshire, is widely expected to succeed Buffett. To tout his dedication to the firm and get close to being on par with the Oracle, Ajit loaded up on shares once again in September, reiterating management's confidence in themselves.
But, as the combined age for the Berkshire chairmen is now 191 years, it's only natural that their letters have shifted more towards wisdom and weird lowkey sexual metaphors about life as opposed to the decades where investing and markets were the sole focuses. It's the same stuff your grandparents tell you, namely:
Find a "very smart, high-grade partner, preferably a little older" and listen to them carefully
"Don't bail away in a sinking boat if you can swim to one that is seaworthy," and
"The weeds wither away in significance as the flowers bloom"
See what I mean? Grandpa is absolutely spittin', and everyone is all ears. We'll see you next year, Warren and Charlie.
Friday - You will always find me in the past. I can be created in the present, But the future can never taint me. What am I?
History.
Today - It's 100 bananas off the WSO's Elite Modeling Package. LFG!
If you toss a coin 10 times and it lands heads up every time, what are the chances it will land heads up if you toss it again?
Shoot us your guesses at [email protected] with the subject line "Banana Brain Teaser" or simply click here to reply!
"It takes 20 years to build a reputation and five minutes to ruin it. If you think about that, you'll do things differently" - Warren Buffett
Happy Investing, Patrick & The Daily Peel Team
Was this email forwarded to you? Sign up for the WSO Daily Peel here.