The Great Wage Rage | The Daily Peel | 8/10/21
Coming off of Friday's all time high, stocks couldn't make up their minds on Monday. While the Nasdaq closed up 0.16%, both the S&P and Dow dropped, losing 0.09% and 0.31% respectively. Let's get into it.
What's Ripe
Golden Nugget Online Gaming ($GNOG) – The company with the absolute best name in the stock market was riding yesterday, up 50.8%. You guessed it, Golden Nugget Online Gaming is being acquired by fellow betting site Draftkings for $1.56bn. While Golden Nugget plummeted more than 55% since 2020 it turned out to be a solid strategy, making the company too good of a bargain for Draftkings to resist. Paying more than a 50% premium, it seems Draftkings may be unfamiliar with the term "overvalued".
Moderna ($MRNA) – The love-hate relationship between Moderna and the pandemic might be the best love story since Ross and Rachel. The pandemic brought Moderna from a rando smid-cap to a $185bn healthcare leader. By destroying the world, the virus gave Moderna a once-in-a-century opportunity to run with. Now that cases rise across the U.S. and virus fears resurge, shares jumped 17.1% as this "opportunity" seems far from over.
SCWorx ($WORX) – Rihanna should've named her song "$WORX" and bet her life savings on it...she'd probably never have to work, work, work, work, work, work again. With a short interest of roughly 60%, this $38mm meme is a strong contender for the next squeeze to be squoze, and yesterday's 18.6% gain certainly helped out. When news broke about the stock going up, this drove the stock to...go up. Plain and simple. Nicely done apes.
What's Rotten
Marriott International ($MAR) – In the exact opposite situation as Moderna, Marriott hates the pandemic just as much as the rest of us. As virus fears and cases surge, this does not bode well for hotel and travel companies. The Delta Variant is putting up the dukes as Marriott took a 3.2% hit yesterday, hovering right around where it was when this whole sh*tshow started in March 2020. If its 60% fall from highs back then are any indication...watch out.
Darden Restaurants ($DRI) – I love Olive Garden but world class breadsticks can only get you so far. Shares in the multi-brand restaurant operator sank 4.5% yesterday on a bevy of bad news. For one, the virus does not mix well with sit down dining. Additionally, supply chain issues from that damn virus together with rising commodity prices are driving up product costs, squeezing margins and thus returns for investors. This isn't the good kind of squeeze unfortunately, but with the firm's 25% YTD run-up (until yesterday), I wouldn't go burning down your local Capital Grille just yet.
Axsome Therapeutics ($AXSM) – Shareholders became depressed as news broke of Axsome's antidepressant drug getting delayed in the approval process. As a result, shares completely succumbed to the bears and sank an embarrassing 46.5%. As the firm does not yet sell things or make money, saying that your first product has been delayed is not a great play to call. Despite the lack of revenue and products, the stock has managed to grow 10x from 2018, so how mad can investors really be?
Macro Monkey Says
Earnings – When compared to the average S&P annual return somewhere between 6-10%, the S&P 's 88% growth since March 2020 and 19.8% jump YTD makes it clear that market is probably overvalued. The 44 record highs the S&P has hit already this year is just another hint, but consider for a moment what a stock price is: the discounted expectation of future earnings. We have now learned that Q2 earnings growth for S&P 500 companies compared to last year shot up 90%. The good news? This insane run up may have some merit. The bad news? Expect less success in the shooting-at-a-dartboard trading strategy.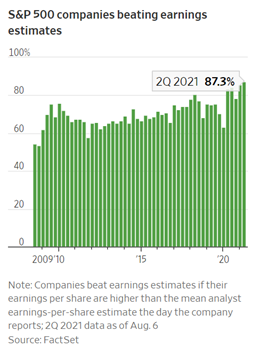 Food for Thought:
Wages – The bag is getting more and more secured. The Washington Post reports that the average pay at supermarkets and restaurants in the United States has surpassed $15/hour for the first time. As the Fight for 15 rages on, the private sector has said "I got this one" and has jacked up pay so that just shy of 80% of U.S. workers effectively earn at least $15/hr. Adam Smith is hardcore headbanging in his grave as the Invisible Hand daps up workers across the nation without government mandates at the federal level...yet. For now, shoutout to all you retail traders with a side gig at the local Stop & Shop, have fun being rich.
"The person who starts simply with the idea of getting rich won't succeed; you must have a larger ambition." – John D. Rockefeller
Happy Investing,
Patrick & The Daily Peel Team
Was this email forwarded to you? Sign up for the WSO Daily Peel here.