How much is your group chat worth? | The Daily Peel | 11/1/21
Silver Banana goes to...

Market Snapshot
Earnings szn continues to propel markets into green territory despite a multitude of other concerns pulling in the opposite direction. The Nasdaq, led by big tech, gained 0.33%, the Dow rose 0.25%, and the S&P brought up the rear with a 0.19% rise.
This is the investment opportunity you've been looking for. Miso Robotics kitchen robots can increase profit margins by 3x and they're partnered with 10 of the top 25 fast food brands!
Get in on the ground floor, and invest now before it's too late.
Let's get into it.
Macro Monkey Says
$pending Bills - After months of flirting with the idea of dropping $3.5tn, it seems that congress and the Biden administration have released an updated and potentially finalized spending bill to the tune of ~$1.75tn over the next decade. The cash in question will broadly be used for initiatives around climate change, social programs, and education. Let's take a look at the highlights:
$555bn goes directly to mother earth in the form of climate change and green energy investments. A large portion of these funds would come in the form of tax credits sent to the bank accounts of citizens who purchase electric vehicles. Reports indicate that some Americans could receive up to $12,500 from this aspect of the initiative alone. Even more credits could come your way following the installation of solar panels on your home or, more realistically, your Doge mining rig.
$400bn is going to those freeloading preschoolers in the form of universal pre-K and child care programs. I don't know about you, but that seems like a lot for teaching someone not to eat crayons.
$150bn in the form of renovations and revamps to over 1 million affordable housing units. Some of that pie could even be used to assist in rental payments or facilitate a down payment for low-income earners.
Still, much of the proposal remains up in the air. Debates over an additional $100bn for immigration reform are ongoing, while much of the most hyped up aspects of the bill, such as free two-year community college, got slashed. Getting through the senate will be quite the challenge however, so you very well may have just read way too much about a bill that might not even pass.
Chi-nah - The country sometimes referred to as "the World's Factory" could be on their way to losing that title, as China's national manufacturing index data for the month of October just dropped, literally. Showing signs of a continued slowdown in goods production, the index fell below the crucial 50 mark, meaning production actually contracted over the month. Services are down too, with the non-manufacturing index slumping further but remaining above 50, indicating growth. The National Bureau of Statistics had no shortage of boogeymen to throw the blame on, including electricity shortages, rising costs of raw materials, and weakening consumer spending.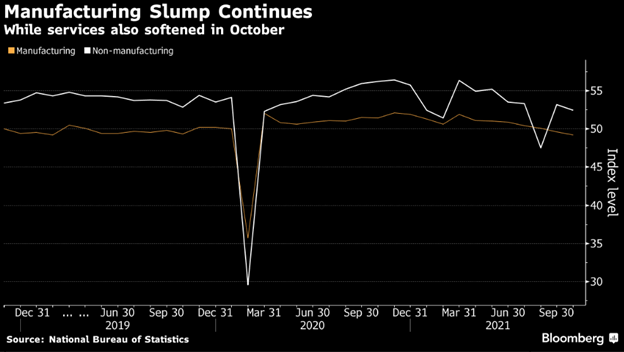 The Investment of the Year!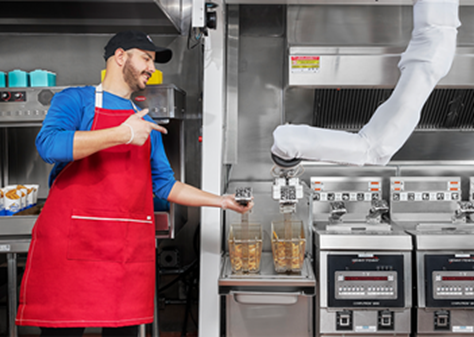 Miso Robotics is revolutionizing the QSR industry with its cloud-connected AI platform that enables autonomous robotic kitchen assistants to perform tasks such as frying and grilling alongside chefs in a commercial kitchen.
With partnerships with 10 of the top 25 QSR brands and dozens of pilot programs underway, you can invest in Miso's delicious potential.
Grab a bite before the opportunity closes November 18!
What's Ripe
Bakkt Holdings ($BKKT) - Little-known digital asset marketplace provider Bakkt Holdings leaped to an all-time high on Friday, jumping 66.1% to close the week. The firm, which was born out of the NYSE's parent company, the Intercontinental Exchange (ICE), has been blowing up on social media all week after key partnerships with Mastercard and Fiserv were formed. Shares are up over 208% this week and crypto bulls are loving it.
Nvidia ($NVDA) - Nvidia and Tencent are in a battle of the ages at the moment, and even though it has absolutely nothing to do with actual business, investors are locked in. The next company to join the $1tn club is the big question, and after Nvidia's 2.5% gain on Friday, it's clear who's in the lead. Shares have been heating up heading into earnings, but we'll find out if its justified on November 17th.
What's Rotten
Apple ($AAPL) - The battle of the titans wages on, and as of Friday's close, Apple ceded the title of most valuable company in the world with Microsoft usurping the crown. Capping off big tech earnings this week, Apple left investors disappointed beside some not-so disappointing numbers. All lines of revenue grew, but not at the rate Wall Street demanded, leaving Apple to shed 1.8% to a market cap of $2.46tn.
Starbucks ($SBUX) - Falling 6.3% to close the week, the world's largest coffee chain disappointed analysts, clocking in revenues just below what analysts had expected. Earnings was the real bummer, with higher raw materials and labor costs eating away at net income. This is somewhat surprising coming from the company that charges you $6.50 for a small cup of coffee, but I guess paying employees an anti-poverty wage is a decent use of cash.
Thought Banana:
Group Chat Investing - A coalescence of VCs have invested $10mm into a Discord group chat called Friends With Benefits. Yes, that is a real thing, but please, allow me to explain why this might make some semblance of sense. The chat, known as FWB, is itself a DAO and is loaded with 1,500 crypto and NFT trendsetters, discussing topics like $SHIB and other assets that skyrocket for not f*cking reason. As tokenomics goes, the GC / DAO has a membership fee in which members receive the token $FWB. So, yeah, kinda might make a little sense, right? Andreesen Horowitz, the latest VC involved, has a reputation of being a bit of a trendsetter themselves, so don't be surprised if we see more crackhead sh*t like this in the future. By the way, how much are your group chats worth?
"Invest in the things that you know. If you drink beer all the time - if you go to microbreweries and you try all kinds of them - you probably know which ones are the best, and my advice is always to invest in what you know." - Ashton Kutcher
Happy Investing,
Patrick & The Daily Peel Team
Was this email forwarded to you? Sign up for the WSO Daily Peel here.