Labor Day Hangover and Pizza Robots | The Daily Peel | 9/8/21
 Silver Banana goes to...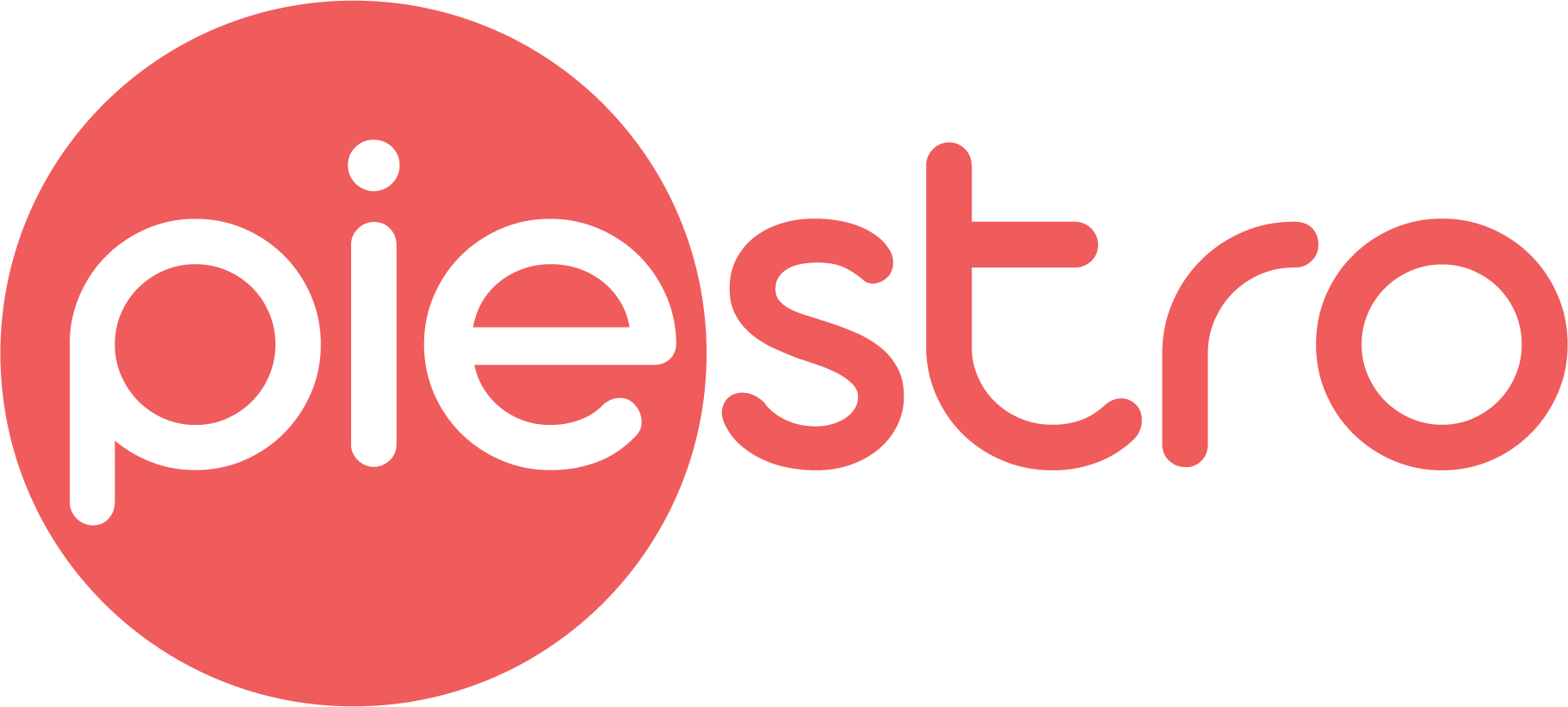 Market Snapshot
Market's must still be hungover from Labor Day weekend as they didn't know what to do on Tuesday. The S&P eked out a 0.07% gain while the Nasdaq fell 0.34% and the Dow flopped 0.76%.
Speaking of flop, if you hate Floppy pizza as much as Dave Portnoy, be sure to check out Piestro and their 50-years-in-the-future looking pizza robot. Guaranteed perfect pie everytime... and with an Italian founder, you know they aren't messing around. Let's get into it.
Macro Monkey Says
Chinese Trade – Another example of reality flying in the face of economic predictions, Chinese exports unexpectedly picked up in the tumultuous month of August. Amid supply bottlenecks, stand-still port traffic, and of course, the surging Delta variant, China just kept pushing.
While the bump in exports (see graph below) isn't too massive, it does tell us a few things. 1) Xi doesn't give a damn about the Delta variant. There is no draconian +700mm person lockdown like we had with variant 1.0 and 2) manufacturers in the world's most populous nation are thriving.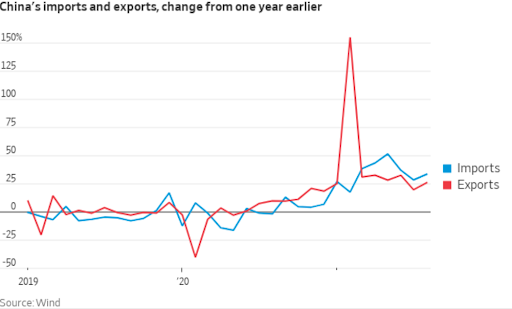 Airbus vs. Boeing – As if the hand dealt to Boeing wasn't bad enough in recent years, Airbus just pulled an ace-king pair and is ready to run the game. Boeing's largest customer in Europe, Ryanair, has recently pulled out from a 737 Max 10 order after the two could not find agreeable price terms, marking yet another customer to walk away from Boeing in favor of Airbus. Delta, Jet2, and now Ryanair have all found better deals and less delays with Airbus, as shown in their stock performance since the whole 787 debacle began - Boeing shares are down 51% since a March 2019 peak while Airbus is up 5.1% over the same period.
Pizza Robots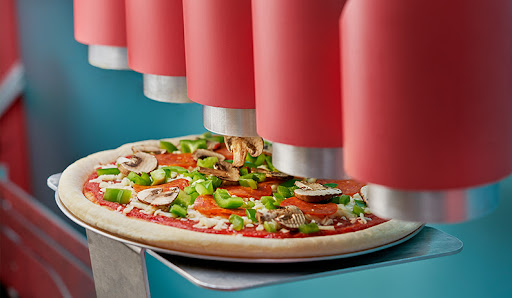 Piestro has designed a robotic pizzeria that makes pizza at a fraction of the cost of traditional pizzerias and boasts an impressive 48% projected profit margin.
In fact, Piestro's robots have already received an insane amount of pre-orders via commercial contracts.
And considering the US pizza market will be worth a lot more pepperoni by 2023, you simply *knead* to check out how Piestro's robot works and invest.
Grab a slice and invest in Piestro before the opportunity closes 9/30.
What's Ripe
IronNet ($IRNT) – A new contender for The People's Champion of the stock market has entered the foray. IronNet, a young cybersecurity firm, has rocketed recently, up well over 100% in just two weeks after opening up 68% yesterday to close with a 17.8% gain. A recently closed SPAC deal with LGL Systems has garnered tons of retail attention as the next ongoing gamma squeeze.
The Streaming Giant – While you were wasting your Labor Day weekend "relaxing", NFLX was putting in work. Shares of the firm jumped 2.7% yesterday as investors got a taste of what they can binge watch this fall with a star-studded, highly anticipated lineup of shows. Seinfeld is arriving in October while new seasons of Bridgerton and Stranger Things get ready for their next seasons. Oh yeah, and they also teamed up with none other than SpaceX to shoot a docuseries on the Inspiration4 Mission.
What's Rotten
Coursera ($COUR) - Without much news to support its 9.7% crash, I can only imagine Coursera's fall is linked to college towns being once again invaded by alcoholic adolescents in the form of in-person college students. Shares are approaching an all-time low and currently sit 20% below IPO price. Online education is a burgeoning industry and likely the only one where traditional companies compete with the likes of Harvard and Oxford. Not exactly the brands or brains I would want to be up against.
College - Well, at least for men, college is rotten. As the 2021-22 American school year begins, the gap between men and women enrolled in accredited post-secondary schools has widened to record levels. 59.5% of undergraduate college students are women, leaving men to make up the remaining 40.5%. Reasons for the trend remain murky, and without a diagnosis not much can be done. Presumably, men are choosing careers that do not require degrees at a higher rate than their female counterparts, or in the case of some of you reading this, it's tendies over tuition.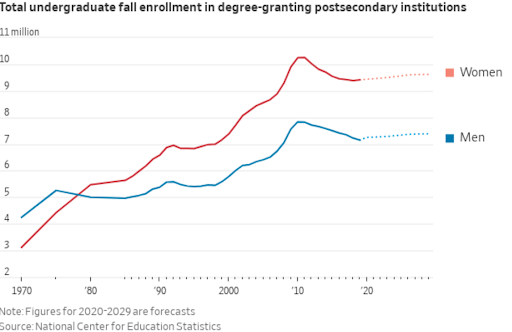 Thought Banana:
El Salvador's Bold Move – Yesterday was the day where history will decide if El Salvador President Nayib Bukele is a bold, innovative genius or a crazy techno lunatic who ruined his country's economy. Yes, as of midnight on Tuesday, BTC is legal tender in the impoverished Central American nation.
While first-world reactions to this have largely been in support, the people who it actually impacts are not happy. BTC fanatics worldwide have praised Bukele, while many on the ground do not have the infrastructure or information needed to effectively operate an economy on a digital currency. The wild swings in price (seven 80% corrections in just 12 years) isn't exactly a great selling point either. Let's hope they catch a break and it works out.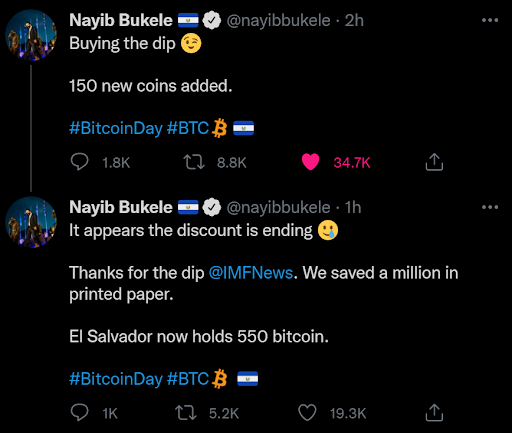 Wise Investor Says
"The intelligent investor is a realist who sells to optimists and buys from pessimists"
Happy Investing,
Patrick & The Daily Peel Team
Was this email forwarded to you? Sign up for the WSO Daily Peel here.
ADVERTISE // WSO ALPHA // COURSES // LEGAL