Rebounding SWIFTly | The Daily Peel | 2/28/22
Market Snapshot
War, what is it good for? Well, stocks, apparently. Markets continued to rip on Friday despite the uncertainty Putin has tossed in the mix. Investors likely think the odds of a 50 bps rate hike in March are much lower amid an ongoing war in Europe, leading to a broad rise to close the week. The Dow rose 2.51%, while the S&P saw 490 of its stocks rise, pushing the index up 2.24%, and the Nasdaq gained 1.64%.
Let's get into it.
Macro Monkey Says
SWIFT Rebound - Okay, so on Friday, we said how the end of the week rebound was just… weird. We don't want to toot our own horn here, but we were very right, and now every Tom, Dick, and Harry that can spell "stock market" is postulating why.
Let's take a look at the top contenders.
For starters, it helps to remember that the market's least favorite thing isn't necessarily bad news but overall uncertainty. Therefore, as the crisis in Ukraine unfolds, things become clearer and clearer each day, and the market gets a higher resolution view into what tomorrow will look like.
And lately, the metaphorical "tomorrow" has been all about rates. Many have spun the theory that because the Russian invasion in Ukraine is likely just getting underway, traders have lost faith in the idea that JPow's gonna jack up the fed funds rate to 50 bps at the end of March. Now, all signs point to a "calm" 25 bps jump.
At the same time, buying the dip has become a hotter trend than Silly Bands in the late 2000s. Every investor and their mother by now know to BTFD, and given the absolute pounding growth stocks have taken the past few months, investors are licking their chops at some opportunities. 
But, perhaps most important are the sanctions that the US and other Western nations did and did not place on Russia. For starters, not removing the world's 11th largest economy from SWIFT largely went against expectations.
SWIFT is a messaging system banks use to coordinate transactions, and Russia's elimination from the network would've added friction to the global financial system. Still, blacklisting Russia from SWIFT appears to remain on the table as the aptly described "nuclear option."
I mean, financial stress or not, anything is better than actual nukes, I guess. With oil prices taking a bit of a breather as well, the market's fear around the crisis in Ukraine seems to have peaked at the start of last week… at least for now.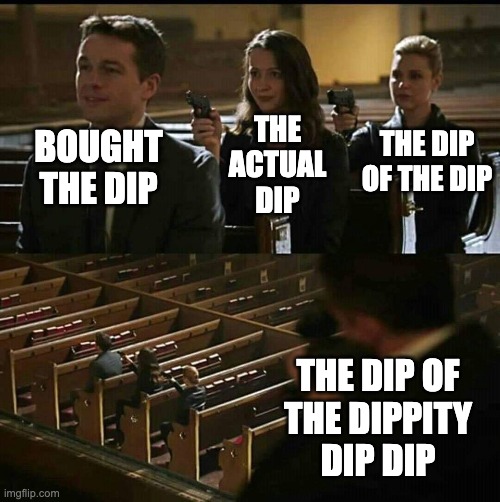 Avoid buying the "dip" and then dipping to the dip of the dippity dip dip
Check out WSO Alpha
The Week Ahead - Welcome to your weekly preview of what's to come for markets in the days ahead if, fingers crossed, the world isn't over by the end.
Monday: As usual, today's gonna be the slowest day of the week. From a macro side, we've got some treasury auctions, but hard to believe any ape will care about that. But, we do get a look at some hyped earnings, including Lucid, Lordstown, Novavax, and Zoom.
Tuesday: Tuesday's a bit more fun from a macro perspective. Trade balances, including US imports and exports, will drop along with the Small Business Optimism Index. Some not-so-small businesses will be reporting earnings, however, including SoFi, Baidu, Salesforce, Target, and (please keep it in your pants) AMC. Good luck.
Wednesday: On Wednesday, housing will steal the spotlight. MBA drops a bunch of data, including the latest purchasing index, mortgage applications, rates, and refinancing info. Even more exciting, the IEA will reveal a bunch of global energy bullsh*t and how Russia has ruined that so far. Company earnings include Veeva, Okta, and Snowflake.
Thursday: Pre-Friday is always fun. The latest inflation data release will help keep that true, along with updated jobless claims info. On the earnings side, Kroger, Costco, Best Buy, and Gap will give us a taste of how retail has been doing over the last quarter.
Friday: I hope you aren't too hungover Friday morning because 1) it's a weekday, and 2) the University of Michigan drops the latest consumer sentiment data at 8:30 a.m. Alongside, a few companies you've never heard of release earnings.
As always, it'll be a fun week. Even if the events themselves aren't super fun, you know the Daily Peel will make it so.
What's Ripe
Etsy ($ETSY) - Leading the S&P's charge on Friday was none other than Etsy. Shares popped 16.2% as the pandemic winner battles back from the brutal 55% routing the stock has seen since November. 
The firm killed it on earnings, reporting $1.11/sh on $717mn in top-line vs. analyst's expectations of $0.79/sh on $685mn. 
Pandemic or not, consumers seem to enjoy the dazzlingly random selection of goods and other bullsh*t that Etsy lives on.
Molson Coors ($TAP) - Keg stands, shotgunning, and egregious hangovers are back, and no one is more excited than Molson Coors. The company behind Miller, Blue Moon, Peroni, Keystone, and, of course, Coors has been in secular decline for a long, long time. But thanks to the degenerates like you and I, that's turning around.
For starters, revenue grew last year for the first time since 2016, barring any acquisitions. 
Investors were so excited that no one even cared about how badly they missed both earnings and revenue. Shares were up 7.1% on Friday.
What's Rotten
Beyond Meat ($BYND) - Well, it looks like consumers aren't nearly as excited about fake meat as investors once were. Shares in plant-based "meat" maker Beyond Meat started their publicly traded journey on a massive high, but it's been all downhill since.
And that downhill turn increased drastically on Friday, with shares tumbling 9.2% after an abysmal earnings report. Showing a loss of $1.27/sh on $100.7mn in sales vs. the expected $0.71/sh loss on $101.4mn, revenue actually declined since last quarter on "weaker demand." Way to shoot yourself in the foot.
Foot Locker ($FL) - On a day in which 97% of S&P 500 stocks rose, you have to do something truly horrendous to plummet 29.8%. Unfortunately, Foot Locker did just that. 
In a brutal showing of "you need me more than I need you," an announcement revealed that Nike's focus on selling DTC rather than in retail stores like Foot Locker will result in a significant drop in Nike products going to these locations. 
Foot Locker said Nike will surmise ~60% of purchases in 2022, far lower than the usual 75%. Maybe Foot Locker can get their refs to throw a flag on the play. Fingers crossed.
Thought Banana
The Biggest Tech Breakthrough of 2022 - It's no secret that we're all degenerate morons, but thankfully, we have actual smart people at the MIT Tech Review to guide the way.
As they do each year, the aforementioned MIT Tech Review breaks down what they believe will be the most disruptive/game-changing technology of the coming year. 
In 2022, it's about passwords. Or, better yet, the lack thereof. According to MIT, biometric technologies and other advances are ready to totally displace the need for annoying alphanumeric bullsh*t that you have to type in. Typing is hard work, everyone knows that, so MIT highlights how things like Apple's Face ID have become mainstream already.
But the fund doesn't stop there. Companies like Okta and Duo, as mentioned by the Review, are well on their way to creating a passwordless society. In fact, Microsoft even told its customers to delete their passwords already way back in September of last year. In the age of cyber hacks that we find ourselves in now, removing the need for garbage little phrases or strings of numbers is a huge help in securing our data. After all, it'd be pretty hard for hackers to steal your face. 
"I've always loved to play games, and face it: investing is one big game. You need to be decisive, open-minded, flexible and competitive. If you're early on in your career and they give you a choice between a great mentor or higher pay, take the mentor every time." - Stanley Druckenmiller
Happy Investing,
Patrick & The Daily Peel Team
Was this email forwarded to you? Sign up for the WSO Daily Peel here.