Hate Your Boss? Here's How to Tell Him Off, Anonymously

ST
Points)
on 8/9/12 at 8:30pm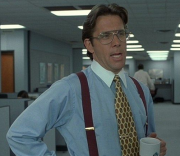 Sadly, we can't all vent our frustrations about our bosses by abusing a copy machine Office Space style. Luckily, you can now vent your frustrations anonymously online.
Many a worker has thought: "I'd like to give my boss a piece of my mind!" Well, get your creative juices flowing. A new service, Tellyourbossanything.com, launched by Canadian startup Happiily on July 30, allows users to send managers anonymous feedback about—more or less—anything.
Now, apparently, people can give their bosses feedback anonymously via this new online website. The service, although free to start, costs 20 dollars a month after that to see other messages from employees. I've always thought it easier to simply go to your surperior and raise the issue with them directly, instead of submitting something anonymously online. This doesn't seem to be either effective or productive, and really encourages employees being passive aggressive rather than attempting to shape whatever their office culture is.
Long story short, would any of you guys actually submit anonymous feedback to a random site instead of just saying it or emailing it directly? Do things like this really serve a purpose in the workplace?
I know if someone tried to submit something to me through this thing I would just laugh at it and move on, if I even paid attention to it at all. There are a million more effective ways to increase and encourage clear communication both good and bad in the workplace.
Tags: