Should girls groom?

IB
Points)
on 7/6/12 at 12:30pm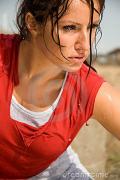 All right, I know there are some girls lurking here, and I want your two cents. Guys, feel free to chime in with your opinions too, though I'm really hoping that some chicks de-lurk for this question.
Quandary: I've always used the gym at home in the morning when feasible, but now I'm at the point in my career where I can actually start leaving my desk and using the company gym. Let's say I have a 30-50 minute workout and a 5-minute shower.
Now, I know some girls don't sweat at the gym. They are usually the ones in the cute teal wrap tops with charm bracelets and inch-long fingernails. That's not me. If I'm there, I'm there to fucking sweat.
In this situation, would you do either/both of the following things?
Take an additional 15-20 minutes to wash/dry/style hair or leave it sweaty in a ponytail?
Take an additional 5-7 minutes to redo makeup or go bare-faced?
In the past I would have looked at my female peers and done as they did, but none of my peers in the group are female. (Girls might be 40% of top MBA programs, but they are not anywhere near 40% of working MBAs. At this firm, not even 10% of post-MBA hires are chicks. I'm not particularly alarmed by this, but it's sometimes inconvenient to not have another female point of comparison for normative purposes.)
Conflicting issues:
I already spend too much time on grooming and want to find a way to decrease the time cost
I never want to come across as less than 100% squeaky clean
I think it might be weird/uptight to roll back in from the gym in the evening looking like I just spent half an hour on hair and makeup, especially if I'm going to leave for the night shortly thereafter
Assume: Not looking for a relationship, already established credibility in current role, performance reviews truly not biased by hotness or lack thereof (within reason).
I currently spend half an hour or more per day grooming and feel like it would be stupidly expensive (in terms of my opportunity cost per hour) to double that. But I'm also not a big believer in people walking around looking like they just came from the gym. Especially not me. (The guy whose signature is printed on all of our paychecks sits 20 feet from me. And it's a big fucking company.)
Going to the gym at work already means schlepping pants, sneakers, socks, panties, jogging bra, and t-shirt. Doing the full groom would mean lugging a bunch of truly ludicrous shit around with me.... and this is coming from someone whose purse is the size of her hand. It strikes me as pretty absurd to go from that to a f'ing rollaboard just because I want to go to the gym at work. But to be honest, if I saw another person (especially a chick) walking around with sweaty hair and a red face at work, my opinion of their professionalism might dip a little.
Like I said, guys' opinions are valuable here too; the logistical issues are pretty obvious even if you don't personally face the same issues. Would you drop the extra thirty minutes or not? Would you think anything of it if you knew that a coworker did? Or didn't?