17 Tips for New Analysts

PE
Points)
on 7/14/12 at 2:00pm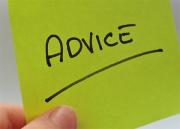 Andy note: "Blast from the past" - old post from Feb 2007 but still relevant today:
1. hide a pillow at your desk.
2. Set Boundaries. Be a "team player" but not so that you become bitter. IT IS OK if you can't do it all. What's worse is if you say you can get it done and fall asleep on your keyboard, only to have to explain to your Associate / VP why the job isnt done with "Q W E R T Y" imprinted across your forehead.
3. Eat a lot for energy and don't forget to eat.
4. Only use caffeine when you need it most so it keeps its effect when you truly need it - like on your 30+ hour days.
5. Ask a lot of questions the first few months on the job - true for any job
6. Stay hydrated
7. blink often or you'll go blind from staring at the computer screen for so many hours straight
8. keep a sense of humor - if you've done nothing wrong and still get yelled at or reprimanded remember that it's not necessarily personal. You have to remember that investment banking is still a very stressful career for Associates and VPs as well. Even though they aren't the monkeys at the bottom of the totum poll, they still have to report to someone.
9. Shit flows downhill: deal with it. If you don't complain about mundane jobs and just get them done people will appreciate it and notice. Ok, maybe not all the time, but how is complaining going to solve anything? The shit is still there to shovel.
10. Making your bosses life easier means making your life easier -- in the long run
11. Never make plans with only ONE friend - that way when you inevitably have to cancel they don't hate you for leaving them stranded
12. When you go out boozing remember you're not in college anymore. In fact, you might die if you try to drink even half as much as you did senior year.
13. Learn how to use "Alt-Tab" like a pro. For those of you who haven't figured it out yet, when you hear your boss coming around the corner of your cube, a quick Alt-Tab on your keyboard will help you toggle back to the file you were supposed to be working on...just make sure it doesn't toggle from ESPN.com to the site for "Girls Gone Wild." The corollary to this tip is to always have a complicated spreadsheet / model up on your computer and be able to explain what you are doing if anyone drops by.
14. recover when you get the chance - sleep when you have ANY time outside the office.
15. don't do drugs
16. stay in school
17. try to keep perspective of the "big picture" - why are you doing what you are doing?