25 Things I've Learned In My 20s

Points)
on 7/12/12 at 1:00am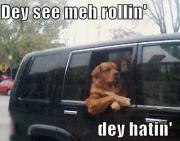 1- You can't date a jerk and expect to turn them into a good person. Jerks are fully committed to being unpleasant. Those brief moments of tenderness they give you are designed to trip you up and give you false hope. It's best to stay away altogether.
2- The rumors are true: your metabolism does slow down as you get older! That means if you're still eating whatever you want, there's a good chance you'll start to gain an awkward amount of weight. It won't be too drastic but your clothes will start to hang differently on your body and you'll feel an overall feeling of unattractiveness. Start to be conscious of what you eat and strive to live a healthier lifestyle if you want to get your teen body back. (Let's be real though, that might not ever come back.)
3-You're going to lose touch with a lot of your friends. With some people, it will be expected but with others it will feel like a punch to the stomach. No friendship is truly safe in your twenties. You're undergoing so many personal and professional changes that there's bound to be some casualties along the way. Don't worry though. You'll end up with the ones that matter. If someone's no longer in your life, it's for a reason.
4- You'll be jealous of everyone who's more successful than you. That's okay. Just transfer that jealousy into something productive, like working really hard so you can one day eclipse them and make them feel jealous of YOU.
5-You'll question every decision you make and never feel completely certain that you made the right choice. It's pointless to wonder though. You're here now so you might as well make it be the right decision.
6-You're going to give your heart to a few people who don't deserve it. Then, one day you'll come to your senses and ask them to give it back.
7-You'll see your parents get older. You'll come home during Christmas break and see new lines developing on their faces. One day it'll just hit you that your parents are old and going to die. There's nothing you can do about it, besides treat them with kindness and visit as much as your budget permits.
8-You'll have a boss who makes you feel like you're nothing. It doesn't have to be in a Devil Wears Prada way. The cruelty can be much more subtle. Don't let them get to you though. They have no idea who the hell you really are and you're probably going to have their job someday so…
9-Doing drugs is fun until it's not, until it starts affecting your life in negative ways and leaves you feeling guilty and wrecked. If that happens, you should stop doing them.
You're going to puke in public. It's fine. No one cares. Just puke.
10- You're going to puke in public. It's fine. No one cares. Just puke.
11- You'll know how to make twenty dollars last an entire week because you spent almost all of your paycheck on groceries at Whole Foods and drunk cab rides. This lesson in frugality will serve you well.
12- You're going to betray your convictions. You're going to feel shame. You're going to continue to put yourself in situations that aren't good for you. And then, slowly but surely, it will become less frequent. It might not ever go away completely but it won't be as bad. In the meantime, stop shame spiraling about it. It gets you nowhere.
Power and Money do not change men; they only unmask them